Focus on: Music and culture of Morocco, North Africa
Morocco falls within the North African region, lying at the very top west corner of the continent, bordering Algeria to the east, and just below Spain (separated by the Atlantic Ocean). Officially named the Kingdom of Morocco, the full Arabic name is Al-Mamlaka al-Maghribiya, which translates to "Western Kingdom", although Al-Maghrib (meaning "The West") is commonly used.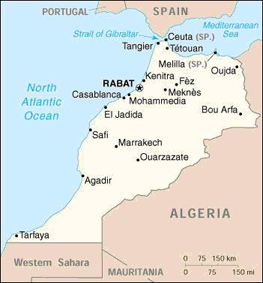 Moroccan music is predominantly of Arab origins, but nowadays there exists quite a variety of styles. Andalusian and other imported influences have had a major effect on the country's musical character. Popular music in Morocco includes: Rock-influenced chaabi bands, trance with historical Muslims origins called Gnawa music, call and response and sha-abi music.
Chaabi is Arabic for 'popular'. It is a Moroccan pop music, drawing from Moroccan folk music and other Arab and western musical styles. Originally performed in markets, today it is found at any celebration or meeting. Chaabi songs typically end with a swift rhythmic section accompanied by syncopated clapping.
Gnawa music is considered a mystical music. It was gradually brought to Morocco by Sub-Saharan Africans and later became part of the Moroccan tradition. The Gnawa musicians play deeply hypnotic trance music, led by low-pitched, rhythmic guembri melodies, call-and-response singing, hand-clapping and metal "castanets" called qraqebs. The music is a mixture of religious Arabic songs and African rhythms.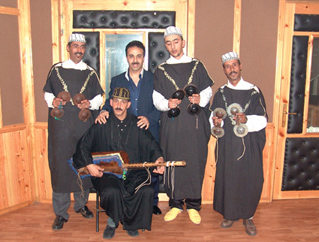 Altaf Gnawa Group - musicians from the album EUCD1922 Gnawa Music from Morocco
"Call and response" style is quite common in many of Africa's musical cultures (especially tribal traditions of choral singing by many people). It is a succession of two distinct phrases usually played by different musicians, where the second phrase is heard as a direct commentary on or response to the first. Through musical and cultural evolution, its myriad forms and descendants include: jazz, gospel, blues, rhythm and blues.
Sha'abi is the name of a style of living, a style of dance, and a style of music. The word is Egyptian Arabic and refers to the poorer, commoner sections of a city. An English equivalent might be "ghetto." The name came to characterize the style of music enjoyed in such neighborhoods. Traditionally, sha'abi songs begin with slow, explorative introductions and move towards a fast ending section called leseb. Moroccan cities have long supported sha'abi groups playing in cafés and recording cassettes for the local market.