Focus on: Music of Latin America
Latin American music, sometimes simply called Latin music in the United States, includes the music of all countries in Latin America and comes in many varieties. From the simple, rural conjunto music of northern Mexico to the sophisticated habanera of Cuba, from the symphonies of Heitor Villa-Lobos to the moving Andean flute - this is the music of Latin American customs.
Latin American music is very diverse, with the only truly unifying thread being the use of Latin-derived languages, predominately Spanish, Portuguese, and to a lesser extent, Latin-derived creole languages such as that found in Haiti. Although Spain is not a part of Latin America, Spanish music (and Portuguese music) and Latin American music strongly cross-fertilized each other, but Latin American music also absorbed influences from English and United States' music, and particularly, African music.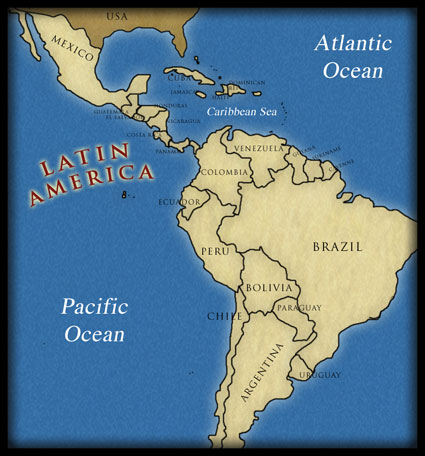 Very little can be known for sure about music in what is now Latin America prior to the arrival of Europeans. Though there are extremely isolated peoples in the Amazon Basin and elsewhere that have had little contact with Europeans or Africans, Latin music is generally very much a synthesis of European, African and indigenous elements. The advanced civilizations of the pre-contact era included the Mayan, Aztec and Incan empires. The people of these ancient civilizations played instruments including the tlapitzalli (flute), teponatzli (log drum), the conch-shell trumpet, various rattles and rasps and the huehuetl (a kettle drum). The earliest written accounts by Spanish colonizers indicate that Aztec music was entirely religious in nature, and was performed by professional musicians. Some instruments were considered holy, and thus mistakes made by performers were punished as being possibly offensive to the gods.
Similar instruments were also found among the Incas of South America, who played in addition a wide variety of ocarinas and panpipes. The tuning of panpipes found in Peru has similarities to instruments played in the Pacific islands, leading some scholars to believe in contact between South American and the Oceanic cultures. Pictorial representations indicate that ensemble performances were common, as they still are today in Latin American music.
Indigenous music in the Andean countries of Ecuador, Peru and Bolivia tends to have the prominent use of flutelike and wind instruments usually made from wood and canes as well as animal bones and wings. The rhythm is usually kept with drums made out of wood and animal skins with simple rhythmic patterns of varying tempos, accompanied with rattle-sounding instruments made out of animal claws, smalls stones or seeds. String instruments of European and Mediterranean origin have influenced local adaptations such as the Bolivian charango or the Ecuadorian mandolina. Genres in Andean music are many within each country depending on region and the community and ethnicity within them. In Ecuador for instance, there are sanjuanitos and capishkas. In Peru there are huaynos and in Bolivia there are tinkus, chuntuquis and morenadas.