Focus on: Music of India
The music of India is as rich and diverse as its culture. While its classical music tradition still plays a major part in the lives of many, modern Indian music can be categorised into groups such as pop, folk, classical and even rock.
There are two main traditions of classical Indian music: Hindustani sangeet (Northern India) and Carnatic sangeet (Southern India).
Hindustani sangeet is performed through Northern and Central India on instruments such as Sitar, Tabla, Sarod (double-chested fretless lute) and Sarangi (fretless bowed instrument). The most well-known exponent of this style of music is the sitar player Ravi Shankar.
Carnatic sangeet is perhaps less well-known than its cousin in the North and is performed with instruments such as Veena (plucked string instrument), Violin, and Mridamgan (barrel-shaped drum) and has a strong vocal base.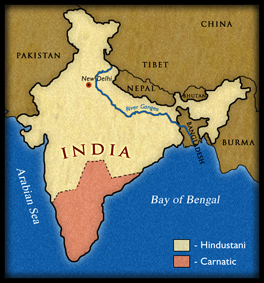 It is thought that the differences between these two styles are due to the North's greater exposure to Islamic influences, although this is unfounded. Despite the differences between these two styles, both traditions are based on two very important factors: rag (melodic form) and tal (rhythmic form).
Much of India's music is used as a form of religious expression, and none more so than the Qawwali. This form of devotional music is sung by Sufis across the Indian Subcontinent, but is mainly focused on Northern Indian and Pakistan. The purpose of the Qawwali is to achieve spiritual enlightenment (fana) through song, entering a trance-like-state (hal) in which it is possible to experience direct interaction with God.
Modern Indian music takes many forms, undoubtedly the most popular of which is filmi sangeet (film music), which can be traced back to India's first motion picture "Alam Ara", made in 1931. With the Indian film boom of recent years, and "Bollywood" movies becoming an international phenomenon, Indian film music has too experienced a major increase in popularity and has now established itself as a musical genre in its own right. Filmi sangeet may contain classical and traditional elements, but is also heavily influenced by Western culture and may contain elements of pop, hip-hop, jazz, or other styles of western music.
Another popular style of Indian music with a heavy Western influence is Bhangra. Originally a folk dance performed by farmers in the Punjabi region as a way of welcoming the new harvest, over time the term Bhangra has come to incorporate not only the dance, but the music which accompanies it. It has its roots in traditional Punjabi folk, but, like filmi sangreet, the Western influence is undeniable.
You can find many examples of our Indian & Bhangra albums on our website