Focus on: The Festival Mondial des Cultures, Drummondville, Quebec, Canada
For eleven days each July the city of Drummondville in Quebec plays host to a selection of folk ensembles from all over the world at its International Festival Mondial des Cultures. Over the course of the eleven days these troupes perform to some 300,000 festival attendees.
First held in 1982, the Mondial des Cultures was founded by the Quebecois folk group, Mackinaw. Following a festival in France, Mackinaw decided to host their own festival and invited folk troupes from other parts of the world to their home town of Drummondville.
Since 1997, ARC Music has been attending the Mondial des Cultures to record the music of the resident folk ensembles and release CDs in association with the festival. To date we have released over 50 CDs as a result of this partnership, and this year we recorded 6 more.
Myself (Chris Tomsett - PR Manager) and Diz Heller (Deputy Art Director) visited the festival this year and were astounded by the quality of the ensembles and the diversity of cultures on display.
Some of the many highlights of this year's came courtesy of Gulun Ensemble from Yakutia in north-eastern Russia. With a very basic musical set-up (percussion, jews-harp and lute) the group is able to produce an incredible sound, incorporating overtone singing, bird calls and other animal noises. All this is ornamented with some wild dancing, often depicting rituals and hunting techniques. Their costumes are made of fur and suede, necessary for the severe winters in Yakutia, which is one of the coldest places on Earth.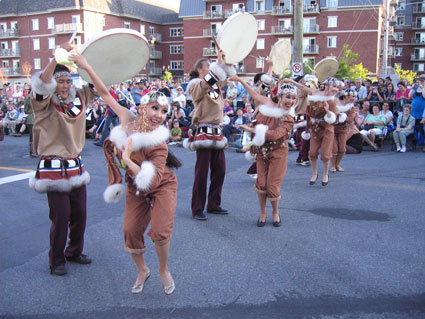 Dancers from Yakutia in the parade through Drummondville city centre
Another highlight was Paraguay's Ko'Eti folk ensemble. Composed of some twenty dancers and eight musicians playing traditional instruments like acoustic guitar and harp --the national instrument of Paraguay - the folk ensemble conveys to the public a warm energy enhanced by the colours of flamboyant costumes.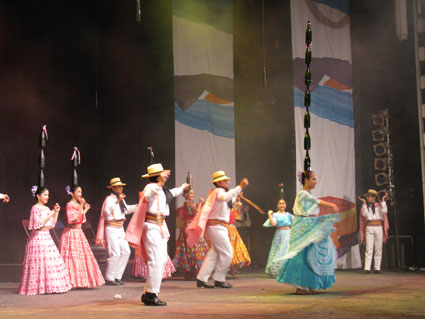 Paraguayan 'bottle dance'
The dancers, with long brown hair braided and adorned with flowers, dance in an impressive arch while men try to seduce them.
Below is a selection of photos from the festival this year.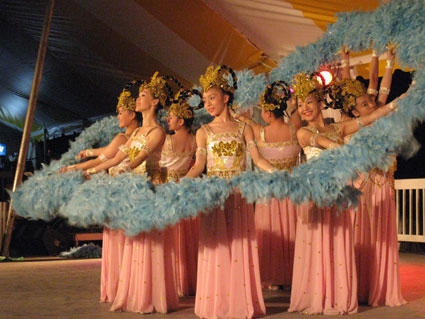 Shiang-Fong Ensemble of Taiwan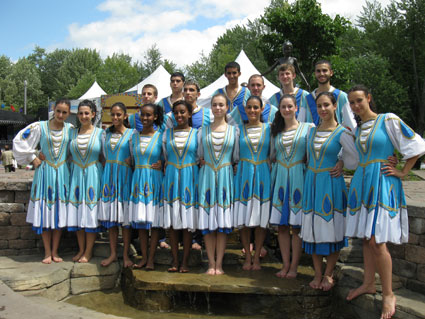 Ensemble Ayalot Hanegev from Israel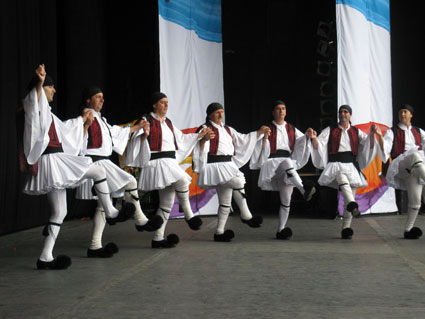 Dancers of the folklore ensemble Estia Pieridon Mousson of Greece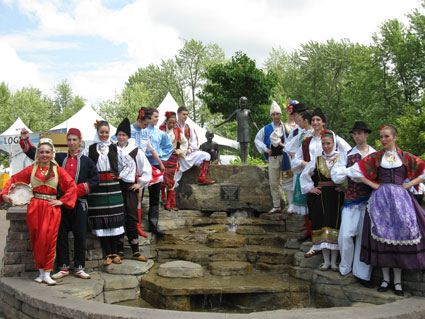 The Serbian ensemble, Sveti Sava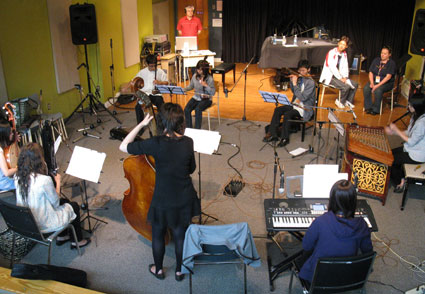 Taiwanese musicians in the studio
To obtain a list of all the CDs ARC Music has recorded in collaboration with the Mondial des Cultures, please send an email to info@arcmusic.co.uk.
Here is a small selection of some of the most recent recordings: