Focus on: Traditional Music of Finland
The ancestors of the present-day Finns came from the south, mostly from north-eastern Estonia. The migration began from about the 1st century AD and continued until the 9th century, the immigrants merging with the native population.
From the south-west of Finland the settlers gradually spread out over the rest of the country. Eastern Finland was settled mostly by Karelians. Cultural tradition can be divided into the period before industrialisation (up to 1870-80) which again divides into several distinct periods according to stylistic traits, and urban or industrial mass culture.
In the late 19th century, before the advent of urban culture, the various regions had distinct cultural characteristics. The province of South Pohjanmaa, being agrarian with a comparatively stable population, developed instrumental wedding music and rhymed "sledge songs" (rekilaulu). Various popular group movements sprang up that influenced the whole country.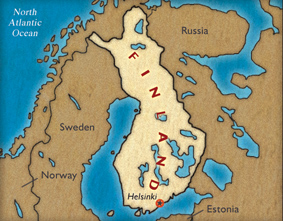 Map of Finland
During early industrialisation the southern counties continually absorbed influences from the West. During this period traditional folk practices rapidly yielded to commercially-directed culture served by the mass media. Folk dancing and instrumental music continued to be fostered by enthusiastic amateurs but songs did not attract much interest.
Since the 1950s interest in folk culture has increased and large festivals incorporating various forms of folk expression are held throughout the country.
The Institute for Folk Tradition at the University of Tampere (now the "Department of Music Anthropology") holds a large collection of folk material including recordings of 30,000 items of vocal and instrumental Finnish folk music. The institute has over 300 folk instruments, early notations of folk music and a catalogue of folk musicians and singers.