Focus on: the Maqam
In Arabic music, a Maqam ([ma'kaam], plural Maqamat) could be likened to a mode (major, minor, etc.) in western classical music. It is a sequence of notes (usually one octave) whose interrelations are defined by traditions, habitual patterns, and their melodic development. These rules describe which notes should be emphasized, how often, and in what order.
The Arabic scales which maqamat are built from are not even-tempered, as the chromatic scales in Western classical music are. A side effect of this is that the same note (by name) may have a slightly different pitch depending on which maqam it is played in. Many maqamat include notes that can be approximated with quarter tones (written by using the half-flat or half-sharp signs), although they rarely are precise quarters exactly halfway between two semitones. Therefore, when studying Arabic music using Western notation, there has to be an understanding that the term 'quarter tone' is approximate and that the exact tuning of each note might vary with each maqam, and these variations must be learned by ear.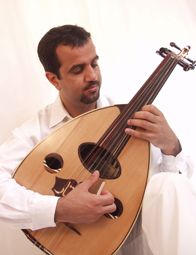 The pitch of the same note in different maqamat may vary slightly depending on the flow of the melody and the notes played before and after that note. This is to "round sharp corners" in the melody by drawing the furthest notes nearer.
Each maqam is usually associated with its particular starting note (tonic), e.g. "Maqam Bayati on D". Maqamat are transposable, but only to certain other tonics. Maqam Bayati, for instance, can also start on G or A, and for clarity the starting note is always mentioned. Some maqamat change name when they are transposed because they now have a different feel or mood.
There are many Arabic maqamat, including numerous Persian and Turkish and even Central Asian variations. It is difficult to distinguish which ones are strictly Arabic and which are Turkish or Persian. There are also many local maqamat used only in a particular region (e.g. Iraq) which are unknown in others.
The Taqsim ([tak'seem], plural Taqasim) is an instrumental improvisation, which could be played in a certain rhythm or freely, without rhythm. It is usually performed solo but can also be accompanied by a drone. In a taqsim the soloist extemporises a piece abiding by the rules of a maqam, but he can include excursions into other related maqamat.