NEWS ARCHIVE 2006
ARC Music Scores a Track in the New James Bond Movie
We had official confirmation from Sony Pictures a few days ago that one of our tracks was to be used in the highly anticipated new James Bond Movie - Casino Royale, which goes on general release next week.
For the past few weeks all of our staff have been anxiously waiting for the news. We were in a head to head with another label whose track had also been selected. So when we heard that we had made the final cut of the movie, you can imagine the feeling. We are obviously very proud of our achievement, and it is really the culmination of something we have been working towards for many years.
To get our music into a major Hollywood movie shows how respected we are in the music industry. The particular track used in Casino Royale is "Linstead Market", a traditional Jamaican steel drums piece by our artist, Gary Trotman, from EUCD1486 Carribbean Steel Drums - 20 Most Popular Melodies. This is the only song used in the movie apart from the original theme music.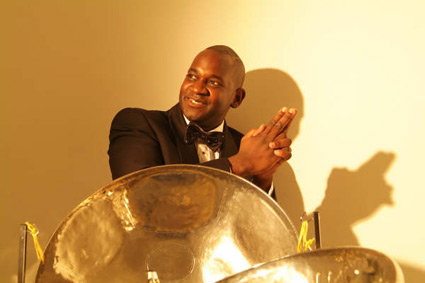 Gary Trotman, Steelasophical
ARC Music is no stranger to the movie industry either, as earlier this year we also scored another coup with 2 tracks in Steven Spielberg's mega movie - Munich. Coupled with lots of other successes in between with music being used in movies such as Open water, The Constant Gardener and The 40 Year Old Virgin, altogether it has been a very busy year.
Click below to buy this CD
EUCD1486 Carribbean Steel Drums - 20 Most Popular Melodies
Tibetan Music album won the Best Asian Music award
Tibetan singer songwriter, Techung, won the Best Asian Album with his CD, "Techung: A Compilation of Tibetan Folk and Freedom Songs", at the 2006 JPF Music Awards in Los Angeles California on November 4, 2006.
Techung's album won against albums from Singapore, Vietnam, China, Japan, Philippines, Nepal and Russia. Techung is a graduate of the Tibetan Institute of Performing Arts and is a founding member of Chaksampa, the Tibetan Dance and Opera Company based in San Francisco. He has toured internationally with Chaksampa as well as solo.
http://www.techung.com
Dochas Nominated for Scottish Music Award
ARC Music band Dochas featured on our recent release Gaelic Scotland 2 (EUCD2032) has been nominated for this year's Scottish Traditional Music Award.
The ceremony will take place on Saturday 2 December at the Nevis Centre in Fort William.
The aim of these Awards is to highlight Scotland's wonderful traditional music in all its forms and to create a high profile opportunity which will bring the music and music industry into the spotlight of media and public attention.
Flamenco Romantico • Rafa El Tachuela
After his fruitful collaboration with master Egyptian Percussionist Hossam Ramzy on the album Flamenco Arabe, flamenco guitar virtuso, Rafa El Tachuela, returns with a master piece of work, a collection of romantic and beautiful compositions, in, Flamenco Romantico (EUCD2029).
Flamenco Romantico ('Romantic Flamenco') sets out to achieve its romantic theme by using the free forms of various different flamenco styles and rhythms. The compositions were guided by all the themes which constitute a relationship between lovers, such as striving for harmony, longing, love, romantic walks, trust, quarrels and discussions, beauty and much more.
One of the focal points in Rafa's guitar work is the exploration of the roots and origins of flamenco and their musical connections with the ancient and complex traditional Arabian culture, which continues to have a deep influence on his compositions today.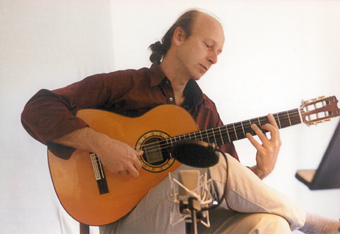 Rafa El Tachuela
Born in Berlin, Rafa El Tachuela began teaching himself flamenco guitar at the age of thirteen. Only two years later he made his first public appearances including, among others, his debut at the traditional "Quartier Latin" in Berlin. Rafa intensively studied authentic traditional flamenco as well as modern flamenco styles while with the flamenco guitarist Diego Cortés in Barcelona and on his travels through Andalusia (Jerez de la Frontera, Seville, Cadiz etc.) and Madrid. At the beginning of the 1990s he worked closely with the flamenco dancer and singer Manuel Moreno (Cordoba) and his ensemble.
Rafa has toured through Italy, Spain, Poland, Denmark and Germany as a soloist and also together with Diego Cortés, Manolo Moreno and many other artists.
"A master of the flamenco Nuevo idiom" - Rock 'n' Reel
Flamenco Romantico (EUCD2029) – Out Now! available from all good record stores
FLAMENCO ARABE 2 - A Captivating Crossover of Middle Eastern Sounds and Passionate Flamenco
The long awaited follow up to our international best seller Flamenco Arabe released back in January 2003, is now available.
Flamenco Arabe 2 is a unique recording by master Egyptian percussionist, composer and arranger Hossam Ramzy (Peter Gabriel, Ricky Martin, Chick Corea, Loreena McKennit, Robert Plant/Jimmy Page) - "Sultan of Swing" Rhythm (UK), and celebrated Spanish flamenco guitarist José Luis Montón - "…a stunningly intuitive musician…" ABC (Spain)
This exhilarating CD fuses pulsating Arab rhythms and percussion with fiery Andalusian flamenco. The result is a captivating and romantic Spanish/Arabian sound.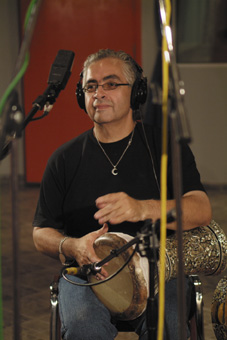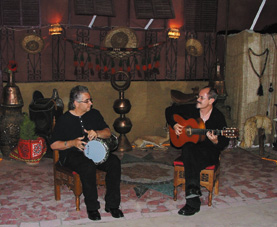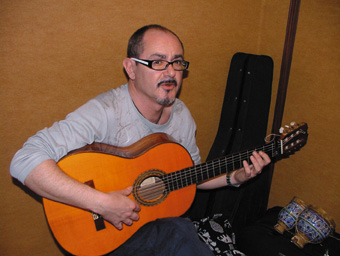 Recorded in Egypt, Spain and UK, this album crosses all the barriers between the Middle Eastern sounds and the world of Flamenco music, song and dance. It attempts to bring history into the present. Moorish migrations, North African flavours, passionate flamenco with Egyptian tabla, palmas (clapping), oud, nay, guitar, qanun and violin solos that melt the heart.
The album features top-class musicians: María Toledo - vocals, Aziz Jorge - violin, Mohammed Fouda – nay, Mohammed Naiem and, Saber Abdel Sattar - qanun, Hazem Shaheen - oud, Miguel Rodrigañez - double bass, and Atef Sobhy - bass and programming, Ossama Al Hendy - keyboards & bass and Wael Naggar – accordion.
"Composing, arranging and recording this album with Jose Luis was like being in "Groove Heaven". I felt like I was having a celebration with angels, dancing to music and beats created from sounds collected from all corners of Earth and neighbouring planets." – Hossam Ramzy.
Flamenco Arabe 2 (EUCD2000) – available from all good record stores Now!
ARC Music in Steven Spielberg's latest film
Over the years we have had great success in getting our music placed in some major Hollywood films. This year (2006) has proved no exception, with getting a placement in no other than the recently released new film "Munich" by Steven Spielberg.
Two of our Greek tracks were chosen for particular scenes and they were "Ela Ela" from one of our early CDs, Songs and Dances from Greece (EUCD1163), and "Palamakia" from the CD Talking to Charos - Rembetika (EUCD1169). If you go and see the movie, listen out for our music, and if you see Steven, tell him thanks for choosing ARC Music!
Suzzana Owiyo performs at the UNESCO's International Women's Day celebration in Paris
Every year on 8 March, both at and away from Headquarters, UNESCO celebrates International Womens Day, a flagship event which highlights at international level questions relating to the empowerment of women and the promotion of gender equality.
This year awarding winning Kenyan artist, Suzzana Owiyo, performed at this prestigious celebration. You can hear Suzzana's powerful vocal talents on her international debut album – "Mama Africa", (EUCD1875) released on our label back in 2004.
President of India honours ARC Music artist, Ustad Sabri Khan...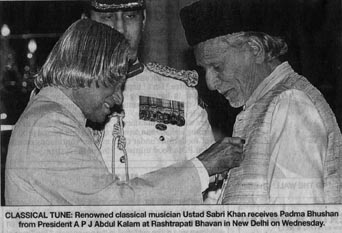 Ustad Sabri Khan, the king of the Sarangi, has been honoured with the Padma Bhushan Award in 2006 by the President of India, for his services to the World of Music.
Sabri can be heard carrying forward the rich legacy of the Sarangi with single minded dedication on two of our releases EUCD1566 - Indian Sarangi Recitals which went on general release in 2000 and EUCD2020 - Best of Indian Sarangi released in 2006.
---
News Archive 2008 | News Archive 2007 | News Archive 2006
---