NEWS ARCHIVE 2007
ARC Music track in New Hollywood movie - The Kingdom
Film directed by Peter Berg and starring Oscar winning actors Jamie Foxx and Chris Cooper, Jennifer Garner, Jason Bateman, Ashraf Barhom, Kyle Chandler and Ali Suliman. It was co-produced by Academy Award nominated director Michael Mann.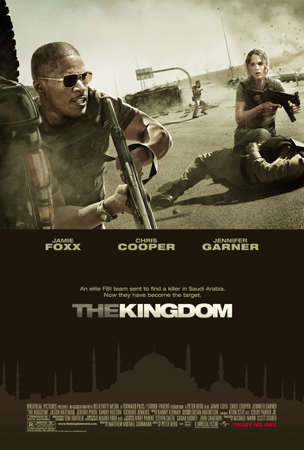 Final poster for 'The Kingdom' as seen in theaters and on the official site
The film is fictional, but inspired by bombings at the Riyadh compound on May 12, 2003 and the Khobar housing complex on June 26, 1996 in the kingdom of Saudi Arabia. The story follows a team of FBI agents who are sent to investigate the bombing of a foreign-workers facility.
The film was screened at the Edinburgh International Film Festival as its yearly 'Surprise Movie' on 22 August 2007
The movie features one of our tracks entitled 'La La La Omri Manhounik' by artists Gypsies of the Nile (EUCD1628).

New Galaxy Chocolate TV Commercial features ARC Music
Well known chocolate brand, Mars, have released a new product just in time for Christmas, called Mistletoe Kisses. This is part of their Galaxy range of chocolate and is backed up by a national TV advertising campaign that runs through November and December. Their advert is based around a cute story of a gnome who we are told used to look after the kisses, but once a year has to empty them away, however one year he got inspiration from some mistletoe and uses the kisses to create Galaxy Mistletoe Kisses bars.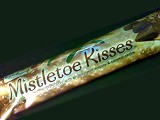 Galaxy Mistletoe Kisses Chocolate Bar
It features one of our tracks entitled 'The Sun Has Set' by artist András Farkas (EUCD1928).
We have of course tasted a sample of the new chocolate and they are absolutely delicious! If you are a chocolate lover, then we suggest you go to your nearest store and pick one up for yourself.
ARC Music at WOMEX 2007
Watching kids indulge in the curious and varied celebrations of Halloween and seeing the first preparations for Christmas festivities - it could only be October. And for those in the world music industry, the most significant and exciting highlight on the calendar this month is the massive WOMEX event.
WOMEX is the world's biggest professional music conference, trade fair and showcase for world, roots, folk, ethnic, traditional, alternative world, local and diaspora music. Held for the second year running in Seville, Spain, day time activities (conferences, film showings, daycases and the trade fair stands) were based at the Sevilla Conference and Exhibition Centre FIBES (Palacio De Congresos y Exposiciones). In the evening, the showcases took place in the city centre, split between two locations within a 5 minute walk of each other . the beautiful Teatro Lope De Vega and the spectacular Plaza de España.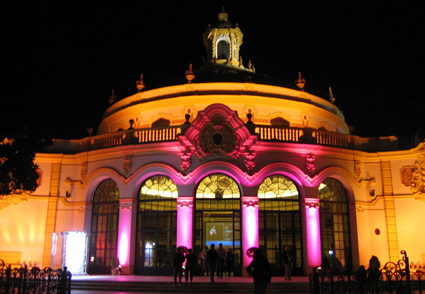 The Teatro Lope De Vega at night
ARC Music staff Diz Heller (Assistant Art Director) and myself (Karlyn Culmer - PR Manager) attended, with over 2,500 other delegates, and more than 300 exhibitor stands in two huge trade halls. Needless to say there were a lot of things to do and people to see! It was my first experience of WOMEX and I was overwhelmed in a wonderful way - it was fantastic to meet so many artists, DJs and journalists involved in world music. Diz and I came back laden with sample CDs from musicians and new contacts.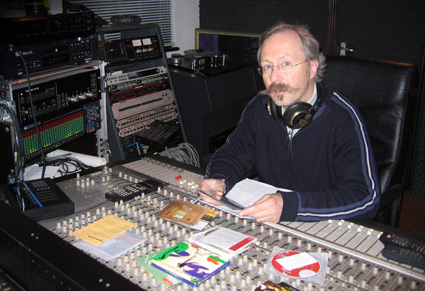 Diz back in our studio working through some of the CDs received at WOMEX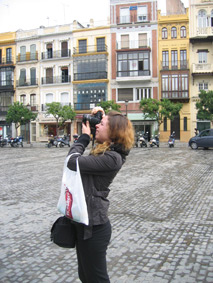 Karlyn taking photos in Seville's city centre
After innumerable meetings, receptions and conferences during the day, we made our way to the city centre for the showcases in the evening. The excitement and consistent buzz surrounding the venues was tangible . everyone there was united by a common love for music and it made for a fantastic atmosphere. There were some incredibly talented artists performing, too many to list, but there are a few photos below of the shows.
From the 5 days of networking with a great deal of talented artists, there is a lot of potential new music in the pipeline, so keep yours ears open for next years releases!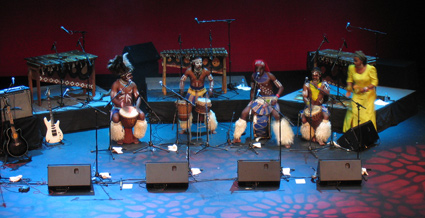 Authentic African performance from the Dizu Plaatjies Ibuyambo Ensemble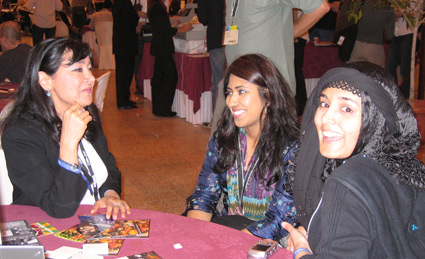 ARC Music artist Zohreh Jooya, left, with other artists at FIBES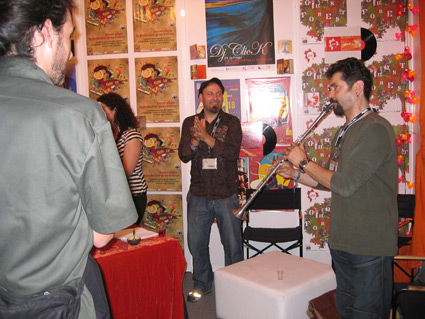 Merlin Shepherd, who features on several ARC Music CDs, performs at a stand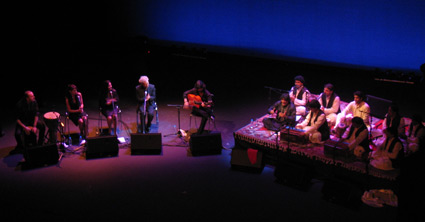 Duquende and his Flamenco group (left) did a duet with Faiz Ali Faiz and his Qawwali group (right) on the opening night.
Baluji Shrivastav's Shadow of the Lotus tour
Baluji Shrivastav's Shadow of the Lotus tour is about to finish with a final show in London on the 30th November 2007. Come along and see the last stunning performance this year of classical Indian ragas played by the exceptionally skilled multi-instrumentalist.
This is a particularly special finale as it takes place in the historic St Ethelburga in Bishopsgate, a medieval church that survived the Great Fire of London in 1666.
Baluji will be accompanied on tabla by Partha Mukherjee.
30th November, 7.30pm
St Ethelburga's Centre
78 Bishopsgate (5 minutes from Liverpool St. Station)
London EC2N 4AG
Tickets cost £10
Telephone: 020 7496 1610
Email: events@stethelburgas.org
African artiste Rachel Magoola performing in London
Ugandan singer/songwriter Rachel Magoola is staging a concert on the 8th December at the Paul Robeson Theatre in London. Described by the BBC as "Uganda's number one diva", this performance will be a night of beautiful singing not to be missed. Her music is a mix of her own compositions and adaptations of traditional songs in pop music form.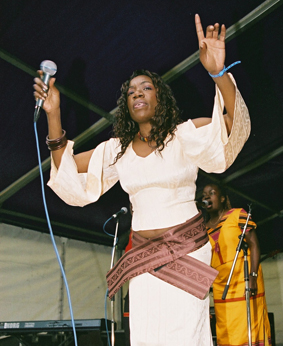 Rachel Magoola
During the 1990s, Rachel Magoola was a vocalist and dancer in Uganda's most successful pop group, Afrigo Band. After more than eleven years with the group, she left Afrigo to pursue a solo career, which saw her release five CDs, including ARC Music album "Songs from the Source of the Nile", EUCD1973. She is now one of Uganda's most respected celebrities, having had a song become a smash hit country wide and maintain the Number One spot on Capital Radio's Coca-Cola Hot 7 for 30 consecutive days.
Tickets for her London show cost £20, and it will begin at 8pm, Saturday 8th December.
Box office: 0845-456 2840
Paul Robeson Theatre
24 Treaty Centre
High Street
Hounslow, Middx TW3 1ES
The world mourns the death of South African artist Lucky Dube
On October 18, 2007, the world awoke to the tragic news that reggae legend Lucky Dube was killed in the Johannesburg suburb of Rosettenville, at approximately 8pm. Police reports suggest he was shot dead by carjackers after dropping his son and daughter at their uncle's house. He is survived by his wife, Zanele, and his seven children.
South African born but globally revered, Lucky Dube was one of the country's most toured and biggest selling reggae artists. His compelling musicianship and intriguing lyrical content meant he touched millions around the world, and his creativity continually pushed the genre to new heights.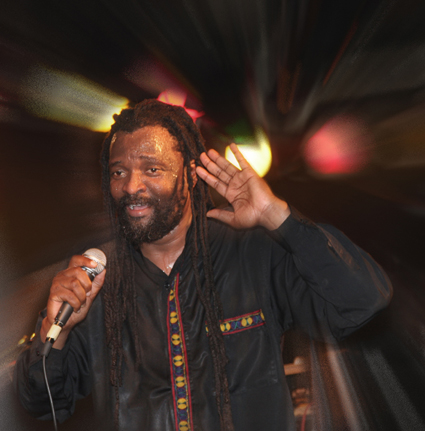 Lucky Dube
He recorded 22 albums in Zulu, English and Afrikaans over a 25-year period, and he features on ARC Music album African Reggae, EUCD1824.
Lucky's death has seen the country's leaders, entertainment artists and others calling on South Africans to unite in fighting crime. Media terminals in South Africa and globally, including the BBC, have been inundated with thousands of messages paying tribute to the singer and offering condolences to his family.
We at ARC Music would like to pay our respects to Lucky Dube, and our thoughts are with his family at this tragic time. May his spirit live on through his music.
Tango Siempre tour the UK
This Autumn, ARC Music group Tango Siempre will be touring their new music and dance production "Tango:Nuevo" across the UK.
In this all-new show, Tango Siempre move tango away from its Come Dancing respectability back to where it belongs: as close to the fire and passion of its origins as to the latest innovations in music and dance.
From stunning, virtuoso displays of traditional tango to powerful, groundbreaking contemporary tango music and dance, Tango:Nuevo is an exquisite and breathtaking journey into the heart of Tango Argentino and beyond.
Performers include leading tango dancers Myriam Ojeda Patino, Guillermo Torrens, Kicca Tomassi and Julio Mendez. Live music will be played by Tango Siempre, featuring Pete Rosser (accordion), Ros Stephen (violin), Jonathan Taylor (piano), Lucy Shaw (double bass) and Milo Fell (drums/electronics). Choreography is by Myriam Ojeda Patino (director of Arte Latino Cultural Project) and music is composed and arranged by Tango Siempre.
You can check out Tango Siempre's albums, Nocturno - EUCD1807, and Tangled - EUCD1960, at the online store.
What the press have said about Tango:Nuevo:
"... an effortless fusion of Latin Passion and jazz virtuosity" - Sunday Times
"... intense, epic and beautiful" - Independent on Sunday
"... a rich, hot-blooded brew & uniquely exciting and beautiful" - (****) MOJO
"... glaringly intelligent and a joy from start to finish" - (****) Jazzwise
Performance Dates
20-Oct-07 - Tango:Nuevo, Merlin Theatre Frome, 01373 465 949
21-Oct-07 - Tango:Nuevo, Farnham Maltings, Surrey, 01252 745 444
3-Nov-07 - Tango:Nuevo, Wycombe Swan Theatre, High Wycombe, 01494 512 000
8-Nov-07 - Tango:Nuevo, Roses Theatre, Tewksbury, 01684 295 074
9-Nov-07 - Tango:Nuevo, Yeovil Octagon, 01935 422 884
10-Nov-07 - Artrix, Bromsgrove, 01527 577 330
11-Nov-07 - Tango:Nuevo, Bracknell South Hill Park, 01344 484 123
14-Nov-07 - Tango:Nuevo, ArtsDepot, London, 020 8369 5454
15-Nov-07 - Salisbury Arts Centre, 01722 321 744
16-Nov-07 - Tango:Nuevo, Swindon Dance, 0 1793 601 700
20-Nov-07 - Tango:Nuevo, Portsmouth Theatre Royal, 02392 649 000
21-Nov-07 - Tango:Nuevo, Trinity Theatre Tunbridge Wells, 01892 678 678
24-Nov-07 - Tango:Nuevo, Pegasus Theatre, Oxford (2 performances), 01865 722 851

ARC Music artists Ustad Sabri Khan and Kamal Sabri Khan finish Asian tour
Sarangi legend Ustad Sabri Khan's and his ensemble have just finished their first tour outside of India. 18 concerts took place across Japan, China and South Korean, at festivals like the multi cultural Asia Pacific Festival in Japan, the International Photography festival in China and workshops were held at Najing University in China.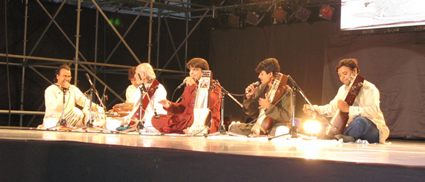 Ustad Sabri Khan is a master of the ancient and notoriously difficult to play Sarangi instrument, and has performed with many of the eminent vocalists of India and Pakistan in the past four decades. His son, Kamal Sabri, is also part of the ensemble. Kamal started learning Sarangi at the age of seven years from his illustrious father, and today he is a very talented player and is committed to continuing the family tradition of Sarangi playing.
You can check out Ustad and Kamal's album, "Best of Indian Sarangi" - EUCD2020, in the online shop. They will be performing again in November at the Oslo World Music Festival in Norway.
ARC Music artists at World Sacred Music Festival in Brighton, UK
The World Sacred Music Festival in Brighton returns for its fourth year and will feature performances by musicians from a spectrum of faiths and cultures, including ARC Music artists Baluji Shrivastav and Merlin and Polina Shepherd.
The festival is a celebration of sacred music from across the globe. Artists local, national and international come from a wide range of sacred traditions, including African, Buddhist, Celtic, Christian, Hindu, Jewish, Muslim, Native American and Sikh.
The event aims to inspire and entertain audiences, but also to encourage understanding between people of all faiths or no faith.
You can see Baluji Shrivastav on Saturday 20th October, from 1pm at St John's Church, Palmeira Square. Tickets are £7. Check out his albums at our online store simply by typing .Baluji . into the search box.
Baluji is a multi-instrumentalist and has enthralled audiences across four continents with his subtle and expressive playing. The Independent on Sunday describes him as Ravishing and fresh .. He will be accompanied by highly acclaimed tabla player Partha Sarathi Mukherjee- this is an opportunity to hear three classical Indian stringed instruments in one event and not to be missed!
You can see Merlin and Polina Shepherd performing with the London Community Gospel Choir on Saturday 20th October, from 8 pm at St George's Church, Kemptown. Tickets are £12 (£9 concessions). You can hear them on the album .Hilda Bronstein Sings Yiddish Songs Old and New, EUCD2054.
Merlin and Polina are among the world's top players of traditional Eastern European Jewish Klezmer music. The Evening Standard wrote that .Merlin Shepherd colours and shapes every phrase.. Polina is also holding a workshop on Thursday 18th October, from 2:30pm at the Brighton Unitarian Church. She will be teaching Niggunim, the age-old songs without words that form part of traditional Jewish worship. Tickets cost £12 (£9 concessions).
ARC Music Artist Yale Strom leads unprecedented Klezmer event
More than 75 of the world's most influential klezmer musicians will come together for "A Great Day on Eldridge Street", a ten-day series of concerts, lectures and educational events that will kick-off on October 12 with a march through the streets of the Lower East Side, New York, USA.
This unique gathering of international musicians is conceived and led by ARC Music artist Yale Strom, a klezmer virtuoso and the world's leading ethnographer of klezmer culture and history.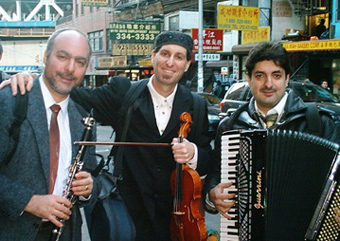 Yale Strom with Hot Pstromi members Norbert Stachel and Peter Stan
Musicians participating in A Great Day on Eldridge Street will travel to the Lower East Side (the birthplace of Eastern European Jewish culture in America) from across the United States and around the world, including Canada, Israel, Europe and the former Soviet Union.
If you live in or near New York, this is a once in a lifetime experience not to be missed! The events of this cultural performance and documentation project will include:
Thursday, October 11: Educational workshop with select group of musicians and second grade students at local Chinatown public school P.S. 1

Friday, October 12: Procession 11:30am from the Eldridge St. Synagogue to Seward Park featuring the musicians as they march down the streets of the Lower East Side.
Saturday, October 13th: Major evening concert at Elebash recital hall at the CUNY graduate center. Located 365 5th Ave. and 34th St. 8pm. FREE admission. Michael Alpert, Bob Cohen (Budpaest), Di Gojim (Holland), Phyllis Berk, Zalman Mlotek, Judy Bressler, etc. The evenings host will be NPR's Ellen Kushner.
Sunday, October 14: Major evening concert at Symphony Space (96th St. and Broadway) in Manhattan. 8pm. Call: 212 864- 1414. Theo Bikel, Don Byron, Elizabeth Schwartz, Michael Alpert, Andy Statman, Hankus Netsky, etc. The evening's host will be actor/director Isaiah Sheffer.
October 15-21: State wide Great Day Tour with performances and educational workshops at the Bardavon 1869 Opera House in Poughkeepsie (October 16), The 1891 Fredonia Opera House (October 18), Buffalo State Performance Arts Center (October 20) and the 1890 Performance Hall at Hochstein in Rochester (October 22)
Yale Strom and his band Hot Pstromi are releasing a new album, 'Borsht with Bread, Brothers - Klezmer', which will be available to purchase from our online store on the 27th September.
ARC Music now available on iTunes
Over 300 ARC Music albums are now available to download on Apple iTunes! This means you can purchase our albums on iTunes and instantly listen to the music or put it onto your MP3 player. Check it out at http://www.apple.com/itunes.
Hossam & Serena Ramzy presents: Concert and Bellydance workshops
- London, UK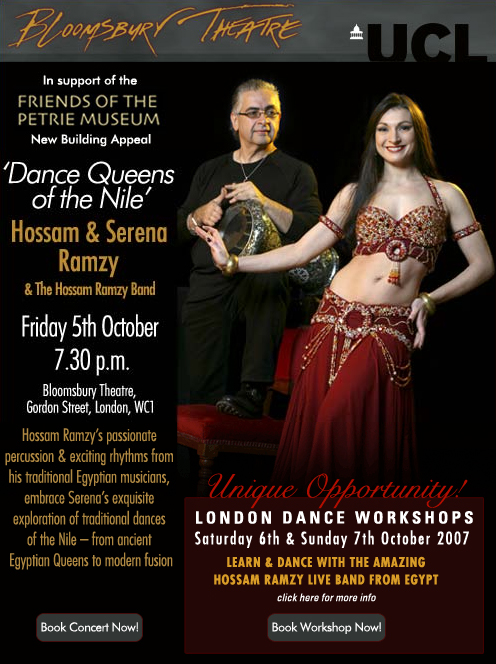 The Dhoad Gypsies from Rajasthan to tour the USA and Canada
Beginning in September, The Dhoad Gypsies from Rajasthan will be taking their mystical, hereditary tradition of gypsy music on a national tour across the USA and Canada. The breathtaking sound of this group is inspired by the ancient gypsies of Rajasthan - wandering poets, dancers and musicians who went from town to town entertaining princes and their courtiers. The tradition was passed down from generation to generation, and the Dhoad Gypsies express it with beautiful authenticity, transporting the listener to ancient, foreign lands. They create an atmosphere of magical enchantment, a whirlwind of glittering, shimmering colour, music and dance.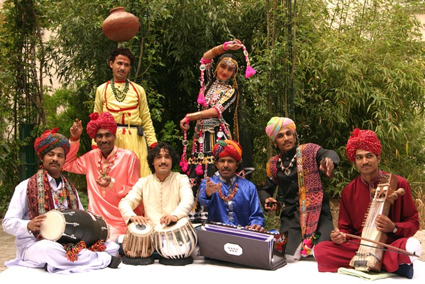 Dhoad Gypsies
The group brings together several talented musicians, all Rajasthani, but from different communities, religions (Muslim, Hindu and Sikh), and different artistic castes. They comprise the sapera-kalbelya (dancers and snake charmers), the langas (poets), the manganyar (troubadours) and musicians. See their album - The Dhoad Gypsies From Rajasthan
Check out their tour dates below and experience the sound and spectacle of the Rajasthan Gypsies.
Date
Time
Venue
14-09-2007
8pm
World Music Festival Chicago, Chicago, USA
15-09-2007
8pm
Lotus World Music Festival, Madison, USA
16-09-2007
9pm
World Music Festival Chicago, Chicago, USA
21-09-2007
9pm
World Music Festival Montréal Quebec, Canada
22-09-2007
8pm
Small World Music Festival Toronto, Ontario, Canada
26-09-2007
9pm
Parry Pound, Ontario, Canada
28-09-2007
9pm
Lotus World Music Festival, Bloomington, Indiana, USA
29-09-2007
8pm
Lotus World Music Festival, Bloomington, Indiana, USA
30-09-2007
9pm
West Chester, New York, USA
05-10-2007
9pm
Memphis, Tennessee, USA
06-10-2007
9pm
Memphis, Tennessee, USA
07-10-2007
8pm
New York City, USA
Baluji Shrivastav UK tour 2007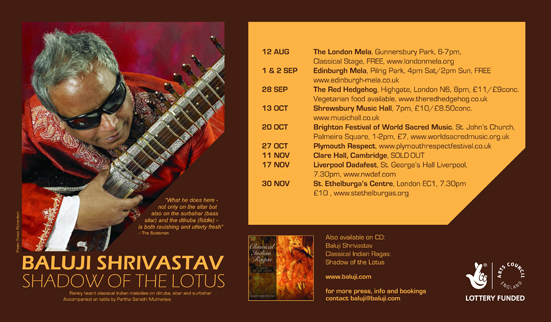 ARC Music Artists at WOMAD!
In July this year, three ARC Music artists - Seckou Keita Quartet, Cheng Yu and the Silk String Quartet and N'faly Kouyaté - all performed at the WOMAD festival in Wiltshire.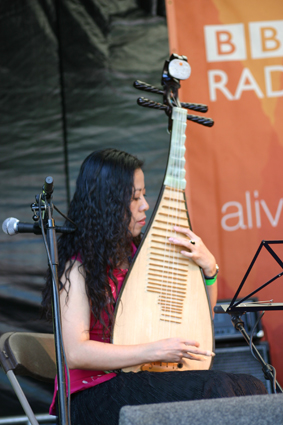 Cheng Yu Playing Pipa at WOMAD
The festival brings together and celebrates many forms of music, arts and dance drawn from countries and cultures all over the world. The name itself, WOMAD, stands for 'World Of Music, Arts and Dance.'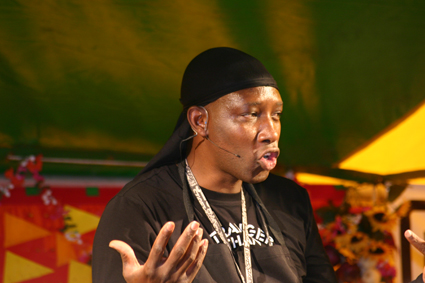 N'faly Performing
It was originally inspired by Peter Gabriel: "Pure enthusiasm for music from around the world led us to the idea of WOMAD in 1980 and thus to the first WOMAD festival in 1982. The festivals have always been wonderful and unique occasions and have succeeded in introducing an international audience to many talented artists."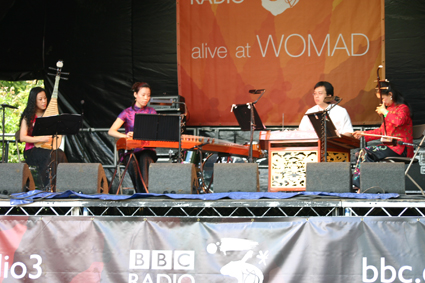 Silk String Quartet
The weekend saw many international and famous acts, and drew thousands of music lovers. ARC Music artists Seckou Keita performed on the BBC3 stage and also did a workshop at the Under A Tree Stage. Cheng Yu and the Silk String Quartet too played on the BBC3 stage, and received demands for an encore from the crowd. N'faly - who over the years has played at WOMAD before in Madrid and the UK - was on the Taste The World Stage in the day, and the Siam Tent in the evening.
Joji Hirota & The Taiko Drummers Opening at Live Earth Concert!
On Saturday 7th July, famous Japanese Percussionist and Composer Joji Hirota and The Taiko Drummers, along with 100 drummers will be playing at the opening of the Live Earth concert at Wembley Stadium, London at 1:30pm.
The BBC will be covering the concert and there will be many more high profile celebrity performers including Madonna and Genesis.
ARC Music produced Joji's album "Japanese Taiko - Joji Hirota & The Taiko Drummers" (EUCD1885) and there is a future release forthcoming.
Don't miss it.
Chinese Monks Visit ARC Music for Signing Ceremony!
ARC Music welcomed on Friday the arrival of two distinguished Taoist Monks from the Shanghai City God temple. They made the journey all the way from China especially to perform the customary contract signing ceremony, which gives the company the official right to release their music outside of their country.
The project was introduced to ARC Music by eminent Chinese violin expert and former professor at the Shanghai Music Conservatory, Chen Dacan, who has recorded Chinese folk music with the company in the past.
Taoism is the English name for a cluster of Chinese religious and philosophical traditions which can be traced back as early as 200 AD.
The music was performed and recorded in the Shanghai City God temple and was played by the Taoist Music Orchestra. The musicians are young Taoists who have been in training for the past 20 years. They try to present pure Taoist music which bears both characteristics of traditional and folk religious music.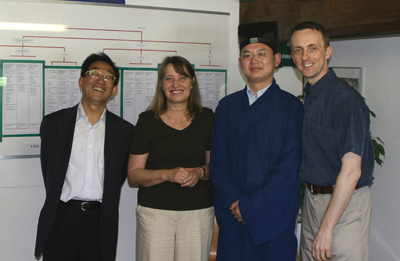 Professor Chen Dacan, Owner and Art Director Karin Tubbesing,
Taoist Monk Ji Hong Zhong and Executive Director Phil Collinson.
Our Art Director, Karin Tubbesing said, "It is a great honour for me personally to be a part of such a unique and special ceremony. It is also a great insight into the Taoist culture and traditions. To travel such a great distance to sign the contract gives you some idea of how much they value what we are doing, and how much it means to them to have their music made available to everyone outside of their own country."
The album will be released towards the end of this year.
ARC Music ring tones are now available online!
Thanks to Audio-Sparx you are now able to find your favourite ARC Music track and set it as your ringtone on your mobile phone. There are hundreds of tracks to choose from across the catalogue and all you need to do is click the link below!
http://www.audiosparx.com/sa/realtones/ringtones.cfm
800th birthday of Persian philosopher and mystic Molana Jalaleddin Rumi /
Mevlana Celaleddin-i Rumi (1207 - 1283).
2007 sees the 800th birthday of Persian philosopher and mystic Molana Jalaleddin Rumi / Mevlana Celaleddin-i Rumi (1207 - 1283). UNESCO therefore designated 2007 as the year of Molana Jalaleddin Rumi. With his poems widely translated in many languages, he has a notable role in Middle Eastern music, Sufi poetry, Sufi Philosophy and Sufi dance. After his death his followers founded the Mevlevi order, better known as the "Whirling Dervishes" who believe in performing their worship in the form of dance and music ceremonies.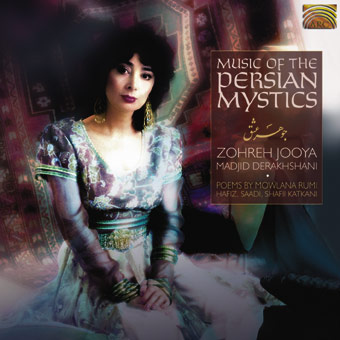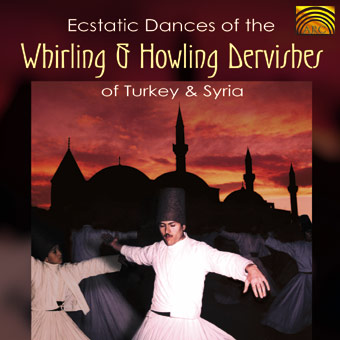 See also: EUCD1792 Music of the Persian Mystics by Zohreh Jooya, which includes poems by Rumi as well as EUCD 1580 Ecstatic Dances of the Whirling Dervishes.
---
News Archive 2008 | News Archive 2007 | News Archive 2006
---