NEWS ARCHIVE 2008-2012
Zero Dark Thirty uses music from ARC Music
Three tracks in Golden Globe nominated film
One of this year's hardest hitting movie releases goes on limited release in the United States today, earning several Golden Globe nominations and becoming the latest major movie production to source music from world music specialists ARC Music.
Zero Dark Thirty follows the decade-long search for Osama Bin Laden, climaxing with his capture and death at the hands of US Navy SEALs in Pakistan. It goes on general US release on 11th January 2013.
The movie uses 3 ARC Music tracks sourced from ARC Music: 'Ishq di baazi jittan naalon' and 'Shishey utthey thuran jamiya' from Asif Bhatti's album Traditional Music from Pakistan, and 'Sakhi' from Sublime Sufi by Shafqat Ali Khan.
"With parts of the movie being set in Pakistan they were looking specifically for Pakistani music, and we were able to provide three tracks," says ARC's Licensing Director Caren Entwistle. "The tracks they selected are very typically Pakistani and are high in passion and drama, so they should complement the movie well."
The film is co-produced by Kathryn Bigelow (Director) and Mark Boal (Screenplay), the Oscar-winning team behind The Hurt Locker, and stars Jessica Chastain, Jason Clarke, Joel Edgerton and Kyle Chandler.
With its topical and controversial subject matter as well as its graphic torture scenes, the film has been courting much media attention and looks to be a hit in theaters over the Christmas and New Year period in the US. Initial reaction to the film has been very positive, earning nominations for four Golden Globes, including Best Motion Picture – Drama, Best Performance by an Actress in a Motion Picture – Drama (Jessica Chastain), Best Director (Kathryn Bigelow), and Best Screenplay – Motion Picture.
The movie becomes ARC Music's fourth Hollywood success for 2012, following the use of music in Skyfall, The Dictator, and Abraham Lincoln Vampire Hunter earlier in the year. These are the latest in a long line of movies to source music from ARC's extensive world music catalogue, following James Bond Casino Royale (2006); Indiana Jones and The Kingdom of the Crystal Skull (2008); Burn After Reading (2009); Prince of Persia: The Sands of Time (2010); Conan The Barbarian 3D and Machine Gun Preacher (both 2011). Previous placements also include The Kingdom, Munich, The Constant Gardener, War, and The 40 Year Old Virgin, among others.
ARC Music was established in 1976 to preserve the ethnic music of world cultures, and to spread traditional and original music with a positive message. The label now offers the largest selection of traditional and contemporary ethnic music from all corners of the world.
You can receive news updates such as this direct to your email inbox by signing up for our newsletter. All newsletter subscribers receive our FREE 19-track world music download featuring music from across the ARC Music catalogue.
Clannad - New Live Album, First Ever DVD and Tour
Legendary Irish family group Clannad release their first ever live DVD and an accompanying live album in early 2013. 'Clannad - Christ Church Cathedral' has its release through ARC Music in February.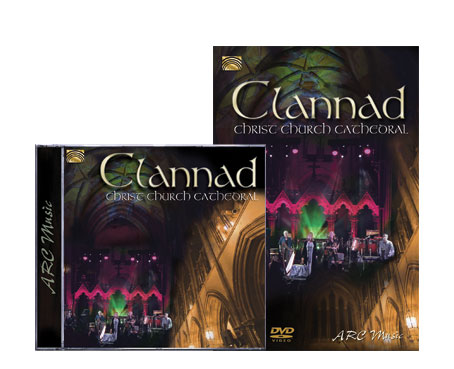 Throughout a forty-year career Clannad has been responsible for timeless music such as 'Theme From Harry's Game', 'In A Lifetime', 'I Will Find You' and the soundtrack to the 'Robin of Sherwood' TV series. Their music entwines the traditional and the modern, the past and the future, with stunningly beautiful results. Comprised of siblings Moya, Ciaran and Pol Brennan, along with their twin uncles Noel and Padraig Duggan, the band's record sales exceed fifteen million since the release of their eponymous debut in 1973. Towards the end of the seventies they recruited their younger sister on piano and harmony vocals. She worked on two albums and several tours with them before going on to establish her own highly successful solo career as Enya. During those early years the band developed their trademark sound, immediately identifiable by anyone who has ever heard it, which has earned them legions of fans in the incredibly successful years since.
The new live album and DVD were recorded at Dublin's historic Christ Church Cathedral on 29th January 2011. Being in such an intimate setting the band chose to lean heavily on their early traditional material as the acoustic nature of these tracks would suit the surroundings well. Pol, who had left Clannad in 1990 to pursue solo interests, rejoined the band marking the first time the original five members had performed together for more than twenty years.
Says Moya Brennan, "When we were asked to perform in Christ Church Cathedral we really wanted to put together a unique show that would complement the spectacular surroundings. It was the first time in many years that we had played in such an intimate setting and in choosing the programme it made us go right back to the earliest days of our forty years as a band, we even start the show with the first song Clannad ever played together."
"The show is almost like a history of the band," adds Ciaran, "starting with just the five of us on stage, as it was in the beginning, and gradually being joined by some wonderful musicians and very special guests. The backdrop of the cathedral's architecture provided the perfect setting for us and everything just felt very special on the night."
2013 promises to be another landmark year for the band as they embark on a new European tour to celebrate their 40th anniversary. Confirmed tour dates can be viewed here, while further dates are to be announced. A new studio album is scheduled to be recorded later in the year.
It is indeed fascinating to consider that what today is so widely regarded as Celtic music was first called "Clannad music". There is perhaps no greater testament to the impact of this groundbreaking group than that.
You can receive news updates such as this direct to your email inbox by signing up for our newsletter. All newsletter subscribers receive our FREE 19-track world music download featuring music from across the ARC Music catalogue.
Manu Katché releases 'Manu Katché'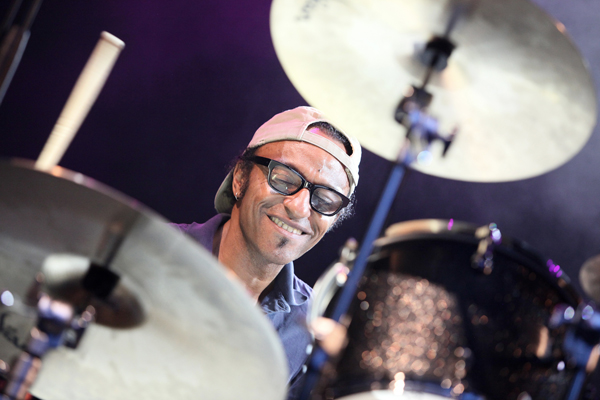 Renowned jazz musician and "world's grooviest drummer" Manu Katché has released his latest album, entitled Manu Katché.
Manu worked with Hossam Ramzy on the ARC Music release Rock The Tabla, which earned Hossam a nomination for Best Artist in the 2012 Songlines Music Awards. The two had previous worked together on Peter Gabriel's recordings and Hossam could not resist asking Manu to be a part of Rock The Tabla, saying "Manu is the guy that brings rhythm from heaven and puts it onto the drums".
Read more about Manu's new album and listen to tracks here.
You can receive news updates such as this direct to your email inbox by signing up for our newsletter. All newsletter subscribers receive our FREE 19-track world music download featuring music from across the ARC Music catalogue.
Custódio Castelo - InVentus
Master of the Portuguese Guitar Custódio Castelo releases his second solo album, InVentus, through ARC Music in November 2012.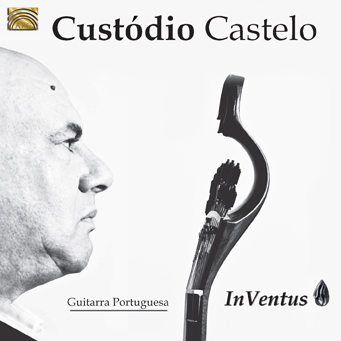 InVentus marks a new chapter for Custódio Castelo. Until recently the accompanist-of-choice for fado diva Ana Moura, InVentus represents a change for Custódio in which a more determined focus on his solo career will play a defining role.
InVentus is the follow-up to Tempus, released internationally in January 2011, received as "a remarkable record, eloquent, sophisticated, and yet ineffably rooted in Portugal, a work from a true master" (Allmusic). Tempus was itself a momentous album, recorded some eight years ago at a time when Custódio feared an early end to his career following an arm injury. "Extraordinary pressure often yields extraordinary results and this is a wonderful album" said Songlines. Custódio later made a full and remarkable recovery, and InVentus displays his approach to his career with a renewed vigour.
So whereas Tempus ('time') was an intended life's work, InVentus can be seen as a statement of intent: intent to flourish as an artist, and to contribute to the evolution of fado as a genre.
Custódio's skill and innovation as a composer was evident from early in his career; as the main composer and permanent accompanist for Cristina Branco until 2005, his music helped establish her as one of the forerunners of the novo fado movement. InVentus, an aptly titled album, achieves that rare balance of innovation, virtuosity and the emotion that is necessarily inherent in all fado.
With the Portuguese guitar as its main protagonist, InVentus will no doubt be classified as a fado album, though its fusion of that genre with jazz and world music is perhaps its most distinguishing characteristic. From tracks like In-quietude, the album's opener, with its drum-kit accompaniment, and In agradecimento Miss Morna 1941-08-27 - its dedication to Cesária Évora illustrated with its hints of the morna music of Cape Verde. The Takeoff and In Distance incorporate wind instruments and violin, while the world famous master of the accordion, Richard Galliano, contributes on Fan Fado, a tribute to the city of Paris.
Also appearing on the album are guitarist Joel Pina, who was a permanent accompanist of Amália Rodrigues from 1966 until her final performances in the 1990s, and the renowned fado composer and guitarist Jorge Fernando.
Custódio has been heard saying that his long term goal is to do for fado what Paco de Lucia did for flamenco in the 1970s – to progress the genre by fusing it with other musical styles. InVentus is surely the start of a long journey.
You can receive news updates such as this direct to your email inbox by signing up for our newsletter. All newsletter subscribers receive our FREE 19-track world music download featuring music from across the ARC Music catalogue.
'InVentus' and 'Vocalism' on World Music Charts Europe for December
Two ARC Music artists feature on the World Music Charts Europe (WMCE) for December 2012.
'Vocalism' by Vusa Mkhaya, which was released to a great reception in September, and 'InVentus' by Custódio Castelo, newly released at the end of November, are both included in the chart's Top 20.
The chart positions are determined by votes from 50 of Europe's leading world music DJs, who elect their favourite releases for that month.
Vocalism was described by the WMCE panel as "fusing Zimbabwean vocal styles with tinges of jazz, from his adopted home of Vienna, and some fine Afro-psych guitars lurking in the background", while InVentus has been heralded by Allmusic music as "a disc that bursts with both melody and invention, where one joy succeeds another."
You can receive news updates such as this direct to your email inbox by signing up for our newsletter. All newsletter subscribers receive our FREE 19-track world music download featuring music from across the ARC Music catalogue.
New Book Edited by Yale Strom
Shpil: The Art of Playing Klezmer is both a history of this popular form of traditional Jewish music and an instructional book for professional and amateur musicians. Since the revival of klezmer music in the United States in the mid-1970s, Yiddish songs and klezmer dance melodies have served as the soundtrack for a resurgence of interest in Ashkenazic Jewish culture across the globe. Klezmer has taken root not only in America's major urban centers—New York City, Chicago, San Francisco—but also in emerging Jewish music hotspots like St. Petersburg, Buenos Aires, Krakow, and Tokyo. Its high energy, emotionally driven sound, and evocative Yiddish lyrics have found audiences everywhere.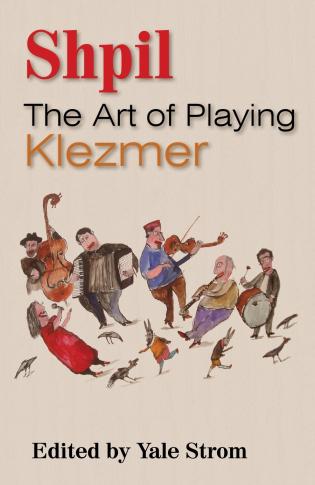 Shpil offers an expansive history of klezmer, from its medieval origins to the present era, and its contributors encompass a cast of world-renowned musicians who have recorded, performed, and studied klezmer for years. Individual chapters concentrate on the most common instruments found in a klezmer ensemble—violin (Yale Strom), clarinet (Norbert Stachel), accordion (Peter Stan), bass (Jeff Pekarek), percussion (David Licht), and voice (Elizabeth Schwartz) — and conclude with a selection of three songs that illustrate and exemplify the history and techniques of that instrument. Shpil includes a glossary and a discography of both classic and new klezmer and Yiddish recordings, all designed to guide readers in an appreciation of this remarkable musical genre and the art of playing and singing klezmer tunes.
Shpil: The Art of Playing Klezmer is ideal for amateur enthusiasts, musical scholars, beginning artists, and professional musicians, both solo and ensemble—indeed, anyone who wants to experience the joy of listening to and playing this thousand-year-old folk music. https://rowman.com/ISBN/9780810882911.
Yale Strom has been doing klezmer ethnographic research in Eastern Europe among the Jews and Roma since 1981. A graduate of San Diego State University and New York University he is currently artist-in-residence in the Jewish Studies Program at SDSU. With his band Hot Pstromi he has released two albums through ARC Music, Borsht with Bread, Brothers (2008) and The Devil's Brides (2011).
You can receive news updates such as this direct to your email inbox by signing up for our newsletter. All newsletter subscribers receive our FREE 19-track world music download featuring music from across the ARC Music catalogue.
Ceumar on the World Music Charts Europe
Brazilian songstress Ceumar is included in the World Music Charts Europe with her new album, Dindinha – Sons do Brasil, released last month.
The World Music Charts Europe (WMCE) for November was published today, and 'Dindinha' has gone straight in at # 14. The full top 20 can be viewed here.
The chart positions are determined by votes from 50 of Europe's leading world music DJs, who elect their favourite releases for that month.
WMCE described the album as "a breezy journey through Brazilian MPB [Música Popular Brasileira], in the care of this versatile young singer who is informed equally by the pop, jazz and samba influences of her homeland".
Custódio Castelo's InVentus in Portuguese Top 30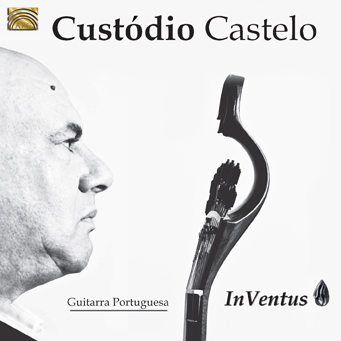 InVentus, the new album by Custódio Castelo, entered the Portuguese album charts at number 28 this week.
The Top+ charts monitor the most popular albums in Portugal, administered by the record industry association, AFP and the broadcaster RTP1. At the top of the chart was 'The 2nd Law' by British rock stars Muse.
Congratulations Custódio!
Skyfall – 2nd James Bond Film for ARC Music
In 2006 ARC Music flirted with espionage when they provided music for the James Bond film Casino Royale.
ARC Music is now proud to announce their involvement in the next installment in the Bond franchise, Skyfall, to be released on 26th October 2012. A Turkish percussion piece by Hüseyin Türkmenler will feature in the soundtrack of the film. Entitled Konyali, the track was recorded in Ankara, Turkey, in 2001 and released by ARC Music on Hüseyin Türkmenler's album Nasrah – Turkish Bellydance.
"We don't yet know which scene the music is going to be used in", says ARC Music's Licensing Director Caren Entwistle, "but part of the movie takes place in Turkey, so we're going to be paying very close attention to those scenes."
"Hüseyin Türkmenler is one of our longest standing artists, so we are very pleased for his music to be featured in the film, and of course to be working with our 2nd James Bond film."
"Daniel Craig is playing Bond again, just like in Casino Royale, which we also provided music for. Perhaps he is a good luck charm for us – we hope he continues to play Bond for many movies to come!"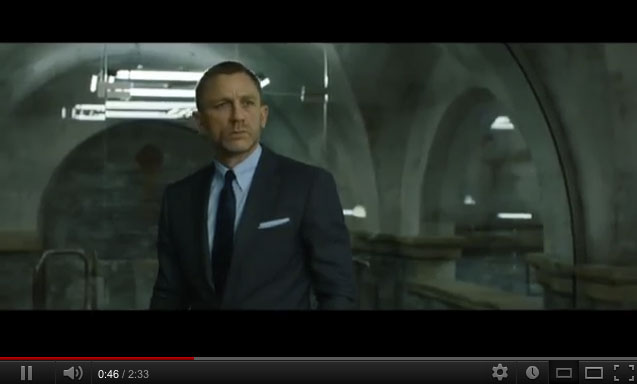 The news is particular cause for celebration for ARC Music, as this is the third major film production to use the company's music this year. Earlier in the year ARC Music successfully placed music in Sacha Baron Cohen's The Dictator, and Abraham Lincoln - Vampire Hunter, produced by Tim Burton.
Other major films to use the company's music in recent years include Indiana Jones and The Kingdom of the Crystal Skull, Burn After Reading, Prince of Persia: The Sands of Time, Conan The Barbarian 3D, Machine Gun Preacher, The Kingdom, Munich, The Constant Gardener, War, and The 40 Year Old Virgin, to name a few.
Skyfall is currently the subject of a major promotional campaign. As well as the usual furore that surrounds the release of a James Bond film, distributors MGM/Columbia/Sony and production company Eon are going into overdrive on promotion to celebrate 50 years of James Bond in film (the first Bond film, Dr. No, was released in October 1962). Skyfall's main theme tune, sung by Adele, is currently top of the iTunes charts.
Directed by Oscar-winner Sam Mendes (American Beauty), Skyfall sees Dame Judi Dench reprise her longstanding role as M, while Ralph Fiennes and Albert Finney also star. Oscar-winner Javier Bardem (Best Supporting Actor, No Country for Old Men) stars as Raoul Silva, the film's main villain. Daniel Craig carries the License to Kill as 007.
ARC Music was established in 1976 to preserve the ethnic music of different world cultures, and to spread traditional and original music with a positive message. The label now offers the largest selection of traditional and contemporary ethnic music from all corners of the world.
Ceumar – 'Dindinha' – sons do Brasil
"Ceumar is one of the best singers out of Brasil in the last ten years." – Jazz Times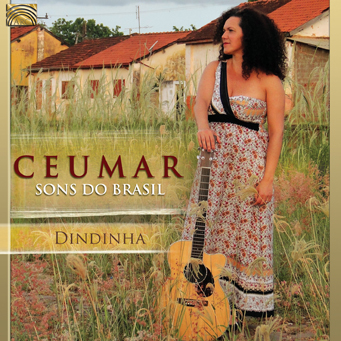 Ceumar ("say-ooh-mar") combines Brazilian folk with influences from pop, jazz and samba in a unique way, as illustrated on this new release. 'Dindinha – sons do Brasil' is released globally on the ARC Music label on 29th October 2012.
Since the domestic release of her debut album in 2000, Ceumar has achieved popularity in her native Brazil, as well as the Netherlands, the country she now calls home and where she performs regularly.
This, her first worldwide release, is a carefully selected collection of tracks taken from her four studio albums: Dindinha (2000), Sempre Viva (2003), Achou! (2006) and Meu Nome (2009). A live album, Live in Amsterdam, was also released in 2010.
Ceumar was 'discovered' in São Paulo in the early 1990s by Zeca Baleiro, who produced her debut album. Ever since, Ceumar has been recognized as one of the pearls of the Musica Popular do Brasil (MPB).
Ceumar is not only blessed with a wonderful voice but also with a very special name. Ceu means heaven and Mar signifies the sea. When asked, Ceumar will reveal the truth of her name: it is a combination of her father's and mother's names.
At home in the Brazilian state of Minas Gerais, the young Ceumar was exposed to the music of artists such as Milton Nascimento, Lo Borges, Clube da Esquina, Joyce and Boca Livre. When starting her own musical adventure, Ceumar tended to choose the less obvious road; she was not keen on singing the same songs 'everybody' already sang before her. This approach was reflected in her first shows, which she called "30 Músicas que você não ouve no radio" (30 Songs you don't hear on the radio), and which contained songs by Egberto Gismonti, A Barca do Sol, Hermeto Pascoal and others.
EUCD2408 Track listing:
Banzo - 3:28
Outra Era - 3:35
Dindinha - 3:54
O seu olhar - 4:01
Onde qué - 3:45
Boi de Haxixe - 2:51
Rosa Maria - 3:33
Gira de Meninos - 4:24
Achou! - 4:24
Boca da Noite - 2:58
Jabuticaba Madura - 3:02
Alguém Total - 4:22
As Perigosas - 3:44
Girias do Norte - 2:41
Lenha na Quentura - 4:10
Total playing time: 55:38
'Dindinha – sons do Brasil' is released worldwide through ARC Music on 29th October 2012.
Perunika Trio – "A Bright Star Has Risen"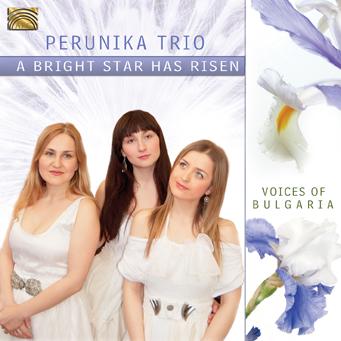 October 2012 sees the eagerly awaited second release by Bulgaria's Perunika Trio. A Bright Star Has Risen is released worldwide on 29th October (ARC Music, EUCD2409).
Following their acclaimed debut Introducing Perunika Trio (World Music Network, 2008), described by fRoots as a "very impressive debut… sometimes sweet, but sometimes surprisingly spiky and well worth investigating", the new album demonstrates the trio's development from a fledgling ensemble to a mainstay on the UK world music scene. According to group leader and musical director Eugenia Georgieva: "Introducing Perunika Trio was recorded shortly after founding the group in 2006. A Bright Star Has Risen is a more mature and skilful collection of Bulgarian folkloric gems and original material. While the first album explored Bulgarian musical traditions in the context of broader Slavic influence and featured Russian folk songs and Orthodox chants, A Bright Star Has Risen delves deeper into the vocal music of south and southwest Bulgaria and focuses on the woman's perspective of the world."
Firmly rooted in tradition but with the kind of gentle modern touches you would expect from three young women, the songs on the album reference those subjects commonly found in Bulgarian folk music, all with the common theme of a very feminine perspective. Village life, the joys and trials of love, brides and maidens, and the mother figure, all play frequent roles in the lyrics of these songs.
Eugenia continues, "A Bright Star Has Risen [track 11] is one of our favourite tracks from the album, and evokes a powerful image. A young maiden is often likened to a rising bright star. Flowers bloom under her footsteps; she is spring herself, a new beginning."
The trio is named after Perunika, the Slavic goddess of rain and eternal beauty, to whom the trio sing in Peperuda (track 9), an ancient pagan ritual performed at the beginning of summer in honour of the deity. Eugenia describes the trio's music as "elegant, and temperamental at the same time", which is perfectly demonstrated in this track, as well as Rano mi e more (Early Sunrise, track 3).
EUCD2409 Track listing:
Snoshti sum minal, kuzum Elenke (Last night)
Ta ne se si, mome, naspalo (Girl you haven't slept enough)
Rano mi e more (Early Sunrise)
Tri byulbyula peyat (Three nightingales)
Na horoto (Village Dance)
Proshtavay, mamo (Farewell, Mother)
Malo selo (Small village)
Zalibih si edno libe (I've fallen in love with a sweetheart)
Peperuda
Po jutva (Harvest)
Izgreyala yasna zvezda (A bright star has risen)
Angel i moma (Angel and maiden)
Velichanie Bogorodichno (Adoration of the Virgin)
Paune forkat (Peacocks are flying)
A Bright Star Has Risen is available worldwide and on iTunes from 29th October 2012.
Vusa Mkhaya interviewed for BBC News Africa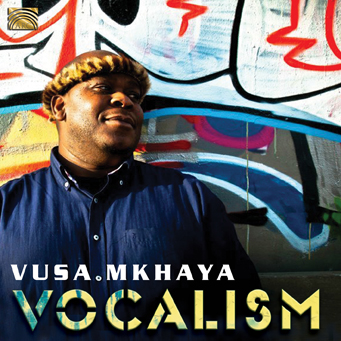 Vusa Mkhaya was interviewed for BBC News Africa recently about his new album, Vocalism.
You can listen to the interview here.
ARC Music listed in WOMEX Top Labels 2012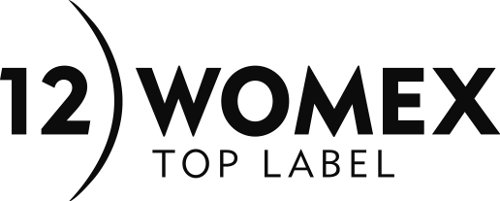 ARC Music is listed in the top world music labels of 2012 by WOMEX, the World Music Expo.
The list is compiled by the World Music Charts Europe in collaboration with WOMEX, and is based on chart positions of individual releases.
Special mention was given to the ARC albums Rock The Tabla (Hossam Ramzy and Special Guests), Tango de Norte a Sur (Las Chicas del Tango), and Summertime – Best of Black Umfolosi for their high ranking chart positions.
WOMEX is the annual meeting of the world music community, and takes place this year in Thessaloniki, Greece, from 17-21 October. www.womex.com
You can receive news updates such as this direct to your email inbox by signing up for our newsletter. All newsletter subscribers receive our FREE 19-track world music download featuring music from across the ARC Music catalogue.
Baluji Shrivastav to feature in London 2012 Paralympic Games Closing Ceremony
Master of Indian music Baluji Shrivastav is playing a significant part in the TV coverage of the London 2012 Paralympic Games.
Baluji, who lost his sight as a baby, will be performing at the Closing Ceremony as part of the British Paraorchestra, a collection of world class musicians with disabilities brought together by the award-winning conductor Charles Hazelwood. An estimated half a billion people will watch the ceremony which takes place on 9th September. Also confirmed to perform at the ceremony are Coldplay and Rihanna.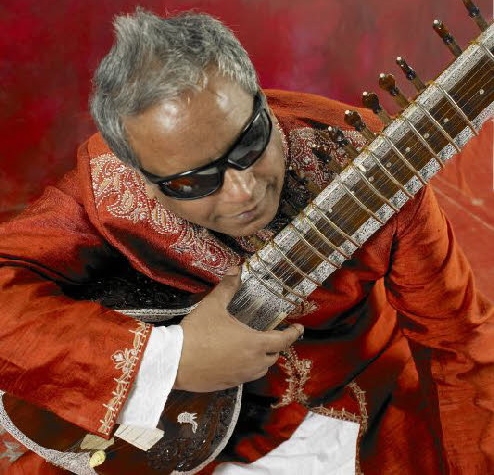 Baluji Shrivastav
Watch: The British Paraorchestra
In addition to this, Baluji's sitar and tabla can be heard every day on Channel 4 in the theme tune to Jon Snow's Paralympic Show, and he has been interviewed on BBC Radio 3 and World Service programming this week.
Listen: Baluji on BBC Asian Network with Nihal
(the section with Baluji starts at about 1 hour, 26 mins
A selection of Baluji's music can be found here.
You can receive news updates such as this direct to your email inbox by signing up for our newsletter. All newsletter subscribers receive our FREE 19-track world music download featuring music from across the ARC Music catalogue.
Cheng Yu in Concert - Pipa and Guqin - By Lily Middleton
Cheng Yu in Concert
Pipa and Guqin
By Lily Middleton
On Wednesday 5th September 2012 the internationally renowned Chinese musician Dr Cheng Yu will perform at the Horniman Museum and Gardens. Cheng Yu is a virtuoso on the pipa (lute) and guqin (zither) and in this concert she will explore Chinese classical music including pieces from the 15th and 17th centuries.
Cheng Yu was formerly pipa soloist at the China Central Orchestra of Chinese Music in Beijing and won several national prizes for her pipa performances. She has performed in over 40 countries and has published numerous articles on Chinese music and more than a dozen CDs. Cheng Yu has worked with a variety of artists including Daman Albarn, Carl Jenkins and American film and TV score composer Randy Edelman. Cheng Yu performs with the UK Chinese Ensemble at venues including London's Southbank Centre's Purcell Room and Queen Elizabeth Hall, the Royal Opera House and the British Museum. The ensemble has recorded a variety of TV and film music scores including 'Shanghai Noon', Disney's 'Mulan' and the BBC's 'Wild China' documentary.
The pipa and guqin are two celebrated Chinese classical instruments. Literati and imperial aristocrats played the guqin for self-cultivation and it commonly features in films set in ancient China, including popular Western films such as 'Crouching Tiger, Hidden Dragon' and 'Hero' with Jet Li.
A 19th century guqin is on display in the Horniman Museum's Music Gallery, where it forms part of an exhibit exploring the world's oldest written system of musical instrument classification, the Chinese bayin.
Praise for Cheng Yu:
"technical perfection and brilliant playing…" Songlines
Tickets (including a glass of wine in the interval)
£12 Adults in advance / £14 on the door
£6 Student
Book online at www.horniman.ac.uk
Ahmed Mukhtar in First Edinburgh International Culture Summit
The first Edinburgh International Culture Summit has been hailed a success as it ended on Tuesday 14th August. Speakers gathered from around the world over two days to discuss the ways in which culture can bring countries closer together. Iraq was represented by Dr Abdul Rahman Dayab, the General Director of Iraqi Cultural Centre, and the composer and master of Iraqi music, Ahmed Mukhtar.
There were also representatives from approximately 50 other countries, including developing nations such as Malawi, Bangladesh, Tanzania and Zambia.
The summit, held at the Scottish Parliament, was a collaboration between the Scottish Government, the UK Government, the Edinburgh International Festival and the British Council. Culture ministers, artists and others involved in developing and implementing cultural policy discussed the power, position and profile of the arts, culture and creative industries. The summit was a unique opportunity to engage with culture ministers from around the world, to debate the importance of culture and to exchange views on the most effective ways governments can promote it.
Saor Patrol Takes Germany by Storm.
Great news from the Saor Patrol camp!
The new album 'Two Headed Dog / Duncarron' debuted at #10 on the German alternative music charts and is currently number 1 on the Medieval Charts!
Saor Patrol recently returned from a successful trip to Wacken, one of the world's biggest metal festivals, where they played 3 dates on the Wackinger Stage.
Here are some photos for you to enjoy: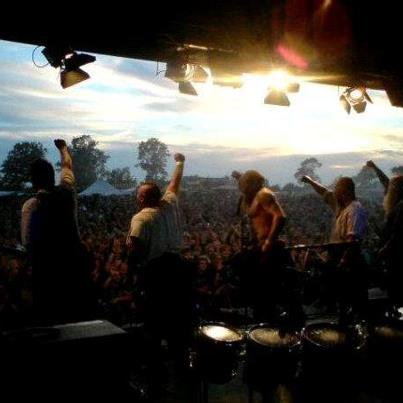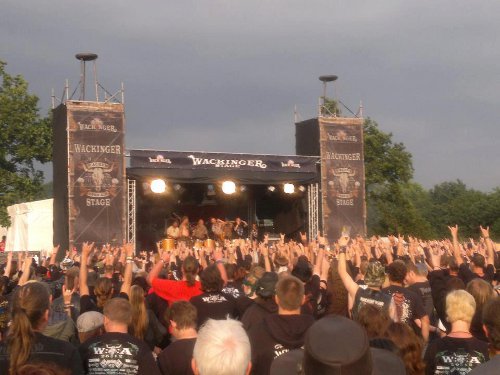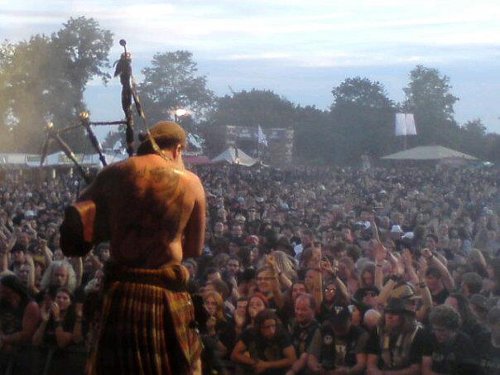 Rock The Tabla nominated for Best Fusion album by the Global Indian Music Academy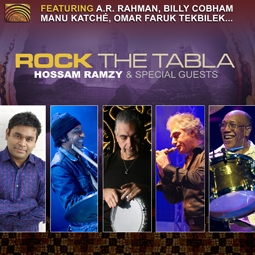 Hossam Ramzy's album Rock The Tabla has been nominated for Best Fusion album in the awards of the Global Indian Music Academy (GIMA).
Described as "a master class in musicality" by Allmusic, Rock The Tabla is Hossam Ramzy's latest fusion album, and includes guest appearances from Billy Cobham, AR Rahman, Manu Katché and Omar Faruk Tekbilek, among others.
This is the second major award nomination, having also earned Hossam Ramzy a nomination for Best Artist in the Songlines Music Awards 2012.
Among the other nominees in the GIMA awards are Anoushka Shankar for her album Traveller and AR Rahman for Connections. The winner will be announced at an award ceremony in Mumbai on 16th September.
Well done Hossam!
Vusa Mkhaya Vocalism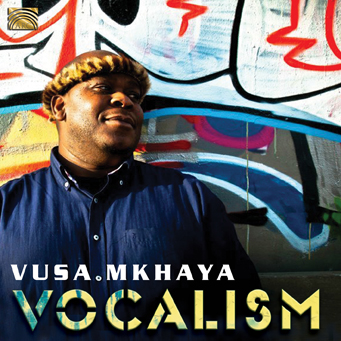 VUSA MKHAYA
VOCALISM
The voice is my favourite instrument', says Vusa Mkhaya, whose Vocalism album is released worldwide through ARC Music on 25th September 2012.
'Voices are, for me, the best and the first instrument. When I think of music I think voice. When I listen to a song, when I listen to any other music, I listen first to the voices before anything else. So this album is full of voices because I think I am a vocalist first and then a musician.'
Vusa's career began in Bulawayo, Zimbabwe, where he started singing in Sunday school and singing in local groups. In 2004 a move to Vienna with his group Insingizi introduced Vusa to the many musical avenues that city has to offer. 'Vienna is the city of classical music, and the Jazz scene is big as well. These styles have influenced me and taught me a lot, so I try to fuse bits and pieces of those styles in my music', he says.
As a truly embracing project, Vocalism uses elements of Zimbabwean and European tradition, at points even drawing on yodeling and Hungarian folk music, all tied together with a Western pop sensibility.
The album was recorded mostly in Vusa's native Bulawayo, and partly in Vienna. Vusa chose to return to Bulawayo to record with local musicians, and also to return full circle to where his career began. Originally intending to record the album with a just a small core band, Vusa's plan soon changed when he entered the recording studio: '[The studio] was like a meeting place for long-lost friends, because many people came by to say "Hi" and some people ended up singing. In Zimbabwe we have a saying, "a child belongs to everyone in the village". This is how I felt working on Vocalism in Bulawayo. When friends came in and contributed some ideas, they did not see the album as Vusa´s 'child', but as theirs too. My success is their success and my struggle is their struggle. In Zimbabwe this philosophy is called Ubuntu. This is how we were raised, and it influenced the album a lot, because these people helped me by challenging me during the recording.
'People like Silethemba Magonya and Nomathamsanqa Mkhwananzi, and also Brian 'Soulfamilya' Bangura, who sings on two songs. He did a great job because he comes from the soul world and I come from Imbube and a cappella, so merging those two different singing styles was something that I really enjoyed. I am happy that by recording here I met a lot of musicians… and I made new friends.'
Vusa is a member of the successful vocal trio Insingizi, whose album Voices of Southern Africa / Spirit of Africa was released to critical and commercial acclaim in 2004, going on to sell well in excess of 250,000 copies (ARC/Somerset). Vocalism features Vusa's Insingizi band mates Blessings Nqo and Dumisani 'Ramadu' Moyo, with both men contributing backing vocals to songs on Vocalism. The Bulawayo recording sessions were done at Ramadu's 10th District Studios.
Says Vusa, 'Bulawayo has all these great voices which have not been heard outside the city. I hope that the people that sing on the album will now be heard beyond the city of Bulawayo and Zimbabwe. I am really happy doing this here, and I will always [come back to] Bulawayo because this is the city that I love the most; I've been to so many cities around the world and, no offense to the other great cities that I've been to, but Bulawayo 'does it' for me, and I'm happy that, finally, we've come home.'
Ana Alcaide's La Cantiga del Fuego to be released by ARC Music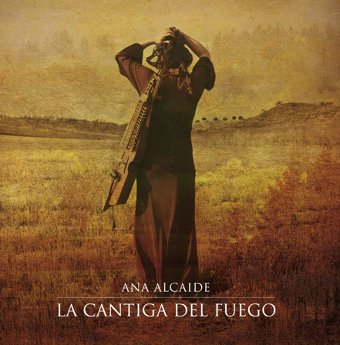 Spanish singer, songwriter and instrumentalist Ana Alcaide, whose new album La Cantiga del Fuego debuted at No.3 on the World Music Charts Europe this month, announces her partnership with ARC Music for the album's worldwide release.
La Cantiga del Fuego was recently released in Spain to an enthusiastic reception from fans and music press. The album achieved its World Music Charts Europe success despite currently only being available in Spain; ARC Music will release the album worldwide in November 2012.
Inspired both by her home city of Toledo and the journey of the Sephardic Jews whose culture pervades the city, Ana's music has been called the 'Toledo Soundtrack'. La Cantiga del Fuego traces the exile of the Sephardic Jews and the journey they took to preserve their culture. Ana says, "A great journey is a reflection of who we are. It forces us to shed layers, to become aware of who we are and to discover our true self. It allows us to hear the powerful ancient voice that continues to echo within us. La Cantiga del Fuego is the voice that has always been there and that guides us on our voyage of self-discovery".
Among vocals and other instruments Ana plays the nyckelharpa, a keyed-fiddle used in Swedish folk music which Ana had fallen in love with while on an educational visit to Sweden some years ago. Returning home, she taught herself to play it on the streets of Toledo, far from its traditional setting. Ana has played a pioneering role in introducing and popularizing the nyckelharpa in Spain, and her unique style has developed over her two previous albums, Viola de Teclas (2006) and Como la luna y el sol (2008).
The songs on La Cantiga del Fuego were composed by Ana during a very special time in her life: when she was pregnant with her son Bruno. Not surprisingly she calls it her most personal album to date.
ARC Music's Artistic Director Julia Beyer said, "We are very excited to be working with Ana. She is truly dedicated to her music and possesses a wonderfully unique creativity and artistry. La Cantiga del Fuego is a stunning album."
Listen: El Pozo Amargo
Ustad Sarvar Sabri: Influential Master of Music
The following is an article sent to ARC Music by Shezad Khalil about the Indian tabla master Ustad Sarvar Sabri:
Renowned as an international tabla maestro, Ustad Sarvar Sabri has spent many years in experimenting with other great musicians and composers, and in extending the margins of his own classical and artistic discipline. But the story behind this musical genius has rarely been discussed in any written form until now.
Born in India, into a family that has been involved in the musical traditions of the Indian subcontinent for seven generations, that is since the sixteenth century. Sarvar grew up immersed in the vocal and instrumental sounds of Indian music. As a young child, Sarvar's family home was always full of numerous great Indian musicians that would not only come to visit his father Ustad Sabri Khan, a living legend sarangi player, but would also spend countless hours practising and playing their instruments and articulating their harmonies through vocalisations—singing. It was these musical encounters, experiences and artists that would initially inspire and begin Sarvar's voyage into the world of Indian classical music, and nurture within him the desire and dedication to achieve musical success.
Yet at first, Ustad Sabri Khan tried to steer his son's musical interest in a different direction by encouraging him to focus on his formal education and on developing a career that was 'outside' music. This is because Sarvar's father believed that a profession in music was quite tough in that a lot of time was spent moving around the country whilst touring and playing concerts. This would also have a knock-on effect on the family as musicians rarely saw their close relatives due to the nature of their work. However, even though Sabri Khan shared this view with Sarvar, he still supported his son's interest in music by allowing him to take part in music recitals as long as his education and future career did not suffer in any way.
Around the age of ten or eleven, Sarvar's continual dedication towards music began through the guidance of his father. First, Sabri Khan exposed his son to Indian vocals. Once Sarvar's father realised that this art form was not suitable for his son, he introduced him to the Indian classical instrument know as the sarangi. Again, Sarvar's father determined that this also did not suit his son. For a while Sarvar simply kept on using his hands to play rhythms on his knees and on kitchen containers.
It was by chance that whilst visiting his aunt in Lucknow that his grandmother noticed his interest in tapping out rhythms on pots and pans that led her to introduce her grandson to the infamous musical artist Ustad Mehdi Hassan Khan, who Sarvar then became the pupil of in order to learn the tabla. On his return back to Delhi, Sarvar continued to receive teaching and guidance of the tabla under the direction of Chottey Ahmed Jan Khan. Unfortunately, this musical genius soon passed away and Sarvar then became the disciple of Ustad Bundu Khan. It would be the teachings and skills of this third guru that would have one of the most influential impacts on Sarvar's entry into the world of music.
In his late teens, whilst pursuing a degree in Commerce, Sarvar carried on with his interest in music, as he would often take part in musical performances with his father throughout India. Further, while studying at university and especially during his break-times between teaching sessions, Sarvar would frequently spend time playing the tabla. And even when the university day was over, Sarvar would go home, spend some time on his studies and then continue with tabla practise.
Succeeding in his degree, Sarvar entered the world of accountancy. He stayed in this profession for two years as he felt that music was the path that he wanted to follow on a full-time basis. As a result, he landed himself a job as a staff artist for All India Radio, New Delhi; a position that his father had already been involved in for this particular radio station. He stayed in this vocation for no more than two years.
Sarvar then continued to tour with his father and other renowned artists. In returning from a tour of the United States of America, Sarvar stopped over in Britain for a short period and partook in many musical projects. It was by being in this space that encouraged him to return to and pursue many music-based endeavors and ventures, and it was also in this domain that Sarvar composed his first solo album: 'Master Drummer of India'.
This four track musical composition was a construction that was largely inspired by one of his teachers: Ustad Bundu Khan—a guru that had been instructed in the Ajara gharana or method of tabla playing. This method trains the learner to make use of the fingers of both hands. The first musical creation 'Taal Bundu Khani' takes its name after Ustad Bundu Khan. The track is distinct in that it is executed using an eight and a half beat cycle. The additional three creations have been influenced by the work and musical philosophies of other Indian gurus: Ustad Latif Ahmed Khan (Delhi gharana) and Karaat Ullah Khan (Farukhabad gharana). It is then the inspiration of these talented teachers and musicians that can be noticed in works as 'Taal Farodust', 'Teentaal' and 'Dadra'. In summary then, it is throughout the compositions of 'Master Drummer of India' that Sarvar has aimed to convey a life span of not only his passion for the tabla, but also those well-known and highly-skilled artists that have inspired and directed him in his own voyage of musical success.
For more information about Sarvar Sabri, see his website: http://www.sarvarsabri.com/ and his company Sabri Ensemble's webpages: http://www.sabri.org.uk/ . Please visit Sarvar Sabri and the Sabri Ensemble on Facebook.
For further details of 'Master Drummer of India', log into your iTunes account. See also ARC Music and Amazon to find out more information and details of this CD and hear sections of the tracks and buy this album.
Shezad Khalil is currently a PhD student at the University of Loughborough.
Abraham Lincoln Vampire Hunter features music by ARC Music's Oleg Ponomarev
The latest movie production by cinematic genius Tim Burton hits cinemas across the world this month, and it features music produced by world music specialists ARC Music. Abraham Lincoln Vampire Hunter had its UK release on 20th June 2012 (click here for worldwide release dates).

Film makers Twentieth Century Fox contacted ARC Music with a request to use the song 'Lautary' from the album Master of the Russian Gypsy Violin by the renowned violinist Oleg Ponomarev. ARC Music's Caren Entwistle said, "Fox reached out to us with a specific request for 'Lautary'. We know exactly where it is going to be used, but I don't want to spoil it for everyone. We're all looking forward to seeing the movie and listening out for our music."
The movie becomes ARC Music's second Hollywood success for 2012, following the use of music by Hossam Ramzy in the Paramount Pictures movie The Dictator, starring Sacha Baron Cohen, in May. These are the latest in a long line of movies to source music from ARC's extensive world music catalogue, following James Bond Casino Royale (2006); Indiana Jones and The Kingdom of the Crystal Skull (2008); Burn After Reading (2009); Prince of Persia: The Sands of Time (2010); Conan The Barbarian 3D and Machine Gun Preacher (both 2011). Previous placements also include The Kingdom, Munich, The Constant Gardener, War, and The 40 Year Old Virgin, among others.
When a young Abraham Lincoln witnesses his mother's murder he swears revenge against the evil forces responsible, taking him on a mission to rid America of the vampire threat and ultimately assume the Presidency of the United States.
Based on the bestselling history/fiction mashup novel by Seth Grahame-Smith, the film stars Benjamin Walker (Flags of our Fathers) as Lincoln, Dominic Cooper (Captain America) as his Vampire-slaying mentor and Mary Elizabeth Winstead (The Thing) as Lincoln's wife Mary Todd. As well as Tim Burton's signature production values, the movie also boasts cinematography by the in-demand Director Timor Bekmambetov (Wanted, Night Watch).
A message from Hossam and Serena Ramzy - Free Bellydance Workshop
The following is a message from Hossam & Serena Ramzy from their most recent newsletter (which you can subscribe to at www.hossamramzy.com).
Greetings,
Welcome to our newsletter of June & July 2012. We are proud to announce our successes through our Foundation Certified Courses worldwide. We are delivering them in London, Barcelona, Cork, Lisbon and will be running in Reading (UK), and in Americana in Brazil.
But… if you have never taken a course or attended a class or workshop with us, there is a great chance for you to attend
A FREE 3 hours TASTER WORKSHOP
With Hossam & Serena Ramzy
to experience first hand what it is like to learn at the Drumzy School of Music & Dance. The workshop will take place at DANCE ATTIC STUDIOS, 386 Northend Road, Fulham, London, SW6 1LY.
Time 12:00 pm to 3:00 pm.
This workshop is totally FREE but only for those who have never studied with us Before. This is a rare opportunity and we will operate on the principle of first come first serve basis, so BOOK YOUR PLACE HERE
In this workshop, you will learn about the basic Egyptian Dance Rhythms and the steps that go with them as well as Dancing to the music in the pure Egyptian Style. BOOK your place fast. We look forward to meeting you there.
If you have already participated in our workshops or classes before, please pass this message to your friends in Belly Dance and give them a chance to experience the same magic you have experienced… FREE…
With Lots of Rhythm,
Hossam & Serena Ramzy
Black Umfolosi celebrates 30 years with a new retrospective collection –
"Summertime – Best of Black Umfolosi"
For the last thirty years Black Umfolosi has enjoyed a storied career as "Zimbabwe's most internationally famous singing and dance group …" (Rough Guide to Zimbabwe). As 2012 sees the 30th anniversary of the group's formation they prepare to celebrate the occasion with a 'Best of' album. 'Summertime – The Best of Black Umfolosi' has its international release through ARC Music on 26th June 2012.
Black Umfolosi was formed in 1982 by students at George Silundika Primary School in Zimbabwe, initially simply as a way of keeping themselves entertained. From there the band has gone on to international success, releasing eight albums and performing at packed venues throughout the world. Their dynamic live shows showcase the traditional dancing styles of Southern Africa, as well as more contemporary styles and self-developed routines. The group has represented Zimbabwe as her 'cultural ambassadors' at the Commonwealth Games in Victoria, Canada and World Expo in Sevilla, Spain.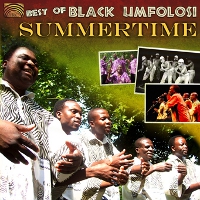 'Summertime – The Best of Black Umfolosi' presents twelve songs handpicked by the band members themselves from their eight albums. This fitting celebration of the last three decades is just one of the ways in which the group are marking this milestone anniversary. While the band usually performs internationally as the 'Black Umfolosi 5', during the summer and autumn of 2012 the full eight-piece band will assemble for international touring. This is a very special opportunity to see the full line-up of the band in rare appearances outside of Zimbabwe. Visit www.blackumfolosimusic.com for details of concerts confirmed so far and stay tuned for announcements regarding further dates.
Black Umfolosi consider their work to be not just entertainment or a route to renown, but as a means of reviving Zimbabwean – particularly Ndebele – culture and introducing it abroad. "One of our aims is to preserve our traditions and culture," says founding member Thomeki Dube. "In the modern world people can lose their sense of identity, lose their roots. We believe that by teaching children about our culture, we can help everyone to realize the importance of their own culture, wherever they are from."
Black Umfolosi describe their songs as a "vocal newspaper", and take their music to parts of Africa where there are no radios or televisions, acting as the media to promote healthy living and education. They are active in training others, particularly the youth, in dance and voice. They try to identify and develop up-and-coming groups and mentor them along their path to success. They provide workshops and residences in dance, voice, theatre, costume design, poetry, mime and also address various issues affecting society today.
The band is currently preparing to enter the studio to record their next album.
'Summertime - Best of Black Umfolosi' track list:
Summertime - 4:00
Malaika - 4:30
Imbube - 4:18
Shosholoza - 3:49
Uma Sithethela - 4:04
Konyana - 4:35
Uthando - 4:28
Mama - 5:27
Nkosi Sikelela - 2:40
Ngikukhulisile - 5:14
Ikhaya Elihle - 6:14
Yes Lord - 3:30
An heiress to the throne? "New Queens of Fado" crowned on new collection
ARC Music crowns the 'New Queens of Fado' with its latest release on 29th May 2012.
Fado, 'Portugal's Blues', has been riding a wave of popularity during the early years of this new millennium. Epitomized and spearheaded by strong, female singers, there is more global attention on fado now than at any other point since the golden days of the 1950s and 60s, the reign of the undisputed 'Queen of Fado', Amália Rodrigues.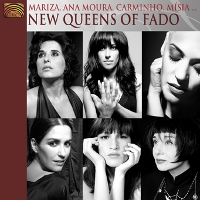 While Amália always has been, and forever will be the true Queen (even today, more than a decade after her death) today's fadistas are arguably doing as much to bring fado to a worldwide audience.
ARC Music Artistic Director Julia Beyer said, "We wanted to present an album showcasing the very best of fado in the present, as well as those who are likely to carry fado forward over the next few years."
So which of these ten challengers to the throne is worthy of the title 'The New Queen'?
Katia Guerreiro, who opens proceedings, won the 2010 Amália Rodrigues Foundation award for 'Best Fado Performer'. "Call off the search", you might think. Not so fast. Carminho is quite possibly the future of fado, and was one of the world music breakthroughs of 2011 with her debut album, 'Fado'. Yet perhaps no one has made a greater contribution to bringing fado to mainstream attention than Mariza, whose debut album 'Fado Em Mim' thrust fado into an international spotlight from which it is yet to depart.
Speaking of shining lights, there is Ana Moura. One of today's most popular fado singers, she was the first artist to perform fado at the world famous Carnegie Hall and has performed with the likes of Mick Jagger and Prince.
Two pioneers of the 'novo fado' movement feature: Cristina Branco, whose compositions with guitarra Portuguesa player Custódio Castelo show the beauty and intelligence of fado, and Mísia, whose arrangements have provided some of the most interesting and progressive variations on the genre. Maria Ana Bobone is another innovator among fadistas. Having been on a recording break since 2006's 'Nome de Mar', in which she incorporated choral singing and piano into her fados, her upcoming project sees her singing accompanied only by herself on piano.
The youthful lilt of Mafalda Arnauth's voice brings a unique charm to her fados, while Cristina Navarro's precocious talent shows why she is one to look out for in years to come. Joana Amendoeira is also a previous Amália Rodrigues Foundation award recipient, winning 'Best Fado Album' for her 2008 album Joana Amendoeira & Mar Ensemble.
These are ten of the best and most popular female singers representing fado today. They are all "New Queens of Fado".
Track Listing:
KATIA GUERREIRO: Vira dos Malmequeres
MAFALDA ARNAUTH: E Se Náo For Fado
MARIZA: Meu Fado Meu
ANA MOURA: Mouraria
CRISTINA BRANCO: Ausente
JOANA AMENDOEIRA: Rosa sem Espinhos
MAFALDA ARNAUTH: Antigamente
MÍSIA: O Manto da Rainha
CARMINHO: Palavras Dadas
KATIA GUERREIRO: Os meus Versos
CRISTINA NAVARRO: As Minhas Asas
CARMINHO: Escrevi Teu Nome No Vento
JOANA AMENDOEIRA: Alta Noite
MARIA ANA BOBONE: Fado De Cada Um
MÍSIA: Fado das Violetas
ANA MOURA: Leva-Me Aos Fados
MARIZA: O Gente Da Minha Terra
CRISTINA BRANCO: Maria Lisboa
Hossam Ramzy Provides Music for Another Blockbuster Movie
Music by Hossam Ramzy is being used in the upcoming Paramount Pictures movie, The Dictator.
The Dictator is the latest movie project by British comedian Sacha Baron Cohen, the British comedian behind the characters Borat and Ali G.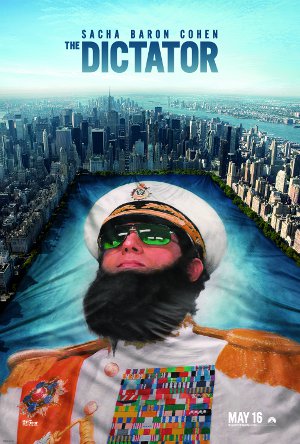 An obvious (and outrageous) political and social satire, the movie tells "the heroic story of a dictator who risked his life to ensure that democracy would never come to the country he so lovingly oppressed" (Paramount). The story centres around the character Admiral General Aladeen, a dictator from the fictional country of the Republic of Wadiya, who flees to New York.
"The Pearl in my Heart" from Hossam Ramzy's album "Ruby" will feature in the film.
The movie also stars Ben Kingsley (Gandhi), Anna Faris (Scary Movie) and Megan Fox (Transformers), and is released in the UK on 16th May. see here for worldwide release dates (subject to change).
The Dictator becomes the sixth major film production in as many years to feature music from the ARC Music catalogue, following placements in James Bond Casino Royale (2006); Indiana Jones and The Kingdom of the Crystal Skull (2008); Burn After Reading (2009); Prince of Persia: The Sands of Time (2010) and Conan The Barbarian 3D (2011). Previous placements also include The Kingdom, Munich, The Constant Gardener, War, and The 40 Year Old Virgin.
Hossam & Serena Ramzy in Austin, TX
After a long wait, Hossam and Serena Ramzy are bringing their incredibly popular Egyptian Dance workshops back to the USA!
Hosted by Zein Al-Jundi's Arabian Bazaar, Hossam and Serena present a series of two-day workshops in Austin, TX, from August 2nd to 7th. Workshop topics include percussion with Hossam, "The Stars of Egypt", dancing to a drum solo and of course Hossam and Serena's world class Classical Egyptian Dance workshop. Private classes are also available.
There will be a bellydance show and reception on both the Friday and Saturday nights.
Click here for full information.
Other US workshops will follow - subscribe to the newsletter at www.hossamramzy.com for announcements.
Re-Orient's "Undiscovered Time"
Anniversaries can creep up on you. While recording this album Baluji Shrivastav, Linda Shanovitch & Chris Conway realised that they had been playing music together for 20 years. 'Undiscovered Time', to be released through ARC Music on 24th April 2012, was born.
As Jazz Orient these three talented musicians recorded an album, Dangerous Ground, at Baluji & Linda's home on a 4-track tape recorder (it has recently been remastered as a free download). Other albums came, then they joined the ARC label as Re-Orient recording 2 albums: Re-Orient in 1997 and Seven Steps To The Sun in 1998. Then concerts and solo projects took up their time. Their last recording was the 2006 Baluji Shrivastav & Re-Orient. The album featured some of Baluji's extended compositions with guests Hossam Ramzy, Andy Sheppard and Guy Barker.
5 years go by… and Re-Orient reunite in the studio again. Some things are new – they are more reflective perhaps, they have embraced electronics and technology a little, but their gift for melody and arrangements and their unique sound are still as strong as ever. These three amazing songwriters continue to create music for the heart, mind and soul!
Undiscovered Time is available in shops worldwide, at the ARC Music website and on iTunes from 24th April 2012.
Charlie McMahon releases 'Didj Heart': an album of original Aboriginality
"Didjeridu has been falsely defined with taboos it never had," says Charlie McMahon, who releases his album Didj Heart through ARC Music on 24th April 2012. "My aim is to demystify it and celebrate some of the new dimensions as didjeridu is melded with contemporary sounds."
The result of this approach is Didj Heart, an album which explores new sounds and recording techniques while celebrating its inherent Aboriginality.
The album reflects Charlie's modus operandi of innovation and developing new ways of playing, as it fuses didjeridu with western instrumentation. The unique didj sounds on Didj Heart are courtesy of some of Charlie's own innovations: the Didjeribone™ a didj with a trombone-like pitch-shift mechanism; and the Face Bass™, a seismic censor that records the didjeridu sound inside the mouth.
The didjeridu is perhaps the most iconic of all Aboriginal imagery, and according to Charlie it has been associated with myths and taboos that it does not deserve. Charlie hopes to debunk some of these myths and misconceptions about the didjeridu with Didj Heart: "The motifs of Aboriginal art, their place names and stories along with a few items like didjeridu are the enduring things that evoke Aboriginality today. The more compelling things like living entirely off nature among kinsfolk in the nude are gone. So in some ways the enduring things become larger than they ever were as iconic symbols giving identity. So didj playing has acquired a political dimension since around 1995, which it never had during most of my years playing since 1955."
"[Even in Australia] many Aboriginal folk, whose clans never traditionally played didjeridu, have adopted notions about didj being a men only thing and having sacred properties. Those qualities properly belong to the Bullroarer, that other Aboriginal aerophon which is somewhat unwieldy compared to didjeridu."
Charlie has always felt a kindred connection to the indigenous peoples and practices of Australia: "Many people think I am Aboriginal, and in some photos there is a resemblance. Perhaps I do have an Aboriginal ancestor in the McMahon line which goes a long way back to the early colonization time in Australia. Culturally I have far more Aboriginality than [my ancestral] Irishness and that must have a lot to do with the affinity Aboriginal folk have with the bush."
"While there is a raging controversy in Australia about who is and who should be allowed to be Aboriginal and talk of separatist codes for Indigenous and non-Indigenous folk, I think it would be more worthwhile (and is in fact inevitable) for Australian culture to adopt and be transformed by the positive aspects of Aboriginality. The Didjeribone™, which combines didj with trombone, is a working example, a positive piece of Aboriginality for the modern world."
The Didjeribone™ pervades the album, and is perhaps most evident on the tracks 'Adrift' and 'St Patrick Reflects', a song which references Charlie's own ancestry.
For the song 'Cuddles', which Charlie wrote for his daughters (two of whom are on the album cover with the young kangaroo), he is allocating part of the publishing rights and income to the MALPA project, a special outback medical program for children in which kids with recognized 'nungkarri' (traditional Aboriginal doctor) ability are supported to care for other children.
Didj Heart is available in shops worldwide, at the ARC Music website and on iTunes from 24th April 2012.
David Fanshawe Celebration Concert
A concert in celebration of the life and works of David Fanshawe will be held at London's Royal Festival Hall on Saturday March 31st 2012.
David Fanshawe (1942-2010) was a pioneering composer, music explorer, ethnic sound recordist, motivational speaker, photographer and author. He was best known for his choral work African Sanctus, and his TV documentaries. Claimed by some as 'the forefather of world music', he was the founder of The Fanshawe Collections (1965-94) – an archive of traditional world music – 'a legacy of inestimable value'. Some of these recordings have been released on ARC Music.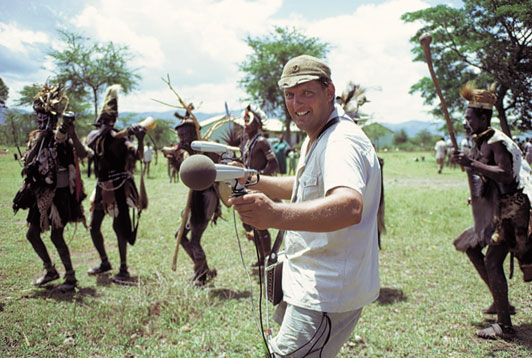 The concert is a celebration and pays tribute to David Fanshawe, the composer.
The first half will feature a selection of his orchestral music played by the Southbank Sinfonia and include world première performances.
Fanfare to Planet Earth
English Suite
La Dame Étrange
Songs for Children
Dover Castle
Lament of the Seas
Tarka the Otter overture
Trafalgar
Serenata
The second half sees a complete performance of David's iconic African Sanctus, in which many of David's closest colleagues will join forces with a 300 voice choir, conducted by Neville Creed.
The celebration concert will be performed to a backdrop of David's photographs and other film and biographical images. The evening will be presented by Brian Kay, in what promises to be a truly memorable occasion – not to be missed!
More information available here
PRESS RELEASE
For immediate release
ARC Music artists nominated for Songlines Awards: Hossam Ramzy (Best Artist) and She'koyokh (Best Group)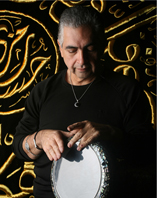 The annual Songlines Music Awards nominations were announced today, 14th March 2012, and they include two ARC Music artists.
Egypt's Ambassador of Rhythm Hossam Ramzy is nominated in the Best Artist category for his album Rock The Tabla, while London's leading klezmer ensemble, She'koyokh, are up for Best Group with their album Buskers' Ballroom.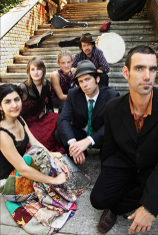 Hossam said today "I am honoured and deeply inspired to receive this recognition from Songlines, whom I consider to be the leaders of world music. I have always believed that 'music is the sound of a soul and rhythm is its heartbeat', and I feel that Rock The Tabla has been a magnificent journey in which I discovered both. Thank you for this nomination and above all, I would like to thank all my fans who nominated me for this award." Rock The Tabla was released in August 2011 to critical acclaim, referred to by Allmusic as "…one of the best pieces of Arab rock to ever come out of a pair of speakers".
She'koyokh, whose Buskers' Ballroom album (March 2011) inspired Songlines editor Simon Broughton to call them "Britain's best klezmer and Balkan music band", issued a joint statement today saying: "Receiving a five-star album review in Songlines was one of our proudest moments, and performing in the Songlines Encounters Festival was a great privilege. Now to be nominated for the Songlines Music Award is a real honour and we are enormously grateful to all at Songlines for their support and all the readers who voted for us".
ARC Music Director Phil Collinson added, "It is a very proud moment for ARC Music to represent two wonderful artists in these awards. Hossam and She'koyokh have been fantastic to work with over the years, both artistically and personally, and both thoroughly deserve these nominations."
A 'Songlines Awards Special' will air on BBC Radio 3 on Friday 16th March 2012 featuring all the nominees (http://www.bbc.co.uk/radio3/world-music). The winners will be announced in the June issue of Songlines (#84), on sale 27th April.
Songlines is the leading world music magazine, and the Songlines Music Awards is now in its fourth year. Previous winners include Goran Bregovic and Rokia Traoré for Best Artist, and Staff Benda Bilili and Amadou & Mariam for Best Group.
ARC Music was established in 1976 to preserve the ethnic music of different world cultures, and to spread traditional and original music with a positive message. In November 2011 the label celebrated 35 years of dedication to world music.

Hossam Ramzy nominated for Songlines Music Award – Best Artist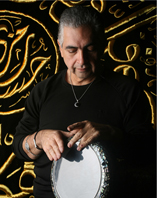 Hossam Ramzy has been nominated in the Songlines Music Awards 2012 in the category of Best Artist for his album Rock The Tabla.
In an announcement made today, 14th March 2012, the leading world music magazine Songlines revealed that 'Egypt's Ambassador of Rhythm' has been shortlisted for the award in the Best Artist category, the result of a public vote by Songlines readers.
Hossam said today "I am honoured and deeply inspired to receive this recognition from Songlines, whom I consider to be the leaders of world music. I have always believed that 'music is the sound of a soul and rhythm is its heartbeat', and I feel that Rock The Tabla has been a magnificent journey in which I discovered both. Thank you for this nomination and above all, I would like to thank all my fans who nominated me for this award."
Once referred to by Songlines themselves as "the Egyptian percussionist who rock stars call when their tracks need spicing up a little", with Rock The Tabla, Hossam decided to turn the tables and ask some of his friends to join him on an album of his own. On the album Hossam leads an all-star cast of musicians including A.R. Rahman, Billy Cobham, Manu Katché and Omar Faruk Tekbilek (among others) to produce what was described by Allmusic as "…one of the best pieces of Arab rock to ever come out of a pair of speakers".
The idea for Rock The Tabla had been conceived some 10 years ago, and while it has been a huge part of Hossam's life and career for the last decade, in that time he has still managed to release more than a dozen albums in his own name, and perform on many more. He has travelled the world with his Egyptian dance concerts and workshops, worked with some of pop's biggest names (including Ricky Martin and Shakira), and contributed to several motion picture soundtracks.
A 'Songlines Awards Special' will air on BBC Radio 3 on Friday 16th March featuring all the Songlines Awards nominees, including Hossam. (http://www.bbc.co.uk/radio3/world-music). The winners will be announced in the June issue of Songlines (#84), on sale 27th April.
Songlines is the leading world music magazine, and the Songlines Music Awards is now in its fourth year. Previous winners in the Best Artist category include Femi Kuti, Goran Bregovic, and Rokia Traoré.
ARC Music was established in 1976 to preserve the ethnic music of different world cultures, and to spread traditional and original music with a positive message. In November 2011 the label celebrated 35 years of dedication to world music.

She'koyokh nominated for Songlines Music Award – Best Group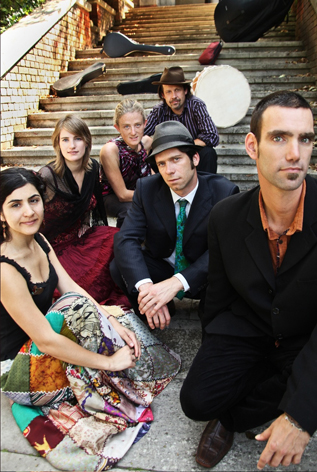 She'koyokh Klezmer Ensemble has been nominated in the Songlines Music Awards 2012 in the category of Best Group for their album Buskers' Ballroom.
In an announcement made today, 14th March 2012, the leading world music magazine Songlines revealed that the 8-piece ensemble from London are among the final four nominees in the Best Group category, the result of a public vote by Songlines readers.
Since forming in 2001, She'koyokh has been just as comfortable playing some of Europe's most prestigious concert halls as they have busking on the streets of London or at a hippie market in San Francisco Bay. Their album Buskers' Ballroom, for which the band received their nomination, was released through ARC Music in March 2011, receiving a Songlines "Top of the World" review. It was described by Editor-in-Chief, Simon Broughton, as "a brilliant CD from an exhilirating party band" before adding, "She'koyokh are Britain's best klezmer and Balkan music band."
In a joint statement today the band said, "Receiving a five-star album review in Songlines was one of our proudest moments, and performing in the Songlines Encounters Festival was a great privilege. Now to be nominated for the Songlines Music Award is a real honour and we are enormously grateful to all at Songlines for their support and all the readers who voted for us".
A 'Songlines Awards Special' will air on BBC Radio 3 on Friday 16th March featuring all the Songlines Awards nominees, including Hossam. (http://www.bbc.co.uk/radio3/world-music). The winners will be announced in the June issue of Songlines (#84), on sale 27th April.
Songlines is the leading world music magazine, and the Songlines Music Awards is now in its fourth year. Previous winners in the Best Artist category include Femi Kuti, Goran Bregovic, and Rokia Traoré.
ARC Music was established in 1976 to preserve the ethnic music of different world cultures, and to spread traditional and original music with a positive message. In November 2011 the label celebrated 35 years of dedication to world music.

PRESS RELEASE
For immediate release
Las Chicas del Tango unite two tango worlds with the help of Horacio Ferrer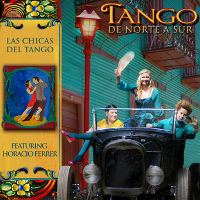 Original tango compositions in a Finnish-Argentinean style with Spanish lyrics, a legendary tango poet/lyricist, and three of Finland's most prodigious talents. 'Tango De Norte a Sur' by Las Chicas del Tango (featuring Horacio Ferrer) sees its international release on 28th February 2012 through ARC Music.
The music and dance known as tango is probably the biggest Argentinean export of the last 200 years. After conquering western Europe through Parisian cabaret shows in the early 20th century, tango found its way to Finland, where it was adopted by the Finnish people who added their own nuances and created their own style of tango. While the Finnish and Argentinean varieties have each continued to flourish separately, the two traditions rarely connect. Las Chicas del Tango felt this omission needed addressing.
"People always ask me about the differences between Argentinean and Finnish tango," says accordionist Johanna Juhola. "Both have so many different forms that I can´t answer the question. This album is combining these two tango worlds in a very natural way. I'm very happy that now nobody can say if this is Argentinean or Finnish tango; it has influences from both, and also some other styles, but maybe it´s just our tango."
With 'Tango de Norte a Sur', which translate from Spanish as 'Tango from North to South', Las Chicas del Tango realise a dream of working with Horacio Ferrer, South America's most legendary tango lyricist and poet.
"It was amazing," Johanna continues. "He is such a nice person and a gentleman. We don't have a common language actually. Kukkis [singer Kukka-Maaria Ahonen] speaks Portuguese and Horacio speaks Spanish so they can almost communicate, but… music speaks the language of hearts... I have to say this collaboration was a great honour and a dream-come-true for us!"
In honour of working with these three Finnish songstresses, Mr. Ferrer offers his musings on three influential Fins: tango composer Unto Mononen, classical composer Jean Sibelius and architect Alvar Aalto. Ferrer was gracious enough to record his lyrics on the album, and also perform live with the group at the 2011 Cumbre Mundial del Tango in Seinäjoki, Finland.
Other lyrics are contributed by Alfonsina Storni, the great Argentinean poet who died in 1938, and the Finnish-Bolivian poet Siboné Oroza, who provides lyrics on subjects such as the unrestrained pursuit of youth, the need to cherish our planet, and love that stands the test of time.
The music is all original compositions by Las Chicas del Tango: Kukka-Maaria Ahonen (vocals), Johanna Juhola (accordion) and Milla Viljamaa (piano). These 'Tango Chicks' have been playing together since 2000, and released their first album, 'La Voz Femenina,' in 2007 (Texicalli Records). Accordionist Johanna Juhola also performs with Tango-Orkesteri Unto ("The Dream Team of Finnish Tango") and her own band Johanna Juhola Reaktori, while Kukka-Maaria teaches singing at the Sibelius Academy, and Milla has released (among others) two solo albums: 'Paras aika päivästä' (2008) and 'Minne' (2011).
Tango De Norte a Sur is now available worldwide and on iTunes.
PRESS RELEASE
For immediate release
Well Wishing: Binari – Dulsori
ARC Music is proud to announce the release of 'Binari: Well Wishing' by the Korean drumming and music ensemble, Dulsori. A fitting testament to the excitement of their live stage show of the same name, the album sees its release on 28th February 2012.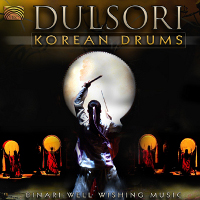 The term Binari literally means "appealing the anxious heart to a supernatural being." In the Korean tradition, Binari is often regarded as a song played with various other repertories. Dulsori adds its own colour to this ancient theme by reviving an ancient ritual that used to be held at the beginning of a festival celebrating the forces of nature.
The Binari performance starts with an on-stage procession with audience members participating in front of the stage curtains. The actual performance by Dulsori begins with smoothly synchronized beating of huge drums. The performers mirror the atmosphere of a thunderstorm, as they make their drums grumble and roar. The performance concludes with a gripping percussion performance of Korean traditional music, which encourages the audience to follow their tireless beat to the imagined banquet of the festival's conclusion.
"We are incredibly excited to be working with Dulsori, having seen them perform on several occasions," says Julia Beyer, ARC Music's Artistic Director. "Their live shows truly are an unforgettable experience, and we feel that the spirit and energy of those shows has been captured on these recordings."
In fact, the album concludes with a reprise of three tracks: 'Binari', 'Sabaha' and 'Eo-Heo-Yeop', recorded live in Namsan Gukakdang, Korea, in November 2010.
Dulsori, whose name literally means 'heartbeat of the land', was established in 1984. Since then they have been furthering their primary goal to rekindle the spirit of ancient Korean festivals on the modern stage. They have performed extensively throughout the world, including highlights such as Roskilde Festival (2010), WOMEX showcase (2009) and WOMAD festivals (2005-2009).
EUCD2366 Track Listing
Sabaha (Kap Hyun Moon) - 9:22
Opening Drum (Kap Hyun Moon) - 6:28
Flowery Nostalgia (Kap Hyun Moon) - 3:51
Jindo Requiem (Hoon Hoe, arr. by Kap Hyun Moon) - 6:52
Big Drum Sinawi (Kap Hyun Moon) - 5:46
Driving Beat (Kap Hyun Moon) - 5:19
The Beat (Kap Hyun Moon) - 3:33
Sailor's Song (trad., arr. by Kap Hyun Moon) - 4:47
Binari: Greeting to Good Luck (Live) (Kap Hyun Moon) - 6:57
Sabaha (Live) (Kap Hyun Moon) - 7:56
Eo-Heo-Yeop (Live) (Kap Hyun Moon) - 6:42
'Binari: Well Wishing' is available now worldwide and on iTunes
ARC Music sponsors Simply Scottish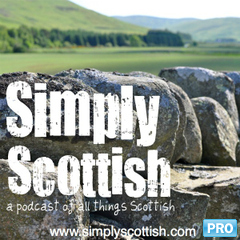 ARC Music is proud to sponsor Simply Scottish, the number one Scottish music and culture podcast.
Simply Scottish, presented by Andrew McDiarmid, is featured in New & Noteworthy on iTunes and Ranked #1 in Places/Travel on Podomatic! Previously a weekly radio program on stations in the U.S. and Canada, Simply Scottish is an informative and entertaining weekly podcast, with Scottish music, features, interviews, and more! Tune in regularly for your dose of Scotland.
Simply Scottish will be running a monthly competition to win an ARC Music album. Head over to iTunes or www.simplyscottish.com
'Legends of Fado' review
The following is a recent review published by Allmusic on our 'Legends of Fado' album.

Any fado compilation that opens with Amália Rodrigues, one of the 20th century's greatest voices and arguably the greatest fadista ever, has its work cut out for it to live up to the standard. But this is a disc that lives up to its name, and the huge talents come one after the other, male and female, from both the Lisbon and Coimbra traditions of the genre. Most have passed on, like Carlos Ramos with his supple, beautiful tone, or Fernando Farínha, or Lucilia do Carmo, who even opened her own fado house. There's plenty of great music here, fado that's straight from the soul, so it's easy to see why it's sometimes described as Portugal's blues; there's the same welter of emotion to it all. The new fadistas making international names for themselves owe it all to these pioneers, and few are as good as the remarkable talent on display here. It's a perfect primer for classic fado.
– Chris Nickson
Mbira Academy opens in the UK
An academy teaching people in the mbira, an African instrument otherwise known as the 'thumb piano', has recently opened in Devon.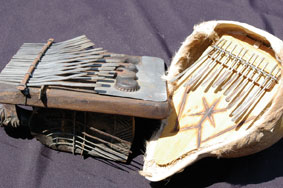 Mhararano Mbira Academy, established by musician Chartwell Dutiro, offers workshops and courses on the instrument as well as the Shona culture indigenous to parts of southern Africa. 'Mhararano' means 'cross-roads' in the Shona language.
The academy's official website states: "Chartwell uses a method of teaching called 'Chinyakare'. In Shona language this means an indigenous ancestral way of distributing knowledge and information, sometimes orally. Knowledge is shared between people of all abilities. He believes that the master and the beginner have something to learn from each other."
Visit http://mbira-academy.org.uk/ for more information.
The mbira is an ancient Zimbabwean traditional instrument symbolizing the spiritual life of the Shona people. The instrument has a direct influence in the peoples' cosmological lives, being played at rainmaking ceremonies, funerals and religious events of all kinds. The traditional mbira dzevadzimu consists of at least 22 keys arranged in three levels attached to a gwariva, a wooden sound board made from the Mubvaropa tree. It has a hole drilled into the right hand bottom corner into which the player inserts his or her little finger of the right hand, in order to play while keeping the instrument steady. The mbira is placed into a large calabash made from a dried gourd, to provide resonance, and a set of metal pieces or bottle tops is attached to produce a buzzing or rattling melodic sound.
Artist Profile: Charlie McMahon
Our profiled artist this month is Didj-maverick Charlie McMahon, who answered our questions by email from Australia.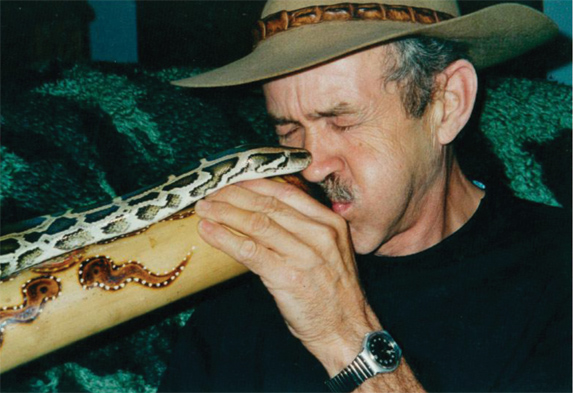 1. How would you describe your music in your own words?
Mmmmm, it's all sorts of original music that grabs me. Some acoustic, some electro music. My last two festival gigs were the Australia's main Country Music gathering at Tamworth in January and before that I played Dragon Dreaming, a four day dance music party in the forest near Canberra. Now those two audiences are worlds apart but I enjoy playing to both. I guess I experiment a lot in rhythm, harmony and instrument design.
Recently I've taken to playing keyboards and find it easier now to deliver the melody and harmony that's always playing around inside my head.
2. Who are your influences?
I would not say anyone in particular influenced my didj playing per se because by the time I met another didj player I was 27 and had developed a style of my own. But Dave Blanasi taught me traditional didj craft, and years in the outback with Aborigines who had experienced life in the raw before contact tuned me into nature in special ways and much of my music is inspired by the natural world.
Playing along with energetic rock bands like Midnight Oil encouraged me to play fast, strong and while standing on stage with a clip on microphone so as to be part of that energy.
Mark Isham and Patrick Cowley were the first artists I recorded with and they induced me to form Gondwanaland in 1981 with experimental ambient style keyboard player Peter Carolan.
With didj rhythm I tend to Latin rhythms as they seem natural to breathe the beat to.
3. When and why did you start playing?
As a child I was led to believe I was an Aboriginal person adopted by an outback cattle farmer's wife. My only exposure to Aboriginal culture came from my first cinematic experience the film 'Jedda' where I identified with the character Tudawalli who rejected 'civilized' life and roamed the bush. The hero played didj and I used water pipes to mimic the sound and tried to do Aboriginal things at a time in Australia when Aboriginality was of little consequence to Aussie identity.
4 What was the first tune you learned to play?
My first original song was 'Emu' and the first cover was Midnight Oil's 'Stand in Line'.
5 Your all time favourite album is…?
Stravinski, 'The Firebird Suite'.
6 The first album you ever bought was?
'Telstar' (a single) and the Cream album, 'Disraeli Gears' were my first buys.
7 What's on your iPod / in your CD player right now?
A whole lot of Mongolian overtone singing with strings and Japanese band Dachambo, some dub step.
8 What does 2012 hold for you?
Releasing my 'Didj Heart' album is the main action for 2012. It's my first since 'Bone Man' in 2002 so it's been quite a while between albums. I like it more than any previous recording. There will be tours of Russia and Europe and perhaps Japan.
Since Didj Heart is infused with Aboriginality it should have me more involved in the reconciliation process in Australia. I will continue my work with music for folks on the Autism Spectrum, support the MALPA Project, seek new sounds in the didj, play more piano, and release a second issue of the Rhythm Organism didj samples pack.
9 Any advice you would give to up-and-coming artists?
Play your heart out and when in doubt read Kipling's poem 'If'. Be you a didj player: breathe the beat.
Charlie's new album 'Didj Heart' will be released by ARC Music in April 2012.
New Release: 'Fado Navegante' – Mário Moita
ARC Music is proud to announce the release of Mário Moita's new album.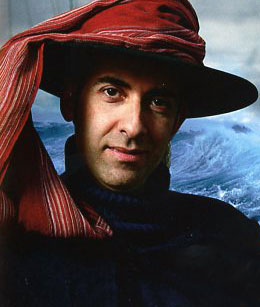 With 'Fado Navegante' (Navigating Fado) Mário Moita follows in the wake of the famous Portuguese explorers, taking Portuguese tradition to foreign shores, using influences from the cultures he encountered and adopting them into his fados.
Portugal is a country with an esteemed naval tradition. It is said that the song form of fado can be traced back to sailors and their loved ones, separated by an ocean. Indeed, the poems on which fado lyrics are based often refer to loved ones away at sea, and the sadness and longing (saudade) at the thought of not seeing one's love again.
With the great maritime explorers such as Vasco da Gama, Portuguese culture spread across the globe. Throughout the 15th and 16th centuries the Portuguese were among the world's greatest and proudest explorers, establishing colonies in parts of South America, Africa, Asia, Indonesia and the Atlantic.
Throughout his life Mário Moita has travelled to many of these places and seen how Portuguese culture has been integrated with the native tradition. Armed with these experiences, Mário set about composing an album incorporating the influences of some of those former colonies into his Fados. 'Fado Navegante' fuses fado with Argentine Tango, African rhythms, morna of Cape Verde, Arabic influence, Spanish paso doble, and bossa nova from Brazil.
The song 'O luar é meu Amigo' (The Moonlight is my Friend) includes recently discovered lyrics by the great Portuguese composer Alberto Janes, who composed many of the hits of the legendary Amália Rodrigues. These lyrics, which had formed part of a letter written by the composer, had spent 52 years sitting in a drawer until discovered by an acquaintance of Mário's. Mário then had the honour and responsibility of composing its music. Considering the prestige of the occasion, Mário decide to compose one of the album's more traditional fados.
Fado Earns UNESCO Recognition
Fado, the urbanised folk music of Portugal, has received an honour by UNESCO (United Nations Education, Scientific and Cultural Organization).
"Portugal's Blues" has been inscribed on the organization's Representative List of the Intangible Cultural Heritage of Humanity, which honours and protects traditions, events, rituals and art forms from cultures across the world.
A statement from UNESCO's website reveals that Fado was inscribed on the list because it "strengthens the feeling of belonging and identity within the community of Lisbon, and its leading practitioners continue to transmit the repertory and practices to younger performers".
More information can be found at UNESCO.
View our range of fado music, including "Legends of Fado", Amália Rodrigues, Cristina Branco, Custódio Castelo, Coimbra Fado and more…
Matilde Politi showcasing at Babel Med
ARC Music's Matilde Politi has been selected to showcase at the 8th annual Babel Med World Music Forum in Marseille, France.
The Babel Med World Music Forum takes place at Marseille's Dock Des Suds venue between 29th and 31st March 2012. Matilde joins stars such as Ba Cissoko on the bill for the prestigious event. Matilde's album 'Folk Songs from Sicily' was released on ARC Music in 2009.
For full festival details please visit www.dock-des-suds.org
Allmusic ranks Hossam Ramzy and Custódio Castelo in "Best of 2011"
Two of this year's ARC Music releases have been rated in the "Best of 2011" by the influential music website Allmusic.
Custódio Castelo's "Tempus – The Art of the Portuguese Fado Guitar" (released in January) makes the list, along with Hossam Ramzy's "Rock The Tabla", released in August.
Read the full Allmusic article and list.
ARC Music celebrates 35 years of dedication to world music
From their home in the converted granary of an old working farm in the West Sussex countryside, ARC Music run an international operation as renowned specialists in traditional ethnic music from all over the world. This year the independent label celebrates 35 years of dedication to world music.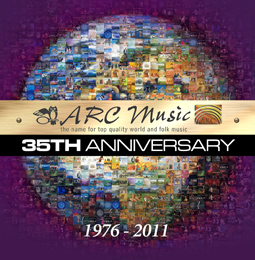 Established in November 1976, ARC Music was the first record label exclusively dedicated to the music of different world cultures. In fact, they were producing and selling high quality world music recordings more than 10 years before the phrase 'world music' was even coined.
It has been the main purpose of the company since its foundation to preserve the world's ethnic music, and to bring recognition to little-known music and cultures from around the world.
This philosophy has inspired the release of music from some of the most obscure and remote cultures across the globe. In recent years these have included the goema music of Cape Town's District Six, music and shamanic chanting from Yakutia, folk music of Kyrgyzstan, and songs of the Bushmen of the Kalahari desert, among many others.
"We believe that not only does this music need to be preserved, but it deserves to be heard", says Artistic Director Julia Beyer. "We are always on the lookout for exciting, little-known ethnic music. These are often the releases we take most pleasure in. It's not always about sales; we release some of these titles for posterity and to keep the music alive."
ARC Music now boasts the largest catalogue of world music under one label, currently with over 700 active titles representing over 120 countries around the world.
"Being dedicated to world music for 35 years is an achievement we are extremely proud of," adds Julia. "We sincerely thank everyone who helped us along the way, and a very special thanks to our incredibly talented artists, to whom we owe a large portion of our success."
As ARC Music celebrates this milestone achievement they prepare to mark the occasion with their biggest release to date, a collaborative project from Egypt's Ambassador of Rhythm, Hossam Ramzy, featuring a selection of the world's finest musicians, including A. R. Rahman, Omar Faruk Tekbilek, Billy Cobham and Manu Katché. Entitled 'Rock the Tabla', the album is scheduled for release in late August 2011.
New Video – Gonzaga "Hanv Saiba Poltoddi Vetam"
Please check out this video from Gonzaga for his song "Hanv Saiba Poltoddi Vetam".
This comes from Gonzaga's new album 'Traditional & Popular Songs from Goa', which is being released through ARC Music on 15th November.
Goa, on the west cost of India, was a Portuguese colony until 1961. The mix of these 2 cultures makes for some truly beautiful music.
And remember to subscribe to the ARC Music YouTube channel for regular video updates.
Scots Guards Nominated for MG Alba Scots Trad Music Award
The 1st Battalion Scots Guards Pipes & Drums has been nominated for an award in the 'Scottish Pipe Band of the Year' category at the 2011 MG Alba Scots Trad Music Awards.
Hosted by BBC Radio personality and musician Mary Ann Kennedy, actor Tony Kearney and folk star Julie Fowlis, the ceremony takes place at Perth Concert Hall on 3rd December. Now in its 9th year, the prestigious event honours and celebrates the achievements of Scotland's traditional musicians.
Brian Heriot, who held the role of Pipe Major until June, said of the nomination: "To be nominated in this field is a great achievement that I am immensely proud of, and I thank the members of the Pipes & Drums for their hard work in achieving this, and the Regiment for the support we have been given throughout the year."
"This nomination has put the icing on the cake of what has been a tremendous year for the Pipes & Drums, and personally the perfect end to my career regardless of the outcome."
2011 truly has been a fantastic year for the Scots Guards Pipes & Drums. It has seen the release of their album 'From Helmand to Horse Guards', a performance at Buckingham Palace for President Obama's state visit in May, as well as Trooping their Colour at HM The Queen's Official Birthday Parade in June.
We know they would love to see the year capped off with a win at the MG Alba Scots Trad Music Awards.
Click here for full information and details how to vote.
The public vote closes on 18th November. Please get voting!
Music from ARC features in new Gerard Butler film
Machine Gun Preacher, the latest movie release staring action hero Gerard Butler (300, Law Abiding Citizen, RocknRolla) is currently in cinemas across the UK, and it features music from ARC's Hassouna Bangaladish.
"Aadila Ya Baida" (lead vocal by Salma Al Assal) from the album Music from the Blue Nile (ARC, EUCD2212) features in the film, which premiered at the Toronto International Film Festival in September.
Machine Gun Preacher is based on the true story of Sam Childers (Butler), a violent gang biker and all-round hell-raiser from Minnesota who finds God and travels to East Africa as a missionary. There he finds himself horrified at the suppression and enslavement endured by the locals, and resolves to protect them against the vicious Lord's Resistance Army, with violent consequences.
Directed by Marc Foster (Monster's Ball, Quantum of Solace) the film also stars Michelle Monaghan (Source Code, Due Date, Mission: Impossible III) as Sam's wife, Lynn.
Machine Gun Preacher becomes the sixth major film production in five years to feature music from the ARC Music catalogue, following placements in James Bond Casino Royale (2006); Indiana Jones and The Kingdom of the Crystal Skull (2008); Burn After Reading (2009); and Prince of Persia: The Sands of Time (2010) and Conan The Barbarian 3D (2011). Previous placements also include The Kingdom, Munich, The Constant Gardner, War, and The 40 Year Old Virgin.
A.R. Rahman named in Songlines 'Tomorrow's World Music Icons'
Free copies of the magazine available
A.R. Rahman, who features on Hossam Ramzy's new album Rock The Tabla has been named as one of 'Tomorrow's World Music Icons' by Songlines Magazine.
The Oscar-winning composer is featured in the current edition of the magazine, which is available now.
Songlines are currently offering FREE copies of this edition of the magazine:
"For a free copy of the current edition of Songlines (Aug/Sept 2011 #78) including an exclusive Top of the World CD as well as a bonus 2nd CD, Dutch Delta Sounds. You only have to cover the P&P. Simply send a self-addressed A4 envelope with prepaid postage (UK: £1.23 Europe: £2.61 RoW: £2.64 Surface or £4.26 Air) to Songlines (#78 offer), PO Box 54209, London, W14 0WU, UK"
Songlines website: www.songlines.co.uk
PRESS RELEASE
For immediate release
Rock The Tabla
Hossam Ramzy assembles all-star cast for biggest album yet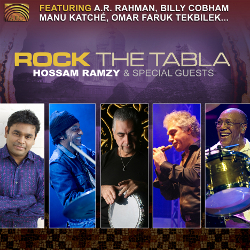 Hossam Ramzy realizes a 10-year dream with the release of 'Rock The Tabla' on August 30th 2011. For this album Hossam decided to invite some of his friends and the musicians he most respects and admires to join him. The fact that A. R. Rahman, Billy Cobham, Manu Katché and Omar Faruk Tekbilek were only too keen to accept the invitation is testament to the respect that the musical world holds for Hossam Ramzy.
While Hossam has enjoyed a distinguished solo career as perhaps the leading exponent of Egyptian music of career to collaborations. From Led Zeppelin to Shakira, Hossam has worked with some of the biggest stars and most talented musicians in the world.
With Rock The Tabla comes time for Ramzy to turn the tables and invite some of the musicians he most admires to contribute to an album of his own. "You can expect music that is born out of love and respect for these artists and music that really just moves me personally", he says. The idea for Rock The Tabla was conceived some 10 years ago, and while it has been a huge part of Hossam's life and career for the last decade, in that time he has still managed to release more than a dozen albums in his own name, and perform on many more. He has travelled the world with his Egyptian dance concerts and workshops, worked with some of pop's biggest names (including Ricky Martin and Shakira), and contributed to several motion picture soundtracks.
Selecting the musicians for Rock The Tabla was not a proposition Hossam took lightly. "Perfection takes time", he quips. So how did he come to choose the artists to invite to be part of the album?
"Billy Cobham is one of my biggest idols", says Hossam. "When I first heard his playing [on the Mahavishnu Orchestra album 'Birds of Fire'], I thought 'Yes, this is what I want to do. I want to play like this, in my own interpretation, but at this quality.' He was a major source of inspiration for me, so how could I not invite him?"
"A.R. Rahman contacted me in 2002 out of the blue; he was doing a film called 'Meenaxi: A Tale of 3 Cities'. I was so touched that [A.R. Rahman] would come all the way to meet me in my home and ask me to play on the soundtrack. I fell in love with the guy and we became such good brothers. I don't think we have really discovered this man's dimensions or the full extent of his creativity yet."
Hossam had previously worked with Manu Katché on Peter Gabriel's albums, and Omar Faruk Tekbilek on a tour of Australia. "These are people I really have the highest of musical, and human, respect for", says Hossam.
Rock The Tabla is the highlight-to-date of a lifetime dedicated to music. Having left Egypt for England in the mid-1970s to ply his trade as a jazz drummer, Hossam soon found his way to working with Andy Shepherd and Geoff Williams. This set the course for a career of high-profile collaborations.
Returning to his first love of ethnic Egyptian percussion lead Hossam to work with Peter Gabriel, and in the mid-90s Jimmy Page & Robert Plant (Led Zeppelin) asked Hossam to assemble a band of Egyptian musicians and join them on their 'No Quarter: Unledded' reunion tour and subsequent album. Hossam would provide Arabic arrangements to Led Zeppelin classics such as Kashmir and Four Sticks. In time everyone from The Rolling Stones to Sting and Loreena McKennitt would invite Hossam to work with them. His desire and ability to inject Egyptian and Middle Eastern rhythms into popular music has earned Hossam the moniker 'Egypt's Ambassador of Rhythm'. With Rock The Tabla the ambassador receives his guests on his home ground.
ARC Music article at folkroddels.be
The following article on ARC Music, the 35th anniversary, 'From Helmand to Horse Guards' and 'Rock The Tabla' was published earlier this week at www.folkroddels.be
Please note this is a translation of the original article at www.folkroddels.be.
ARC Music was established in 1976, exactly 35 years ago. That's why they claim to be the first label to release 'world music' on a large scale. That was the merit of one enthusiastic German man, Horst Tubbesing, who out of the blue decided to offer a few Bolivian musicians on tour in his country the opportunity to record an LP. At that time, the label was called Eulenspiegel (='Joker'). See can still see evidence of this in the numbering of the releases: they all start with 'EU'. That first record with Bolivian music is still obtainable, of course as a CD, and proudly features the reference EUCD 1001. The story goes that Tubbesing delivered his wares driving a Citroën 'Deux Chevaux' or 'Ugly Duckling', the trunk crammed with records. The firm grew rapidly and it was in 1988 that the UK became the home base of the label. A short account of the enormous expansion realised in the nineties can be found at www.arcmusic.co.uk.
ARC kept growing in the nillies (or should we say naughties?), amongst others thanks to the digital platforms like iTunes. A big seller like 'Voices of Southern Africa' by the Zimbabwean a cappella trio INSINGIZI sold more than 250,000 copies in North America alone (we haven't counted them personally but we trust the information to be correct, as we heard it from the band members after their concert in Middelburg, South Holland, as backing vocals to Dutch top country blues guitarist Hans Theesink). At present ARC has some 700 titles in their catalogue, covering some 120 different countries. Absolute gems have been added to the catalogue, like recently 'Tempus' by Portuguese fado guitar player Custódio Castelo. The company explicitly claims to sponsor 'Aesthetic music in a drug-free culture', a high flying ideal, sprung out of the basic notion that music is the highest art form on earth, necessary for the survival of humanity. That's a firm statement indeed.
ARC keeps up a strict pace in their release strategy. A way to achieve this is diversification and aiming at many different target groups. One often finds a cover version of a well known original (besides other records with original material), which isn't wrong at all, because the buyer always gets accurate information on the CD cover. This in sharp contrast to the labels who sell you a dreadful version without indicating that it isn't an original. Moreover, you'll find all additional information in the invariably lavish, well thought over booklets, always in a number of languages. Another typical asset of the label is working with 'fixed' artists, specialists in a well defined area, where they steer a large part of that particular production. For instance in many of the Greek CDs well known composer Michalis Terzis has a hand. Japanese taiko drum music is the field of action of master percussionist Joji Hirota and his Taiko Drummers (for the most part, but not exclusively) Parisian valse musette is taken care of by Enrique Ugarte. Egyptian and other percussion of all sorts and kinds, from traditional music to daring crossovers, one name: Hossam Ramzy. And so on.
Though ARC Music doesn't yet enjoy the same exquisite name and fame of labels like Putumayo or The Rough Guide, probably because of their releases aimed at a broader audience, one can easily make the distinction between ARC records with a general appeal and those gratifying the needs of the specialists. The CDs are quite inexpensive, even in the so-called 'full price' range. Very often the CD's are in a lower price category. A few recent releases intend to put the 35-year tradition in the spotlight. We will review shortly two of these efforts because they are of interest to a folk audience, certainly the first one.
'From Helmand to Horse Guards' is nothing less than a statement by the PIPES & DRUMS of the 1st BATTALION SCOTS GUARDS. ARC released a number of 'pipes & drums' records already, but this one is quite special: not only the CD showcases the broad mix of musical styles one can link the battalion with, one way or another, but the CD explicitly refers to the orders of the day of the unit: it was based in in Lashkar Gah, province of Helmand in Afghanistan, in the course of 2010, in full military action, then in 2011 it participated in the Queen's Birthday Parade at Horse Guards Parade in London. As Pipe Major Brian Heriot points out, "We regularly have role changes from fighting in ( ... ) Afghanistan, to playing on public duties". The Scots Guards have a long history and tradition, of ceremonial duties and on the battlefield. They were formed in 1642 and certainly had bagpipes before 1704. Only in 1836 the presence of bagpipes was officially sanctioned. The Pipes & Drums have performed in the Pentagon as well as in the Kremlin as peace ambassadors. They played in concert at the Edinburgh Military Tattoo all the way to Bermuda, Ghana, Australia and New Zealand. Once a year they appear in Jools Holland's program.
After a 'classic' start the Scots Guards surprise the listener with an execution of 'Hector The Hero', a lament by Scottish composer and fiddler James Scott Skinner, dating from 1903: fiddle, thin whistle and bagpipes are confronted by a straight rock band consisting of gentlemen of diverse military rank (the sergeants seem well represented here). Slowly other musical activities of the Scots Guards emerge and develop. In 'Fare Thee Well' one suddenly hears a familiar voice, that of folk singer Kate Rusby. This combination played the same tune already together in 2006, on BBC-TV, during the Jools Holland Annual Hootenanny. Sergeant John Norwood ("...until recently, a hidden talent in the Scots Guards") sings his way through a potent version of 'Caledonia' and does that in the purest rock fashion. 'Caledonia' is of course Dougie MacLean's signature song and is known in many fine executions, amongst others the one by the fabulous but unfortunate Scottish rock singer Frankie Miller (whose version is mentioned in the booklet here). 'The Gael' composed for the soundtrack for 'The Last Of The Mohicans' (1992), also appears on this album.
We sail along the stately but subdued hymn of the Scots Guards, 'En Ferus Hostis', and arrive at 'We Will Remember Them', which in fact is 'Flowers of The Forest', sung a cappella by the popular Scottish traditional (folk) singer Isla St Clair. The tune is then taken over by the lone bagpipes of Pipe Major Brian Heriot we already mentioned. In this graceful way it gets executed each year at the Act of Remembrance. On November 11th this ceremony is held on different locations in the UK and Canada. The picture of corporal Stephen Daniel Monkhouse in the booklet tells it all. He is one of three casualties of the battalion in Afghanistan in 2010. The title tune finishes off the CD in classic fashion, steeped in tradition and dignity. If you're like my family members and if like them you loath the sound of waves of bagpipes, you are hereby warned. But it's nevertheless a pity if you don't try this one at home, thanks to the surprising variety of sounds: 'Happy Hour' for instance is nothing else but a busking set of three jigs, played with penny whistle, bodhran, mandolin and deger pipes! Despite the obvious military background of the formation, this isn't a 'militarist' manifesto at all. It is instead a warm human testimony, an ode to life, that happens to emanate from a strong and fully fledged, but underrated musical tradition.
Hossam Ramzy, percussionist specialised in the Egyptian tabla, is someone out of the ordinary. (Belly) dancing music, purely traditional tunes and rhythms, studio recordings with singers and musicians from the Middle East, tributes of all kinds (e.g. for Oum Khalthoum, Farid Al Atrache and Mohamed Abdul Wahab), world music records in a clash with musicians from the whole planet... you name it, you got it from this man. If someone should still think Hossam is an industrial source of supermarket muzak galore, consider these collaborations: he's been playing and performing with top artists, the likes of Peter Gabriel, Sting, Jimmy Page & Robert Plant (of Led Zeppelin), The Rolling Stones, Loreena McKennitt, Steve Hillage, Rachid Taha, Khaled and even jazz giant Chick Corea. No mean feat indeed! Not long ago, during the 'Arab Spring' in Egypt, he released the fourth volume in a series of records with multi-instrumentalist Phil Thornton (known from his stint with Sinéad O'Connor). After 'Eternal Egypt', 'Immortal Egypt' and 'Enchanted Egypt' there's now 'Egypt Unveiled', an unlikely blend of old and new that defies any puristic criticism by its fiery and self-confident end result. Only in the second part of the record one discovers a few moments of giving in to new age modes, but this does not lessen the favourable impression. A great party time record!
But we are focussing our attention to 'Rock The Tabla', a title that's clearly a reference to the very danceable 'Rock The Casbah' by The Clash. With this record Ramzy's dream becomes reality: a collaboration with the musicians he admires most. It goes without saying there are some great percussionists. Amongst them even Billy Cobham, whom we learned to know at exactly the same moment as Ramzy through the still brilliant jazz album 'Birds Of Fire' by that incredible melting pot of talent called Mahavishnu Orchestra (1973). For Hossam this amazing record was even the starting point of his own career. Ramzy knew Manu Katché, another icon in the realm of percussion, from his work with Peter Gabriel. A.R. Rahman (widely appreciated as the composer of the multi-award-winning soundtrack of 'Slumdog Millionaire' and sometimes referred to as the 'Mozart of Madras') and Turkish flute and saz player Omar (or Ömer) Faruk Tekbilek, were known to him through earlier collaborations.
The biggest danger of such a monster project – there are many other talented musicians involved – is that they often have to be completed under stringent time pressure. When it comes to percussion, chances are the recordings dissipate into some kind of 'revved up jam sessions'. But Hossam succeeds in eliminating this danger for the most part by preparing the project extensively and making sure that the song material gets the proper melodic basis. In fact these are proper compositions. The opening 'Arabantana', with Katché in a leading role, shows the way. 'Cairo to India' puts A. R. Rahman in the picture. The aqsaq rhythm in 'Six Teens' is sustained by the masterly drums rolls by Cobham, whom we saw perform at the Antwerp Arenberg Theatre in the seventies, when he promoted his 'Crosswinds' LP. The man obviously hasn't lost any of his skills... There is some beautiful singing by Elhamy Ezzat on 'Ancient Love Affairs'; 'Shukran Arrigato' is the exciting duel you can expect when you put Hossam Ramzy and Joji Hirota in the same studio with their drums in the opposite corners.
With Phil Thornton Ramzy delivers 'Bluesy Flusey', a song in shagan style, which is nothing but the North-African form of 'blues', dating from way before the creation of the blues in the States. Of course it bears Egyptian and Middle Eastern accents here. It stars young violin player Mohammed Ali (presumably no relation). As the title suggests, 'Billy Dancing' is Billy Cobham's virtuoso way to interpret Arab belly dancing. 'Sawagy' as well as the title tune, inspired by Led Zeppelin, both sung by Houda El Sambaty, are an effort to confront and if possible merge dance music traditions from east and west. In between these two there's 'Dom & Doumbia', Ramzy's ode to the sounds of Mali, more precisely to the albino griot Salif Keita. Karin Tubbesing (from the dynasty that founded ARC) suggested Malian master drummer Nahini Doumbia (djembé and other instruments) to Ramzy, which results in a relatively short but fierce confrontation.
Tekbilek excels in the smooth running 'Rock The Tabla' (the last song, but... there's also a bonus track!). Hossam has a great liking and affinity for Turkish music, which he ascribes to his ancestry: his forefathers were allegedly ... Turkish pacha's! The name of the guitar player on 'Rock The Tabla' has to stay a secret. Hush hush! If it's not the 'The Stig'... then maybe Jimmy Page? We won't ask.
The Hossam Ramzy who stays close to tradition has to be found on other records. It doesn't matter: for this unashamed crossover he's gone a long way. All for the sake of 35 years of ARC Music!
Antoine Legat
Capital's biggest World Music radio show finds a new home
From Tuesday 26 July, the capital's biggest World Music radio show is back on air from its new home, SOAS Radio. 'A World in London' (AWIL), presented by DJ Ritu, had previously broadcast on BBC London 94.9FM, but was axed in January. The weekly programme returns live at 4pm every Tuesday via the radio studios at the School of Oriental and African Studies' (SOAS) central London campus. SOAS Radio is the UK's most popular student radio station.
After a two week soft launch running as a pre-recorded programme, AWIL will start live broadcasts from SOAS on Tuesday 26 July. The one hour programme will be the UK's only live weekly World Music radio show. Playing 'music from all 4 corners of the world', AWIL will showcase local and global emerging talent alongside international superstars. Regular features will include the Going Global Gig Guide, competitions and interviews. Already lined up are Gambia's Sona Jobareth (Kora player/composer), indigenous Australian Frank Yamma (singer/composer), and Brazilian singer Luisa Maita. The show can also be heard again online at www.soasradio.org, or as a podcast on iTunes, Mondomix and Mixcloud.
AWIL moved to SOAS Radio following BBC London's announcement in December to drop their only World Music show. AWIL had been running successfully for four years, with audiences growing quarter on quarter to become the station's second most listened to music programme after Jazzie B, out-performing both Gary Crowley and Tony Blackburn. The decision prompted an angry backlash from the music industry and fans. A campaign was launched to save the show, described as a "unique treasure that epitomises the best of multi-cultural London", with Time Out, fRoots magazine, the Musicians Union, MP Andy Slaughter, and many World Music luminaries throwing their weight behind it. When the BBC refused to reinstate the popular show, SOAS Radio head Carlos Chirinos invited DJ Ritu to broadcast AWIL at London University.
Carlos Chirinos said, "We are truly excited to welcome DJ Ritu to SOAS. 'A World in London' is a much loved institution and she is a seasoned presenter who consistently delivers high quality content that attracts listeners worldwide." He continued, "AWIL fits in perfectly with SOAS Radio. We work closely with the academic expertise at SOAS to produce programmes that focus on Africa, Asia and the Middle East, as well as their Diasporic communities in the UK."
Over 5,000 students from more than 130 countries study at SOAS, and its radio station attracts the biggest audiences among all UK student radio stations. SOAS Radio is also in the forefront of setting up radio stations and running outreach programmes in developing countries in Africa and Asia – for many people in these continents, radio is the only way to stay in touch with the wider world.
DJ Ritu expressed her delight at AWIL's new home, claiming "The world truly is at SOAS and its innovative radio station is influencing the next generation of World Music fans on its campus and around the globe." She added "I'm looking forward to the next chapter of AWIL, where we continue to share, involve and learn about other cultures through dialogue and music that is seldom heard on mainstream British radio."
For those wishing to contact DJ Ritu with new music, details about World Music events, 'shouts' or feedback should email her either at djritu@soasradio.org or info@djritu.com
Zingaros European Tour
Zingaros have just returned to Argentina following a successful third European tour.
The group played an intensive schedule of 22 concerts in 24 days, including performances in the UK (London, Birmingham & Cardiff), Denmark (Aarhus) and Germany (Nuremberg, Halle, Berlin, Muenzinghof, Salzwedel, Bonn, Duisburg & Leipzig).
The tour included several jazz festivals where, it is fair to say, the crowd were not expecting to see a Gypsy Tango trio. Still, without exception the crowd was won over by Zingaros' passion, virtuosity and joie de vivre.
The highlight of the tour for the band was a performance for an audience consisting mainly of children and adults with disabilities, which guitarist Alejandro Montero calls "a touching experience which will never be erased from our hearts."
Music used in True Blood
Music by El Son Que Faltaba has just been featured in the hit series True Blood on HBO.
The song 'Las Olas del Mar' ('The Waves of the Sea') from our album 'Traditional Music from Mexico' features for 1 and-a-half minutes in episode 6 of season 4, which aired in the US on Sunday 31st July.
True Blood centres around Sookie Stackhouse (Anna Paquin), who finds herself being drawn into the vampiric underworld of Bon Temps, Louisiana. In the episode, entitled 'I Wish I Was The Moon', Lafayette (Nelsan Ellis) finds himself in Mexico…
True Blood season 4 is scheduled to air in the UK in January 2012.
Drumzy School of Music and Dance presents
Dance Queens of the Nile
Hossam &amp Serena Ramzy Saturday 25th June 2011 Special "homecoming" concert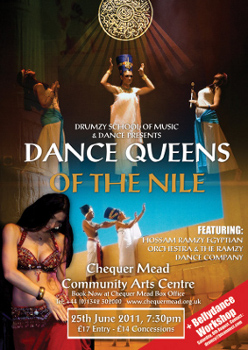 A unique opportunity to experience the magic of ancient Egypt followed by the delights of the golden era of Egyptian dance.
Dance Queens of the Nile premiered at London's prestigious Bloomsbury Theatre to rapturous applause.
Hossam and Serena Ramzy now bring the show to their home town for a very special performance at Chequer Mead Arts Centre, East Grinstead, West Sussex on Saturday 25th June.
Come and join the hometown audience in welcoming The Dance Queens of The Nile.
'Dance Queens of the Nile' features the Ramzy Dance Company and guest dancers, plus the Hossam Ramzy Egyptian Ensemble performing live!
"Serena's genius as a dancer and choreographer in interpreting the music is equal to the genius of her husband… The entire show is a wonderful event and a sparkling collaboration between the various artists involved."- Elizabeth Hopkins, Mosaic Magazine
Hossam Ramzy's website
President Obama presented with a copy of 'From Helmand to Horse Guards' at Buckingham Palace
The President of the United States was presented with a complimentary copy of 'From Helmand to Horse Guards' at Buckingham Palace last night (24/05/2011).
Pipe Major Brian Heriot, leader of the Scots Guards Pipes & Drums, presented Mr Obama with the album at an official State Banquet at which the band had performed.
Mr Obama is currently in London on an official state visit. Last night's banquet has received significant coverage in today's UK press, such as this article at the BBC website.
'From Helmand to Horse Guards' follows a year in the lives of the 1st Battalion Scots Guards, from their deployment in Helmand province, Afghanistan in 2010, to The Trooping of the Colour at Horse Guards Parade for the Queen's Official Birthday next month. See the following press release for futher details on the album.
Scots Guards dedicate their album From Helmand to Horse Guards to fallen colleagues in Afghanistan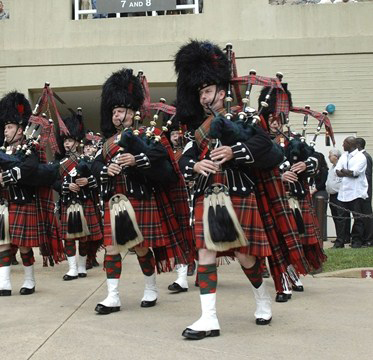 'From Helmand to Horse Guards' features renowned folk singers Kate Rusby and Isla St Clair, and the surprise singing talents of Sgt. John Norwood. A percentage of sales from the album is to be donated to the Scots Guards Colonel's Fund to assist bereaved families and injured Scots Guardsmen who were injured in action.
The 1st Battalion Scots Guards release 'From Helmand to Horse Guards' through ARC Music on 13th June 2011, in dedication to their colleagues who died on military duty in Afghanistan.
As the album name suggests the Scots Guards are due to appear at Horse Guards Parade, London, on Saturday 11th June to Troop their Colour at Her Majesty The Queen's Official Birthday Parade. This will round off a prestigious two-week period for the battalion, as they are also due to perform at a State Banquet at Buckingham Palace for HM The Queen and President Obama on May 25th.
Of course, with all the pomp and circumstance of their ceremonial duties it is easy to forget that the Scots Guards, first-and-foremost, are soldiers in the British military. In 2010 the regiment undertook a six-month tour of duty in Afghanistan, stationed in Lashkar Gah, Helmand province where they held a groundholding and mentoring role for the Afghan police and national army. "We achieved a lot over the course of the six months in stabilizing the Afghan's way of life, which was the main reason why we were all there, to bring civility back to the nation," says Pipe Major Brian Heriot, who leads the Scots Guards on these recordings.
This is perhaps most poignantly illustrated in the song 'We Will Remember Them', on which Isla St Clair sings the moving classic Scottish folk song 'Flowers of the Forest' while Pipe Major Heriot plays a lament on the bagpipes. "She's such a great singer, and it's an honour to have her on the album", says PMaj. Heriot. "Isla was with us on our America trip in 2009. We would perform this every evening right across the country and the crowds all loved it, and we thought it was a fitting tribute to our fallen comrades to use on the album."
The album also boasts an appearance from another established folk singer, Kate Rusby, with the song 'Fare Thee Well', a track Kate originally wrote for her own album 'The Girl Who Couldn't Fly'. In 2005 Kate invited the Scots Guards to add a pipes section to the song for a performance on Jools Holland's Annual Hootenanny (BBC 2). The result was so moving that both parties agreed to feature that version of the song on this album.
Perhaps the biggest surprise on 'From Helmand to Horse Guards' is the singing talents of Platoon Sergeant John Norwood, who features on two tracks, 'Wild Mountain Thyme' and a stirring rendition of Frankie Miller's 'Caledonia'. Sgt Norwood was until recently a hidden talent in the Scots Guards' ranks. He was a Mess Caterer serving in the Sergeants' Mess, and joined in on a busking session one night. "He came from behind the bar and sang Caledonia and blew us away. Everyone was in awe when they heard his voice", admits PMaj. Heriot. "It was a real surprise. I think he is going to make it to the big time". He concludes with a laugh, "we'll just make sure he remembers where he started!"
Niyireth Alarcón in Italy
ARC Music's Assistant Art Director, Diz Heller, recently returned from a trip to Chiavenna, Italy where he attended a concert by Colombian chanteuse Niyireth Alarcón.
Niyireth was in the middle of a mini European tour, which saw performances in Italy, Switzerland and France. The finale of the tour is a performance at the Femmes du Monde (Women of the World) festival in Paris on Wednesday 4th May.
See a youtube video of Niyireth's performance in Chiavenna, accompanied by Juan Carlos Montes on tiple and Sandro Toro on guitar.
Diz said: "Niyireth and her band performed beautifully. The crowd were very enthusiastic and after the show many of them bought CDs and had them signed by Niyireth, Juan Carlos and Sandro."
Niyireth has received invitations to return to the venues she performed in, and hopes to return to Europe in 2012.
Techung, artist-in-residence at Emory University
Tibetan folk singer and multi-instrumentalist Techung is currently in residence at Emory University, Atlanta, Georgia.
The 6-week residency, which ends on 25th April 2011, sees Techung dividing his time between the stage and the classroom.
Techung performed at the close of the Emory's 11th annual Tibet Week and is working with the university's newly formed Tibetan Ensemble, teaching them how to sing Tibetan Songs, perform Tibetan Dances and play traditional instruments.
Read the full story on the Emory University website.
Hossam Ramzy to perform at Afro-Pfingsten Festival
Hossam & Serena Ramzy are to perform at the Afro-Pfingsten Festival, Winterthur, Switzerland on 12th June 2011. They will be backed by Hossam's Egyptian Orchestra.
The Afro-Pfingsten Festival is Switzerland's biggest and most important event celebrating African music and culture. Please visit www.afro-pfingsten.ch for more information.
Muslim World Music Day, April 12 2011
ARC Music is supporting Muslim World Music Day www.muslimworldmusicday.com
Japan Crisis Appeal Concert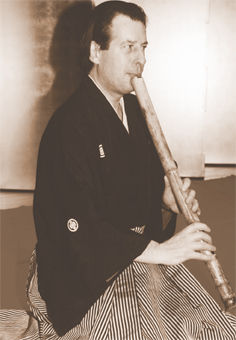 A concert of Japanese music has been organised to raise money for the victims of the Earthquake which devastated Japan in March.
The Japan Crisis Appeal Concert is being held at St John's, Smith Square, London on Thursday 14th April 2011. The programme will include traditional Japanese music, as well as works by Chopin and Elgar performed by Japanese musicians. ARC Music artists Ayako Hotta Lister (koto) and Richard Stagg (shakuhachi) will feature. For more information please visit www.sjss.org.uk
All the profits from the concert will be donated to the Japan Society Tohoku Earthquake Relief Fund
Rolando Sanchez to receive Recognition Award at the Hawaii Music Awards
ARC Music's Rolando Sanchez has been announced the winner of the Latin American Recognition Award at the 15th Annual Hawaii Music Awards. The award ceremony takes place in Honolulu on 11th April 2011.
Congratulations Rolando!
ARC Music release long-awaited fourth collaboration by Hossam Ramzy & Phil Thornton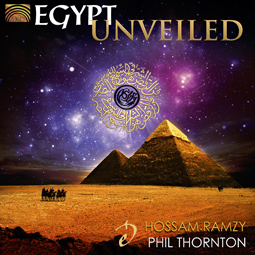 Egypt Unveiled is the long-awaited latest collaboration between Egypt's Ambassador of Rhythm Hossam Ramzy and producer / sonic wizard Phil Thornton.
Following the huge success of their previous three collaborations Eternal Egypt, Immortal Egypt (New Age Voice award winner "Best World Music Album") and Enchanted Egypt, here they present Egypt Unveiled, crowning the trilogy.
With Egypt Unveiled Hossam and Phil have created a unique sound, fusing modern with traditional and uniting Egypt's ancient history with the 21st century.
"I feel that Egypt is a central element in the creation of the history of the world as we know it today", says Hossam. It is this idea that inspires much of the music on Egypt Unveiled, perhaps most evident in the instrumental piece 'Planet Egypt', as well as the title track. "We have tried to acknowledge the present moment, while creating an awareness of all time that went before."
The result is a modern fusion album which manages to remain essentially Egyptian. "Phil's genius in electronic guitars and sequencers provides a multitude of depths and heights that allow me to create that pyramid shape to our sound", says Hossam. Phil adds, "apart from the fact we can now draw on nearly fifteen years worth of sessions and creative collaboration we have also been able to include performances on the 'arghul' for the first time, an instrument which is rarely heard outside of the region."
This sound was made possible by a return to Cairo, where Hossam and Phil were able to record with some of Egypt's most talented musicians. They have drawn on a wide range of influences for this album, taking an open-minded approach to sourcing new sounds. "The feeling of being in the North of Africa opens the door to much of the African culture, and allows us to draw influences from all corners of the continent. I tried to reflect this with a new slant on my drumming approach", acknowledges Hossam.
For the track Om Faraon (Mother of Pharaoh) Hossam and Phil recorded the calls of market sellers from one of Cairo's many bazaars, as they advertise their booty of ladies' lingerie. "Their rap says 'Ma-a El Harim El Nash-ha', meaning 'this is for the wise women who know what to buy'" says Hossam, "…and who could be wiser than a Pharaoh's mother?"
Phil concludes, "I think Hossam and I both have our distinctive individual styles, the combination of these proved to be unique right from our first work together back in 1995. So, although I feel we have taken this album to the 'next level' we have also been true to our shared past."
For track information, to listen to samples, or to buy the CD click here
Renowned Portuguese Guitarist Releases International Solo Recording Debut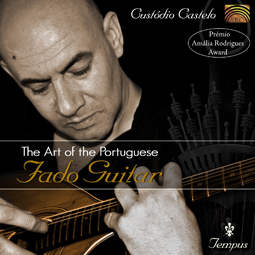 ARC Music is proud to present the international solo recording debut by the renowned Portuguese guitarist Custódio Castelo.
Winner of the 2010 Amália Rodrigues Foundation award, 'Best Instrumentalist', Custódio Castelo is perhaps best known as the regular guitarist for Cristina Branco, playing on her albums and accompanying her on tour. He has also performed with and featured on recordings by such fado luminaries as Jorge Fernando, Mariza, Ana Moura, Raquel Tavares and Argentina Santos, among others.
In the 1990s he was given the great honour of accompanying the "Queen of Fado", Amália Rodrigues, during her final concerts in the United States.
With "Tempus" Castelo presents 17 beautiful, original compositions for the Portuguese guitar, all instrumental, with the exception of the song "Prece" featuring the up-and-coming fadista Cristina Maria and based on a poem by the Portuguese poet Pedro Homem de Mello.
The album features an instrumental piece entitled "Homehagem a Paredes", a tribute to the acknowledged master of the Portuguese guitar, Carlos Paredes, who passed away in 2004: "The moment I knew that the master was ill, I dedicated to him my pain", says Castelo.
This album was recorded in 2004, at a time when Castelo too feared an untimely end to his career due to health problems. Thinking he may never be able to play again, Castelo entered the studio and recorded these seventeen tracks.
"Tempus", then, can be seen as the intended life's-work of this generation's most talented exponent of the guitarra portuguesa.
Thankfully Castelo's health recovered fully and he continues to make music. In December 2010 Castelo was awarded the prestigious Award of the Amália Rodrigues Foundation for 'Best Instrumentalist', an accolade he received with great humility as it was the music of Amália Rodrigues which inspired him to first pick up the guitarra portuguesa as a teenager.
Upcoming concerts from ARC Music artists
Artist
Date
Country
City
Venue & Information
Hilda Bronstein
with Chutzpah!
3 Mar 2011
UK
Maidenhead
Norden Farm Centre for the Arts
www.chiribim.com
30 Jun 2011
UK
London
The Arts Depot
Hossam & Serena Ramzy
5 Feb 2011
UK
London
Bloomsbury Theatre
www.thebloomsbury.com
She'koyokh
16 Mar 2011
UK
Cambridge
West Road Concert Hall
www.myspace.com/shekoyokh
18 Mar 2011
UK
Edinburgh
Reid Hall
18 Mar 2011
UK
Edinburgh
St Bride's
20 Mar 2011
UK
London
Union Chapel
25 Mar 2011
UK
Findhorn,
nr Inverness
Universal Hall
26 Mar 2011
UK
Isle of Arran
Brodick Hall
30 Mar 2011
UK
Camden,
London
Green Note Café
23 Jun 2011
UK
London
Kings Place, Kings Cross
Sanju Sahai
27 Feb 2011
UK
Maidenhead
Norden Farm Centre for the Arts
www.nordenfarm.org
Shir
5 Feb 2011
UK
Oxford
Oxford Jewish Centre
www.shirmusic.co.uk
Vusa Mkhaya & Friends
(Insingizi)
13 Feb 2011
Tanzania
Zanzibar
Sauti za Busara Festival
www.busaramusic.co.uk
Save "A World in London"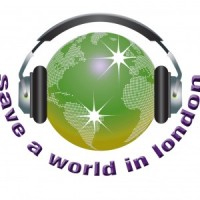 BBC London have taken their only world music show, "A World in London", off the airwaves. The show, presented by DJ Ritu, had its final broadcast on 1st January.
As well as playing music, "A World in London" featured interviews with artists, as well as a weekly run-down of world music concerts in and around London. It gave voice to a lot lesser-known world music artists and enabled them to be heard in London, a city which is proud to be called one of the most multi-cultural in the world.
The show is to be replaced by a chat show as part of plans to transform BBC London Radio into a speech-based station.
Friends of "A World in London" have set up a petition to persuade BBC bosses to reinstate the program in a different time slot. To sign the petition and for more information please click here.
Upcoming concerts from ARC Music artists
Baluji Shrivastav
Date: 15 Jan 2011
Country: India
City: Kanpur
Venue: Merchants Chamber Hall
More information: www.balujimusicfoundation.org
She'koyokh
Date: 16 Mar 2011
Country: England
City: Cambridge
Venue: West Road Concert Hall
More Information: www.shekoyokh.co.uk
Date: 23 Jun 2011
Country: England
City: London
Venue: Kings Place, Kings Cross
More Information: www.shekoyokh.co.uk
Vusa Mkhaya & Friends (Insingizi)
Date: 13 Feb 2011
Country: Tanzania
City: Zanzibar
Venue: Sauti za Busara Festival
More Information: www.busaramusic.co.uk
Yale Strom / Elizabeth Schwartz
Date: 22 Jan 2011
Country: USA
State: San Diego
Venue: Mingei International Museum
More Information: www.mingei.org
Music by Zein Al-Jundi and Hossam Ramzy used in latest HSBC TV Commercial
Music from Zein Al-Jundi's album Traditional Songs from Syria is featured in the latest TV commercial by banking giants HSBC.
The track El Ozubiyya (featuring percussion by Hossam Ramzy) was selected for inclusion in the ad, which is currently being aired worldwide.
We have a short clip of the advert, which you can see here:

Maria Kalaniemi goes in at No. 2 on the World Music Charts Europe

The latest album from Finnish accordion player Maria Kalaniemi has entered the World Music Charts Europe at number 2.
Maria is featured on Tango-Orchesteri Unto's first Finish Tango album released on ARC Music.
Hossam Ramzy's "Faddah" featured in "So You Think You Can Dance Canada"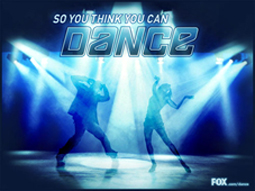 Music by Hossam Ramzy was featured in the latest series of the hit show "So You Think You Can Dance Canada" on CTV.
Bellydancer Amelia Levesque Demers danced to the track "Faddah" (from the album of the same name) at her audition, in which she impressed the judges and was granted a ticket to finals week.
You can watch a clip of the audition here.
World Champion Figure Skater dances to Tango Siempre

Music by Tango Siempre is being used in the current Free Skating program by World Champion Figure Skater Daisuke Takahashi.
Daisuke is current dancing to "Invierno Porteño" from the Tango Siempre album, as showcased at the Japan Open at the end of October.
Takahashi is the current World Champion and Olympic Bronze medallist.
Shir awarded best Yiddish Songs Performance at International Jewish Music Festival.

Shir has been awarded the Mira Rafalowicz Prize for Best Yiddish Song Performance at the International Jewish Music Festival in Amsterdam, which was held between 28th and 31st October.
Insingizi record vocals for documentary on the Zambezi River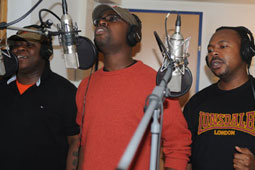 Zimbabwean vocal trio Insingizi have just recorded vocals for the soundtrack to a new documentary on the Zambezi River.
The documentary, by production company Science Vision, will air on National Geographic, ORF (Austria) NDR, WDR (Germany) and ARTE (France).
From Science Vision website: "ZAMBEZI is a visually stunning two part series that follows the river from its headwaters to its delta. Through the seasons and both the wildlife as well as human cultures the films tell the story of the Zambezi through the times of rain and plenty to the dry months when its waters are the only source of life for everything."
Check local TV listings for air dates.
ARC Music at WOMEX
ARC Music's Chris and Caren have just returned from WOMEX, the World Music Expo, which was held between 27th-31st October. For the second year running the event was held in Copenhagen, Denmark.
Once again ARC Music had a stand in the trade fair, which saw over 2400 world music professionals from 94 countries attend. This year we brought along some of our artists to share the stand: Zohreh Jooya, Talisman, and our Kenyan partners, A.I. Records. The trade fair was a big success and allowed us to make many new contacts with artists, booking agents, DJs and journalists.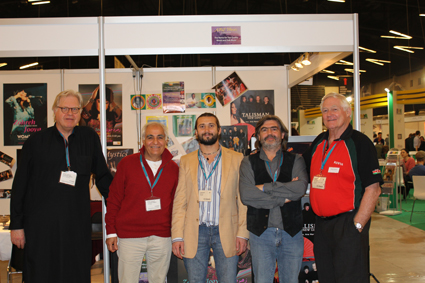 (In front of the ARC Music Stand (L-R): Ernst Schönleitner & Ali Taghian (Zohreh Jooya Management), Olexandr Klimas & Oleg Nehls (Talisman) and Mike Andrews (A.I. Records).)
WOMEX is the biggest event on the world music calendar, where the whole world music community gathers to do business, make new contacts and discover new talent.
We are looking forward to next year's WOMEX already!
More ARC Music tracks used in NBC's Outsourced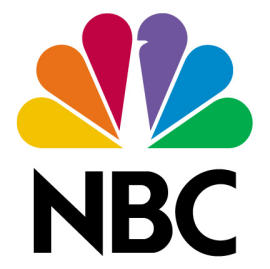 4 more tracks from ARC Music artists have been selected for use in NBC's newest hit comedy, Outsourced.
As reported last month, Baluji Shrivastav's 'Raga Pahari' was used in an earlier episode of the sitcom. Now NBC producers have selected a further 4 tracks from the ARC Music catalogue.
Another of Baluji's ragas, 'Raga Shuddha-Sarang' was featured in the episode .Touched by an Anglo . which aired on 14th October.
And the episode being aired tonight (4th November) will feature 3 more tracks: "Jolay! Jolay!" and "After the Rains" from Ravi's Afro-Indian Project and "Teen Taal" from Sarvar Sabri's Master Drummer of India
Tune in at 9:30 / 8:30C on NBC.
Solá Akingbolá performs with Jamiroquai on The X Factor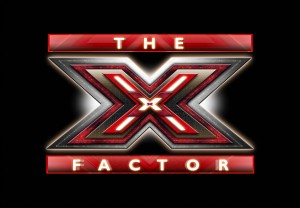 Solá Akingbolá was featured in ITV's The X Factor on this past weekend. Solá is a member of Jamiroquai and performed the new song "White Knuckle Ride" with the group on Sunday night (31st October) in front of judges Simon Cowell, Cheryl Cole, Dannii Minogue and Louis Walsh. Watch the performance here.
In addition to his work with Jamiroquai, Solá released his debut solo album "Routes to Roots", exploring his Yoruba origins in Nigeria, on the ARC label in 2007.
ARC Music tracks used in Civilization V PC game

ARC Music is proud to announce inclusion of our music in the latest release in popular strategy computer game series 'Civilization', one of the biggest-selling and influential computer game franchises of all time.
Sid Meier's Civilization V was released in September and contains 15 tracks taken from ARC Music albums.
"In Civilization V, players strive to become Ruler of the World by establishing and leading a civilization from the dawn of man into the space age, waging war, conducting diplomacy, discovering new technologies, going head-to-head with some of history's greatest leaders and building the most powerful empire the world has ever known." (from official Civilization V website)
Their quest takes them to many foreign lands, and much of the music you hear is from ARC Music.
The tracks used are:
'Flying Bird', 'Aridda Wal Noor' and 'Al Khayam' by Bashir Adbel Al from The Art of the Arabian Flute - The Nay
'Nara', 'Rewind' and 'Wissal' by Charbel Rouhana from The Art of the Middle Eastern Oud
'Pageant', 'Musashi Mai Uchi', 'Harvest' and 'Haru - Ichiban' by Joji Hirota from Japanese Taiko
'Senburgaz Çiftetellisi' by Ahmet Kusgoz & Ensemble from Turkish Gypsy Music
'Brother Hunter' by Djivan Gasparian from The Art of the Armenian Duduk
'Raqsat albedoi' by Ahmed Mukhtar from Music from Iraq
'Sufi Moments' by Ahmed Mukhtar from The Road to Baghdad
'Bolu gelin Karsilamasi' by Hüseyin Türkmenler from Music of the Middle East
Baluji Shrivastav featured on NBC program 'Outsourced'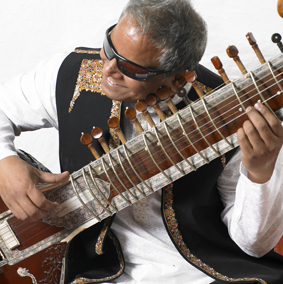 Music by Baluji Shrivastav was used in new NBC sitcom 'Outsourced' this week. "Raga Pahari" from Baluji's album Classical Indian Sitar and Surbahar Ragas was used in the opening sequence of the episode .The Measure of a Manmeet . which aired on 30th September.
The new comedy follows the story of an office manager who is sent to India to oversee a team of customer service representatives when his department is outsourced to a Mumbai call centre.
Hossam & Serena Ramzy Egyptian Dance Workshops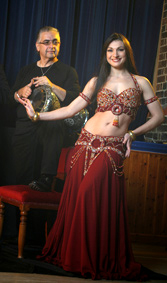 Hossam & Serena Ramzy are putting on 2 more workshops for Egyptian Dance in London in October 2010.
Serena has designed a choreography to 'The Pearl In My Heart' from the bestselling album 'Ruby' to be taught on Saturday 9th October.
This is followed on October 10th by a workshop focusing on Drum Solos, both how to create them and how to dance to them. Learn a choreography designed by Serena to 'Lucy The Magnificent' from Hossam's Sabla Tolo album.
The workshops are priced at £45 each (or £80 for both) and each class comes with a certificate of participation. Both are to be held at Dance Attic Studios, Fulham.
Visit www.hossamramzy.com for more information.
Yale Strom publishes book on Dave Tarras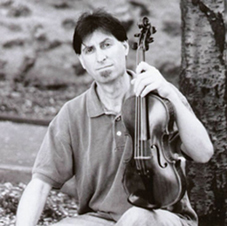 ARC Music's Yale Strom has a new book out this month chronicling the life and music of the influential klezmer musician Dave Tarras.
Hailed as "The Benny Goodman of klezmer," Dave Tarras is considered the most influential klezmer musician of the Twentieth Century. From 1925 until his death in 1989, Tarras set the standard for klezmer musicianship and virtuosity. Even the great jazz artists Charlie Parker and Miles Davis studied the technique of this complex and compelling virtuoso.
Yale Strom spent months interviewing the people who knew Tarras best: his musical collaborators and family members. The first biography authorized by the Tarras family, this book includes newly discovered personal and historical facts about Dave Tarras and the world in which he lived and played, and priceless photographs from the family archives.
Twenty-eight of Tarras' melodies as written by Tarras and discovered in his manuscripts are presented in arrangements for C and B-Flat instruments. An essential book for anyone interested in klezmer or Jewish cultural history.
"Dave Tarras - The King of Klezmer" is published by OR-Tav Music Publications, Israel's leading independent publisher of music and books on music. Order your copy here
Yale Strom is an internationally recognized authority on klezmer. Through more than 25 years and 75 research expeditions, Strom has become one of the world's leading ethnographer artists of klezmer culture. With his band Hot Pstromi he has released 13 globally acclaimed recordings, including 2007's Borsht with Bread, Brothers Currently, Strom is artist-in-residence in the Jewish Studies Program at San Diego State University.
Hilda Bronstein on BBC Radio 4 Women's Hour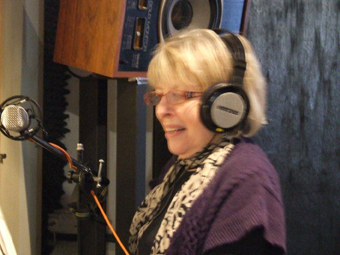 Klezmer singer Hilda Bronstein will be appearing on BBC Radio 4's Women's Hour on Tuesday 31st August (10-11am).
Hilda appears with Geraldine Auerbach of the Jewish Music Institute to discuss the history of klezmer with host Jane Garvey. The track 'Farbay di Teg' from Hilda's new album "Yiddish Songs with Chutzpah!" will be aired, and she will perform an additional song live in the studio.
As well as the new album, Hilda will be promoting the Klezmer in the Park festival, to be held on 5th September, at which she will be performing.
Ravi & Seckou Keita to perform at Europe's 1st Kora festival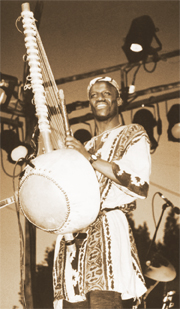 Two ARC Music artists will be participating at Europe's first African Kora festival this coming weekend.
Kora specialists Ravi and Seckou Keita will performing at the festival to be held on Saturday 21st August at the University of Brighton Gardens & Sallis Benney Theatre, Grand Parade, Brighton.
Ravi takes to the stage at 15:15, with Seckou headlining the set at 22:30. At 23:00 Seckou will be joined by other performers for a grand finale.
Other Kora players performing at the event include Kadialy Kouyaté, Diabel Cissoko, Jali Burama Mbye, Sura Susso, Modou Cissoko and Jali Keba Susso.
For full information please visit:
www.brightonkorafestival.com
ARC Music tracks to feature in "Prince of Persia: The Sands of Time"
ARC Music is proud to announce the inclusion of 4 of its tracks in the upcoming Disney blockbuster "Prince of Persia: The Sands of Time".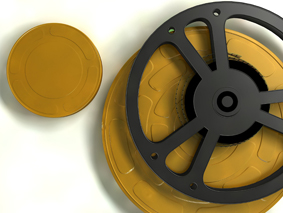 Two tracks by Hossam Ramzy ('Lucy The Magnificent' and 'Arabian Knights') and a track each from Deben Bhattacharya ('In Praise of Krishna') and Zarbang ('Circle in Seven') have been selected to form part of the soundtrack to the adventure movie, which hits cinemas in early summer 2010.
Based on the popular video game series of the same name, the film is produced by Pirates of the Caribbean's Jerry Bruckheimer and stars Jake Gyllenhaal (Brokeback Mountain, Jarhead), Gemma Arterton (Quantum of Solace, Clash of the Titans) and Ben Kingsley (Gandhi). The plot follows Prince Dastan (Gyllenhaal) and Princess Tamina (Arterton) in their quest against dark forces to safeguard an ancient dagger capable of releasing the Sands of Time -- a gift from the gods that can reverse time and allow its possessor to rule the world. It is the latest production from Walt Disney Pictures.
ARC Music Licensing Manager, Caren Entwistle, said: "We are very pleased to be involved in this project, and it is a major coup for us to have so many tracks featured in the film. It's going to be the blockbuster of the summer!"
This represents the fourth time in as many years that ARC Music has had music featured in major film productions, following placements in James Bond Casino Royale (2006); Indiana Jones and The Kingdom of the Crystal Skull (2008); and Burn After Reading (2009). Previous placements also include The Kingdom, Munich, The Constant Gardner, War, and The 40 Year Old Virgin.
Click here to see the movie trailer
David Fanshawe 1942 - 2010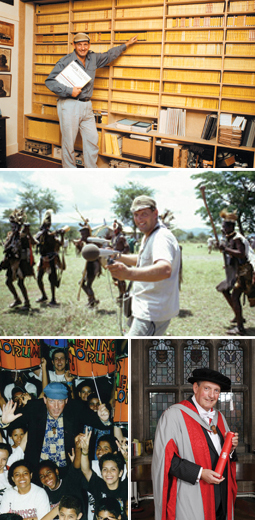 We were saddened to learn of the death of David Fanshawe, who passed away on 5th July 2010 following a stroke, aged 68.
David was a composer and explorer, ethnic sound recordist, educator, photographer and much much more besides. During his truly amazing life David travelled the world recording and documenting the lives and music of the indigenous peoples of many countries and cultures. His legacy is cemented in the Fanshawe Collections, some 3000 tapes and 60,000 images taken by David on his travels in Arabia, Africa, South East Asia and the Pacific between 1967 and 1994.
We have enjoyed a long relationship with David dating back to the early 90's, which has seen us release several recordings from this incredible collection.
On a personal note, we are each deeply moved by this news. Many of us at ARC Music have had the privilege of meeting David at various times over the years, and will miss his sense of humour, enthusiasm and infectious spirit.
It was an honour being able to work with David, and we thank him for his friendship, his tireless effort to preserve the ethnic music of world cultures, and his lasting contribution to the world of music. Our thoughts are with David's family: wife Jane, son Alexander, and daughters Rebecca and Rachel.
A memorial website has been set up at www.davidfanshawe.com to honour this remarkable man and his extraordinary life and career. A memorial service will be held later this year.
Baluji Shrivastav performs with Stevie Wonder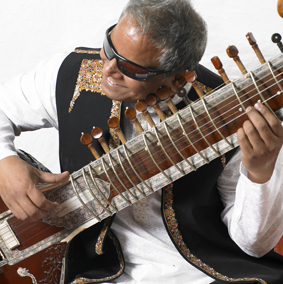 London was swinging this weekend as Stevie Wonder came to the capital to headline Hyde Park's Hard Rock Calling festival. The Motown legend took to the stage on Saturday 26th June to perform a selection of his many classics - backed on percussion by our very own Baluji Shrivastav.
Baluji played tablas and Gopi in front of the 48,000 people who had assembled in Hyde Park to see the soul star, who performed songs from his near 50-year career, including "Superstition", "Signed Sealed Delivered" and "Isn't She Lovely".
The following evening Stevie Wonder was in Glastonbury headlining the 40th anniversary of the world-famous festival.
Baluji Shrivastav has just released his latest album "Goddess" with ARC Music
Niyireth Alarcón Concert and Album Launch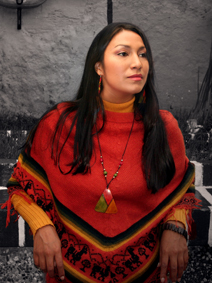 After her successful national and international tour Niyireth Alarcón has returned to Colombia to launch her new album Cantos del Camino ('Songs from the Road').
The album launch and concert will take place at the Theatre Prado El Águila Descalza, Medellín, Colombia on Wednesday 23rd at 8pm.
The 90-minute concert takes place in an intimate and welcoming setting, in friendly and direct communication with the audience - a warm atmosphere created by soprano, guitar and percussion, and the beautiful sounds of "a wooden flute on the water" as the great Mexican singer Lila Downs has described Niyireth's voice.
"Click here" for more information.
ARC Music in Los Angeles
ARC Music staff have just returned from Los Angeles where they attended the BPI & UKTI Sync Licensing* Mission.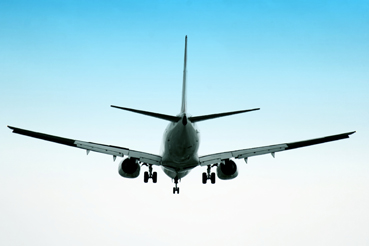 Jon and Caren from the ARC Music licensing department were in LA from 6th - 10th June where they had meetings with approximately 40 music supervisors, including people from some of the biggest shows on US TV.
Following meetings with music supervisors from the likes of CBS and NBC, Jon and Caren were invited to a reception at the British Consulate.
The trip was organized by the BPI (British Phonographic Industry) in conjunction with the UK Department of Trade & Investment.
* Sync licensing is the term given when a music publisher licenses music to a production company for synchronization with visual media, such as for TV programs and commercials, motion pictures and video games.
Insingizi Performance in Mülheim a.d. Ruhr, Germany
Insingizi performed on 27th May at the "Theater an der Ruhr", in Mülheim an der Ruhr, Germany.
ARC Music's Assistant Art Director, Diz Heller, was in Mülheim and stopped by to see the show and say 'hello' to Insingizi.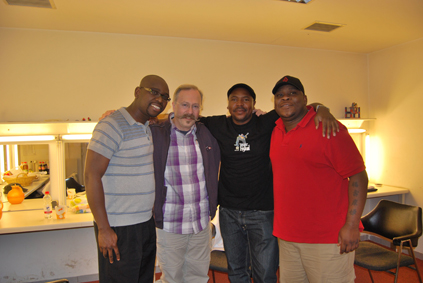 The show was VERY well received by the audience, who joined in with some of the songs, clapping, stamping and singing.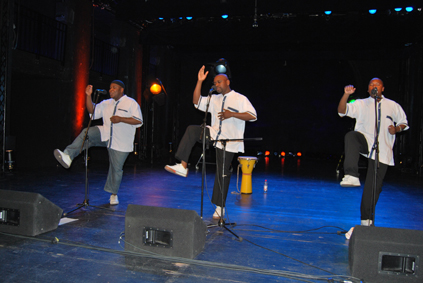 After the show people queued up to buy CDs and have them autographed by the group.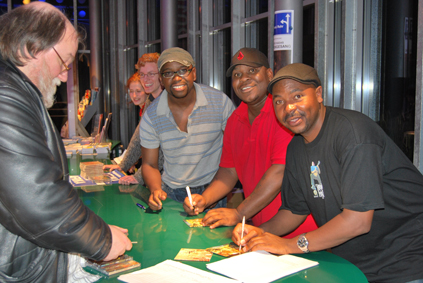 The show was completely recorded by the WDR (Westdeutscher Rundfunk) and will be broadcast on Thursday, 24th June on WDR 3 Konzert, at 20:05 (CET).
"Classic Voices of Baghdad" at Southbank Centre, featuring Ahmed Mukhtar
Iraqi Oud master Ahmed Mukhtar will be performing at the Queen Elizabeth Hall at London's Southbank Centre on Saturday 22nd May 2010.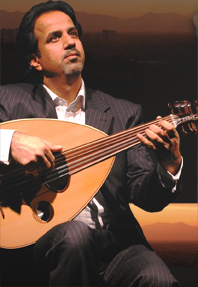 Mukhtar will be joined by The Baghdad Ensemble, a unique group composed of Iraqi musicians playing traditional Middle Eastern instruments such as oud, qanun and percussion, and British musicians playing instruments such as cello, accordion and double bass.
The event, entitled "Classic Voices of Baghdad" will also feature a performance by the Iraqi Maqam Group.
Profits from the concert will go to the Iraqi Al-Amal Association's Child Appeal, which supports children who have been caught in the crossfire of the Iraq war.
Tickets are priced at between £15 and £30 (concessions available) and are available from the Southbank Centre website. Click here for further information
Yale Strom & Junoon to Headline Earth Day Celebrations
in New York's Times Square
Klezmer star Yale Strom is to join sufi-rock group Junoon as the headline act at New York's Earth Day celebrations.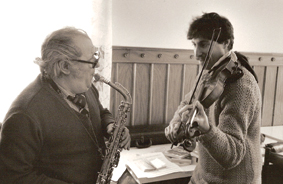 The celebrations, called Crossroads of the World, will take place in Times Square from 11am to 2pm on Earth Day this 22nd April.
Yale Strom is an acclaimed writer and composer of Jewish music, and the world's leading ethnographer-artist of klezmer music and history. With his band, Hot Pstromi, they released their album "Borsht with Bread, Brothers" on the ARC label in 2007. He joins sufi-rock pioneers Junoon, Pakistan's biggest rock group to close the celebrations.
Earth Day celebrates its 40th Anniversary this year, having being set up by U.S. Senator Gaylord Nelson in 1970 to inspire awareness and appreciation for the Earth's environment. To receive more information on Earth Day Celebrations in New York visit eday40.org
Narasirato Panpipers to play Rainforest Festival
The Solomon Islands' Narasirato Panpipers will be performing at the Sarawak Rainforest World Music Festival in Borneo, Malaysia, on 11th July 2010.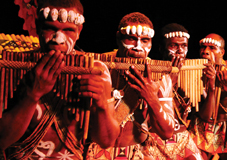 The Narasirato Panpipers come from the remote Oterama Village, on Malaita Island in the Solomon Islands. Surrounded by virgin rainforest and idyllic lagoons, their village is only reachable by canoe or by a 2-day walk overland. Since their inception in 1990 the group has built a reputation as an outstanding live act, with their unique, joyful tribal panpipe music and wild dance routines:
"Narasirato burst on to the stage on Friday night and a thousand jaws hit the floor simultaneously. It ranks as my best moment in the fifteen years history of the Festival . - Steve Barnes, Artistic Director Fairbridge Festival, Western Australia.
"The whole hall rose for a spontaneous ovation, for what became the most talked about performance of the [festival]" - Songlines Magazine
The Rainforest World Music Festival is a unique event which showcases renowned artists in the field of world music, held annually in the heart of the Borneo jungle. This year's event will be held between 9-11 July. For further information please visit www.rainforestmusic-borneo.com
Insingizi win Radio France World Music Award
Congratulations to Insingizi who were presented with the 'Prix France Musique du Monde 2010' (Radio France World Music Award 2010) last night at the Babel Med World Music Forum in Marseille.
The group thanked all their fans for their continued support on their facebook page.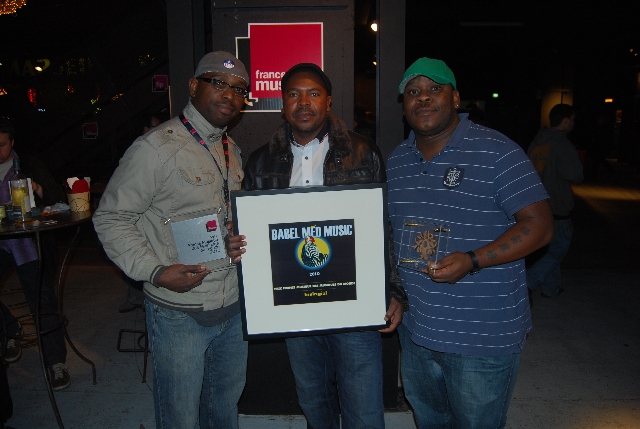 Insingizi after receiving the award (l-r) Dumisani 'Ramadu' Moyo, Blessings Nqo Nkomo, Vusa Mkhaya Ndlovu
Well done Insingizi!
Insingizi nominated for Radio France World Music Award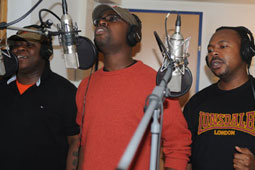 Zimbabwean vocal trio Insingizi has been nominated for the Prix France Musiques du Monde (French World Music Award) sponsored by Radio France.
The award ceremony is to take place on 26th March 2010 at the Babel Med Festival in Marseille, at which Insingizi will also be performing live. Director of France Musiques, Marc-Olivier Dupin, will make the presentation to the winning group.
Insingizi's music is filled with hope, optimism and faith. Wherever they go, the purity of their vocal interplay is overwhelmingly beautiful, the lyric is ultimately hopeful, and the inherent tone of their message is true to their spiritual beliefs.
The group was presented with Gold discs at WOMEX 2009 in Copenhagen, in recognition of sales in excess of 250,000 units of the North American release of their debut album They followed this in 2009 with the acclaimed .Voices of Southern Africa, Volume 2 .
Johnny Clegg Live in London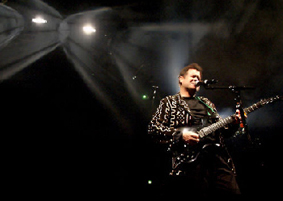 Johnny Clegg will be performing in London on Saturday June 19th 2010.
In a month in which all eyes will be on South Africa for the 2010 FIFA World Cup, a slice of Cape Town comes to London for a one-off spectacular at the Hammersmith Apollo.
The event will also mark the launch of the Breathe Sunshine Foundation a non profit organisation set up to build and fund schools and community centres in South Africa's disadvantaged communities. A percentage of proceeds from ticket sales will go towards the foundation.
Tickets are available through www.ticketmaster.co.uk
Harmonica Day in Manchester with Mat Walklate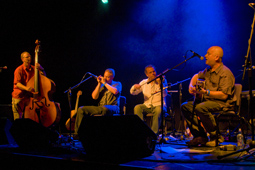 Mat Walklate from the House Devils is hosting a Harmonica Day at Band on the Wall, Manchester on Sunday 18th April 2010 in association with the National Harmonica League.
Mat is the 1992 British Blues Harmonica champion and currently plays with Irish folk band The House Devils, who released their international debut, Adieu to Old Ireland on ARC Music in July 2009.
at will give talks on how to play in every style, from beginners to advanced level. Special guests will demonstrate how the harmonica can be used in all forms of music, including folk, roots, Irish, world, blues, rock, country, jazz, classical and more. There will also be jam sessions in which you can play with other musicians, demonstrations of harmonica repairs, trade stands, a chance to meet other players and find out more, or just enjoy great music!
Tickets cost only £5 and are available at http://bandonthewall.org/events/2732/ Your ticket includes entry into free prize draw for a chance to win one of a selection of brand new harmonicas!
Insingizi to perform at Babel Med Music festival in Marseille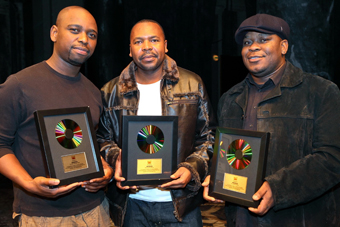 Zimbabwean vocal trio Insingizi will perform as part of the Babel Med World Music Forum in Marseille, France, on 26th March 2010.
The 6th annual edition of the Babel Med World Music Forum takes place at Marseille's Dock Des Suds venue between 25th and 27th March. Insingizi join stars such as Papa Wemba and and Vieux Farka Toure on the bill for the prestigious event.
For full festival details please visit www.dock-des-suds.org
Baluji Shrivastav previews "Goddess" project at London's Purcell Room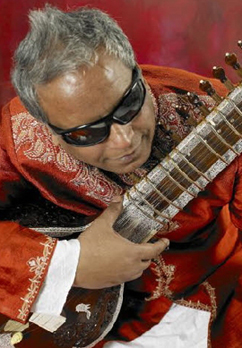 Acclaimed Indian classical musician and composer Baluji Shrivastav is to give a preview performance of his forthcoming Goddess album - a tribute to feminine deities around the globe - at London's Purcell Room on Wednesday 24th March 2010.
Baluji Shrivastav's "Goddess" is a celebration of the power of the Divine Feminine and her role in different cultures throughout the world. Incorporating elements from the various musical styles of each of the countries represented, Baluji aims to draw from the spirit of these traditions and express them through North Indian Classical tradition.
The essence of Classical Indian music is a belief in the sacred power of sound. Baluji harnesses this power to celebrate Yemanja, Queen of the Ocean, who is beloved in Africa and Brazil; Kuan Yin, the Compassionate Rebel revered by East Asian Buddhists and Chinese Taoists; the radiant Sun Goddess Amaterasu Omikami of Japan; Saraswati, Goddess of creative thought; Laxmi, the Goddess of wealth; Durga the warrior Goddess and Haitian Goddess of love Erzulie.
Baluji will be performing on sitar, surbahar (bass sitar) and dilruba with tabla accompaniment by Nafees Irfan, plus guest artists including 'Godfather of Percussion' Pandit Dinesh.
Baluji Shrivastav has been referred to as 'sitarist to the stars' (London Evening Standard) having recorded and performed with a wide range of artists including Massive Attack and Andy Sheppard. Most recently he appeared with alt-rock band Doves at the 2009 BBC Electric Proms, playing dilruba on the track "Birds Flew Backwards", reprising a role he performed on their album "Kingdom of Rust". Throughout 2009 Baluji toured with his "Song Celestial" project, a new composition based on sacred Hindu scripture The Bhagavad Gita.
Baluji's "Goddess" album will be released in 2010 on the ARC Music label, his first solo album release since 2007's "Shadow of the Lotus".
Niyireth Alarcón - Concert dates in Colombia & Ecuador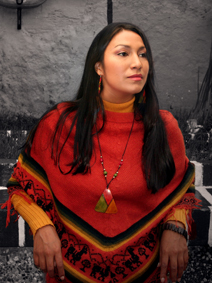 Niyireth Alarcón will be performing in Colombia and Ecuador throughout 2010.
The Colombian mezzosoprano, who released her international debut album "Musica Colombiana Andina" on the ARC label in January 2009, has earned many fans in South America with her clear, emotive voice and impeccable singing technique.
Niyireth can be seen at the following venues throughout 2010:
CALI (COLOMBIA)
Friday, 19 Feb 2010, 10:00 p.m.
Tierra Mestiza
Carrera 34 A No 4D-20
Tel: 5568881
POPAYÁN (COLOMBIA)
Saturday, 20 Feb 2010, 8:00 p.m.
Information: 3103864158-3117487156
PASTO (COLOMBIA)
Friday, 26 and Saturday, 27 Feb 2010, 8:00 p.m.
Casa Teatro LA GUAGUA
Address: Cll 18 No 31-38
Tel: 7315208
IBARRA (ECUADOR)
Saturday, 6 Mar 2010, 9:00 p.m.
Café Arte
Salinas 5-43 y Oviedo
Tel: 06 2 950 806
CUENCA (ECUADOR)
Saturday, 13 Mar 2010, 9:00 p.m.
(More details, shortly)
QUITO (ECUADOR)
Saturday, 27 Mar 2010, 9:00 p.m.
(More details, shortly)
IBARRA (ECUADOR)
Tuesday, 6 Apr 2010, 7:00 p.m.
Auditorio Imbabura
Casa de la Cultura Ecuatoriana
GINEBRA - VALLE (COLOMBIA)
3 - 6 Jun 2010
Festival Mono Núñez
www.funmusica.org
MEDELLÍN (COLOMBIA)
Wednesday, 23 Jun 2010, 8:00 p.m.
Teatro Prado EL ÁGUILA DESCALZA
Cra 45D Nº.59-01
Tel: 284 42 11
SEVILLA - VALLE (COLOMBIA)
13, 14 & 15 Aug 2010
Festival Bandola
www.grupobandola.com
ARC Music on YouTube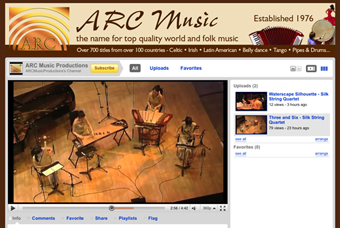 You can now watch videos of your favourite ARC Music artists on YouTube.
ARC Music has just set up a YouTube channel at www.youtube.com/ARCMusicProductions
Our first video is the Silk String Quartet's gorgeous performance of .Three and Six ., the opening track from their 2007 album .Contemporary and Traditional Chinese Music . (EUCD2095).
More videos will be added very soon, and we aim to keep you updated with regular videos featuring ARC Music artists, so make sure you 'subscribe'.
David Fanshawe awarded honorary degree of Doctor of Music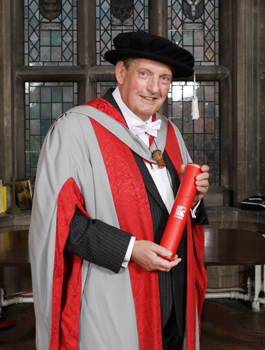 David Fanshawe has been awarded an Honorary Degree of Doctor of Music from the University of the West of England (UWE).
The University's press team confirmed that the award was conferred on Mr Fanshawe .in recognition of his outstanding contribution to bringing music from around the world into the lives of people who neither read nor write music and to his pursuit of musical excellence, which is synonymous with the aims of the University's Centre for Performing Arts. .
The Honorary Degree was conferred at the Awards Ceremony of the Faculty of Creative Arts at Bristol Cathedral on Friday 13 November.
Mr Fanshawe said, .This award I proudly accept in the spirit of the University's ethos bettertogether. In my serendipitous career, through the adventures of Music and Travel, I have been privileged to experience our world as a composer and musical explorer. It is now my humble dream to go on sharing my aspirations with future generations, through the legacy of my Sound Archives; and by fulfilling my life's missions, which are: to celebrate the universal language of music; to record for posterity endangered World Music, threatened with extinction; to seek inspiration for my own compositions - thus uniting musical worlds apart. Thank you University of the West of England, for your quite unexpected honour and tribute. .
David Fanshawe, is a composer, ethnic sound recordist, photographer, a Churchill Fellow, and an Ivor Novello award nominee. He was born in 1942 in Devon, England and was educated at St. George's Choir School and Stowe, after which he joined a documentary film company. In 1965 he won a Foundation Scholarship to the Royal College of Music in London. His ambition to record indigenous folk music began in the Middle East, in 1966 and was intensified on subsequent journeys through North and East Africa (1969-75) resulting in his unique and highly original blend of music and travel. His work has been the subject of BBCTV documentaries including: African Sanctus, Arabian Fantasy, Musical Mariner (National Geographic) and Tropical Beat. Since 1978, his ten years of research in the Pacific have resulted in a monumental archive, documenting the music and oral traditions of Polynesia, Micronesia and Melanesia.
He now lives in Wiltshire, England, where he is consolidating his life's work whilst composing his magnum opus work-in-progress Pacific Odyssey which includes Pacific Song: Chants from the Kingdom of Tonga.
ARC Music at WOMEX 2009
Hossam Ramzy collaborates with Shakira on her new album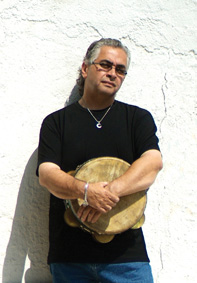 "Egypt's Ambassador of Rhythm" Hossam Ramzy is to feature on the eagerly awaited new album by international superstar Shakira. Entitled "She Wolf", the album has its worldwide release in October 2009.
The"Hips Don't Lie" singer invited Ramzy to her studio in Nassau, Bahamas, to play percussion and provide a Middle Eastern arrangement to the track "Why Wait (For Later)" , described by Billboard magazine as "a dancefloor scorcher by way of Led Zeppelin's 'Kashmir'". In fact, it was Ramzy's work with Zeppelin's Jimmy Page and Robert Plant on their mid-nineties "No Quarter: Unledded" reunion which lead to Shakira asking him to collaborate with her on her new album: "She said that this was her most inspiring album of all time, so she asked me to arrange one of her songs", says Hossam.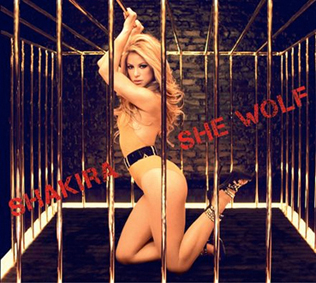 The new album, "She Wolf", is the eagerly awaited follow up to 2005's "Oral Fixation, Vol. 2". Produced by The Neptunes producer and N.E.R.D. star Pharrell Williams, Shakira has described the album as "very electronic and dance-oriented, club-oriented", but as with her other albums it will incorporate "elements from different cultures. So you're going to find Indian, Africa, Colombian, Middle Eastern influences, but always with the synthesizers as a dominant element.".
Himself no stranger to multiculturalism, having released over 25 albums of world music and Egyptian dance, Hossam was excited at the prospect of working with Shakira: "She is a very generous, talented, energetic and very enlightened artist whom I admired since the first time I heard her. Being half Colombian and half Lebanese, she blends various genres of music and cultures together in a fascinating melting pot that touched the right chord in people's minds and hearts. And as a matter of fact, there is a strong belly dance element in the song as you will be able to hear. I was very pleased with the result and I hope that it will be well received by Shakira's fans worldwide."
As a pre-eminent figure in belly dance music, Hossam is enthusiastic about Shakira's use of the art form in her work, describing her as "a formidable dancer who has brought the art of Middle Eastern dance to the foreground of loved and appreciated forms of dance. We discussed how she managed to bring it in together with her Colombian, Lebanese, rock & pop as well as R'n'B influences, and how the art is growing rapidly to the point that now, many studios are offering 'Shakira Style' belly dance classes. "
With this project Shakira becomes the latest in a long line of superstars to enlist Ramzy's talents, along with the aforementioned Led Zeppelin stars, Peter Gabriel, Sting, Jay-Z, Ricky Martin, Chick Corea, and many more. He has been described as "the Egyptian percussionist who rock stars call when their tracks need spicing up a little"(Songlines magazine), and is currently at the top of his game, having just released "Ruby", his latest album of Classical Egyptian dance on the ARC Music label.
Yale Strom featured in United Nations Concert for Pakistan Line-up alongside Sting and Deepak Chopra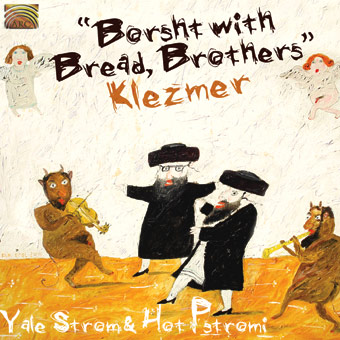 On the 12th of September Yale Strom will be performing at the General Assembly at the United Nations as part of the .Concert for Pakistan ..
The Concert for Pakistan has been organized to raise awareness and funds for the millions of Pakistanis who have been displaced during the war between the Pakistani military and the Taliban.
World-renowned artists Sting and Deepak Chopra are amongst other musicians to perform at this event.
Yale will join Sufi rock band Junoon's Salman Ahmad, described by the New York Times as "South Asia's answer to Santana". Born in Lahore, Pakistan, Salman Ahmad is one of South Asia's most influential cultural figures, as well as a musician, physician and United Nations goodwill ambassador. 
The Concert for Pakistan hopes to echo the success of the Concert for Bangladesh (1971), a landmark concert organized to raise humanitarian aid in the aftermath of Bangladesh separating from Pakistan. Beatles George Harrison and Ringo Starr took part in that historic event as did Bob Dylan, Eric Clapton and others.
Yale Strom's popular album entitled "Borsht with Bread, Brothers - Klezmer" was released in September 2007.
Sanju Sahai performs at .An Evening of Indian Classical Music & Dance . in Berkshire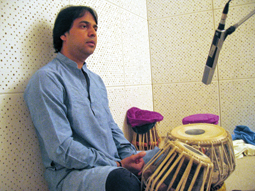 Sanju Sahai, one of the finest Indian tabla players, is performing at The West Wing in Slough, Berkshire on the 12th September. Sanju will perform alongside Roopa Panesar (sitar), Poulomi Chakraborty (vocalist) and Jaymini Chauhan (Kathak dancer).
The performance promises to be a combination of solo recitals and culminate into an interactive dialogue between musicians and dancer.
Sanju , also known as Vishnu Sahai, belongs to the Benares Gharana being the 6th generation of tabla players in that family [Pandit Ram Sahai, founder of the Benares Gharana - Pt. Gaori Sahai - Bhairoy Sahai - Bhagvati Sahai - Ram Shankar Sahai - Vishnu (Sanju) Sahai]. He began playing at the age of four and gave his first major performance aged 9. He has accompanied many of India's legendary musicians such as Pt Birju Maharaj (Kathak), Ustaad Amjad Ali Khan (Sarod), Pandits Rajan, Sajan Mishra (Khayaal), Umyalpuram Shivraman (Mridangam) and Ustaad Ashish Khan (sarod) to name but a few. Sanju is also known as a soloist; however he is not merely a percussionist but an imaginative and sensitive musician.
He has performed throughout India, UK, Europe, Middle East and USA. He has performed for her Majesty the Queen as well as for Prince Charles at Highgrove.
Tickets for the concert are available by contacting the box office on 01628 788997 or by email at boxoffice@nordenfarm.org The tickets are £8.00 (£7.00 conc) and £28.00 for 4 people.
Hossam & Serena Ramzy in Concert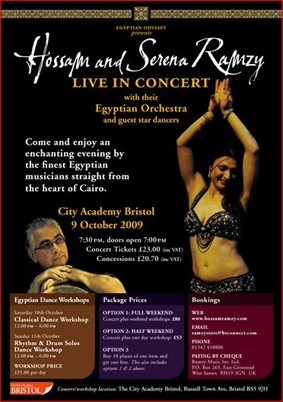 Hossam and Serena Ramzy will be performing with their Egyptian Orchestra at City Academy Bristol on 9th October 2009.
The performance is part of a weekend of the spirit of Egypt hosted by the couple which will also include dance workshops.
The schedule is as follows:
Friday 9th October, 7.30pm
- Hossam & Serena Ramzy in concert
Saturday 10th October, 12 - 6pm
- Classical Dance Workshop
Sunday 11th October, 12 - 6pm
- Rhythm & Drums Solos Dance Workshop
Tickets are available at Hossam's website, with concessions for booking the concert plus one or more of the workshops.
Head over to www.hossamramzy.com. for further information.
Rachel Magoola performing at London African Music Festival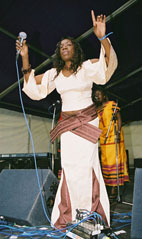 Rachel Magoola will be performing at The Southbank Centre as part of the 7th London African Music Festival.
.Uganda's No.1 Diva . takes to the stage at 5.30pm on Sunday 13th September. Tickets for the show are priced at £20 and are available from www.southbankcentre.co.uk.
Former leader of Uganda's biggest pop group, Afrigo Band, Rachel Magoola made her solo international recording debut in April 2006 with .Songs from the Source of the Nile .
You can order (ARC Music EUCD1973) Songs from the Source of the Nile CD here
The London African music festival is an annual 3 day event showcasing the best in African music. Also performing this year is African music legend Oliver Mtukudzi and stars such as El Andaluz, N'Flay Kouyate and Ba Cissoko. For further information please visit www.joyfulnoise.co.uk
John Leckie names "Ravi's Afro-Indian Project" in list of 10 essential albums
Legendary producer John Leckie has recently spoken about the 10 essential albums he has worked on & and the list includes ARC Music artist Ravi's very own "Afro-Indian Project" (EUCD2205).
Since working as a studio-hand at Abbey Road Studios in 1970, Leckie has gone on to produce albums for Radiohead ('The Bends' 1995), Muse ('Showbiz' 1999 and 'Origin of Symmetry' 2001) as well as The Stone Roses eponymous 1989 debut, which is frequently ranked highly in "Greatest album of all-time" polls.
Speaking with website The Quietus (www.thequietus.com), Mr Leckie says of The Afro-Indian Project:
"Recorded in my mate Ravi's kitchen in Muswell Hill this has a beautiful blend of African kora played by Ravi and tabla from world renowned Bhikaram Ghosh [sic] and santoor sounds from Tarun Bhattacharya. Playable at any time any place."
Ravi is in good company on Leckie's list, which also features artists such as Roy Harper, Dr John and Bill Nelson. To view the full list please click here
She'koyokh Ensemble UK Concert Dates
She'koyokh Klezmer Ensemble have announced 3 new concert dates in London and the South East in September 2009, starting with the Klezmer in the Park festival on the sixth.
She'koyokh, who released their debut album, "Sandanski's Chicken" on ARC Music in January 2008, have established quite a name for themselves on the live circuit with their raucous and lively performances. You won't want to miss this opportunity to see the group described by Sing Out! magazine as " &one of the very brightest [Klezmer Ensembles] to emerge from the UK".
Details of the 3 performances are as follows:

Klezmer in the Park, 1-6pm
Sunday 6 September 2009, 5.30pm
Regents Park Bandstand
Admission free
www.jmi.org.uk

The Tabernacle, 7.30pm-late
Friday 11 September 2009, 8.30pm
The Tabernacle Live, Powis Sq, Notting Hill, W11
£12 on door or £8 in advance
www.ticketweb.co.uk or www.wegottickets.com

Livestock Festival 11 to 13 Sept 09
Sunday 13 September 2009, 8.30pm
The Red Lion, Stratton Audley, Oxon
Tickets £15 and £12
www.livestockfestival.co.uk

World Music Central Review on "Iranian Percussion" Album
The following review was published recently on www.worldmusiccentral.org on EUCD2218 "Iranian Percussion" by Ramin Rahimi & Tapesh:
Iran's been in the news a lot lately, though everyone knows there's more to the place than turmoil and political/religious unrest coming to a boiling point. But if a majority of Iran's population is looking to march to a different drum, I do believe I've come across the guy who should play it. Being something of a drummer myself, I was humbled the first time I saw a master percussionist have a go at a Persian tombak drum, using all ten of his fingers independently and collectively to create sounds you wouldn't think one person (or one drum) could make.
Iran's Ramin Rahimi is just such a tombak master, and his command of a good many other types of drums is mind-boggling as well. He also plays in the first progressive heavy metal band from Iran to ever sign with a European record label, leads an all-percussion orchestra based in Tehran and teaches drumming at that city's most esteemed music institute. But don't just take my word that he's versatile.
If you're a percussion lover or believer in the power of drumming, this one's for you. You'll not only hear Rahimi's wizardry on the tombak, you'll get more than an inkling of his expertise on drum set, cajon, daf, darbuka, dhol, djembe and a few other things... A lot of the tracks have one-word titles that they more than live up to: "Swing", "Excitement", "Sweet", etc., and everything on the disc works so well because Rahimi isn't just about getting fast and furious. He knows how to create varied textures of sound, timbre and rhythm that can be totally locked-in one moment and entirely unpredictable the next.
Apart from knowing everything there is to know about Middle Eastern cadences, he's well versed in the languages of rock, jazz and African rhythms, coming across at times like a combination of John Bonham, Buddy Rich, Hossam Ramzy and Olatunji. As possessed as a madman and as delicate as a surgeon, Ramin Rahimi plays those opposites and all points in between with astounding skill, agility and the feeling that he's having a blast doing it.
Son Real Orchestra nominated for GSD Latin American Music Award
Salsa group Son Real Orchestra have been nominated for the GSD Latin American Music Awards UK 2009.
The song 'London Tropical' from their album (ARC Music, EUCD2136) has been nominated in the category of Best Latin Song.
Please click here to vote.
ARC Music artists named 'Artists in Residence' at Sound of Asia summer school
Three ARC Music artists will be contributing to The Asian Music Circuit's 2009 Sounds of Asia summer school at London's Kingston University.
Liz Walters (taiko drums - Joji Hirota and the Taiko Drummers), Sun Zhou (guzheng - Silk String Quartet) and Japanese koto virtuoso Dr. Ayako Hotta Lister have all been named as Artists in Residence for the week-long event, which takes place between 25th July and 1st August 2009.
They will be holding workshops throughout the week on their respective instruments, as well as teaming up with guqin-maestro Professor Zeng Chengwei to deliver a showcase of Chinese and Japanese instrumental music at the Southbank Centre on Sunday 26th July. Tickets for the performance are priced at £12 and are available from www.southbankcentre.co.uk.
The Sounds of Asia summer school is now in its 12th year, and this year it gives students the chance to learn from internationally renowned artists from India, China and Japan. Further information about the summer school and its events is available at the Asian Music Circuit's website at www.amc.org.uk/summer_schools.
Narasirato Panpipers US concert dates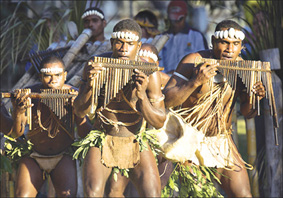 The Narasirato Panpipers bring their authentic tribal music of the Solomon Islands to the United States in September and October 2009.
Surrounded by virgin rainforest and idyllic lagoons, the Narasirato Pan Pipers live at the end of a mangrove forest in Oterama Village, at the remote southern end of Malaita Island, in the Solomon Islands. Their village is only accessible by canoe or overland by foot.
They will be performing in the United States on the following dates:
September, 2009
17th
Madison World Music Festival
Madison, Wisconsin
18th
Global Union
Milwaukee, Wisconsin
19th
Chicago World Music Festival
Chicago, Illinois
22nd
Landfall Festival: Legion Arts Centre
Cedar Rapids, Iowa
25th-26th
Lotus Festival
Bloomington, Indiana
October, 2009
2nd
World Music/CRASHarts
Boston, Massachusetts
3rd
World Music Institute
New York, New York
6th
Museum of Art
Cleveland, Ohio
9th-11th
National Folk Festival
Richmond, Virginia
12th-25th
Washington DC Schools Tour
Washington, DC
20th
Smithsonian Institute
Washington, DC
27th-29th
Hopkins Centre
Hanover, New Hampshire
Sanju Sahai to perform tribute to the late Pandit Kishan Maharaj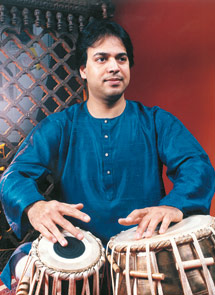 Sanju Sahai, one of the most accomplished tabla players in the world, will be performing at the Purcell Room, Southbank Centre, London, on Saturday 9th May 2009.
Sahai will be accompanied by the haunting melodies of the sarangi played by the acclaimed Pandit Ramesh Mishra. The duo will pay special tribute to the late Pandit Kishan Maharaj, one of the greatest exponents of the Benares tabla tradition.
Enjoy an evening of two outstanding musicians coming together in an exhilarating evening of percussion and melody in rhythmical conversation reflecting the spirit of Benares.
During the concert, audience members will also have an opportunity to speak with the musicians and learn more about the musical tradition of Benares.
Tickets are available via the Southbank Centre website www.southbankcentre.co.uk or by calling 0871 663 2500 and are priced at £15 and £12 (concessions 50% off - limited availability).
Yale Strom & Hot Pstromi European Concert Dates
Klezmer stars Yale Strom & Hot Pstromi are to perform several concerts around Europe in June 2009:
June 15-16 - Bialystok, Poland
June 20 - Kloster Scheune, Berlin, Germany
June 21 - Frankfurt, Germany
June 22 - Fürth, Germany
June 23 - Strasbourg , France
June 24 - Lich, Hesse, Germany
June 25 - Zürich, Switzerland
June 26 - Alsfeld, Hesse, Germany
June 27 - Marburg, Germany
Venues are to be announced soon at Yale Strom's website www.yalestrom.com. Please visit regularly to find details of concerts in your area.
You can find details of Yale Strom & Hot Pstromi's album "Borsht with Bread, Brothers" here.
Solá Akingbolá Announced as Finalist in Independent Music Awards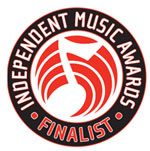 Nigerian percussionist Solá Akingbolá has been announced as a finalist in the 8th Annual Independent Music Awards. The song "Olukumi" from his debut album Routes to Roots (ARC EUCD2114) is one of five tracks nominated in the category 'Best Song - World Fusion.'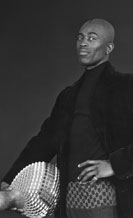 The song was nominated by a judging panel comprised of industry insiders, as well as famed musicians such as Peter Gabriel, Suzanne Vega, The Who frontman Roger Daltrey, Blues legend Buddy Guy, country star George Jones and guitar virtuoso Steve Vai.
You can vote for Solá at the Independent Music Awards website www.independentmusicawards.com
Winners of the 'people's choice' vote will be announced in April 2009.
Blessings Nqo 2009 Tour Dates
Blessings Nqo will be touring Europe extensively in 2009 in support of his latest album release "Mbube and Gospel from Southern Africa". The album, released by ARC Music in January, is Blessings' third solo release.
Blessings is also a member of the successful vocal group, Insingizi, together with band mates Vusa Ndlovu and Dumisani "Ramadu" Moyo.
You can catch Blessings, either solo or with Insingizi, in Austria, Germany, Switzerland and Luxembourg. Visit www.blessingsnqo.net for full details of the tour and remember to check back regularly as more dates may be added in future.
You can order Blessings' new CD here
Insingizi Composes Music for PBS Nature Programme on US Television
A new nature programme premieres on PBS (Public Broadcasting Service) this weekend, and it features music from Zimbabwean vocal group Insingizi.
"Drakensberg: Barrier of Spears" is the latest episode in PBS' "Nature" series.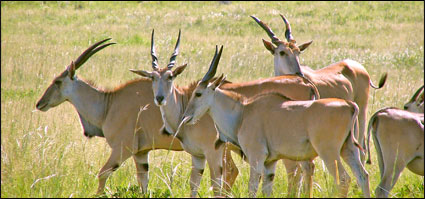 Filmed in South Africa's Drakensberg mountain range the documentary chronicles the hardships of the nomadic eland, a member of the antelope family, and their perilous mountain trek in search of greener pastures. Insingizi's music can be heard throughout.
"Drakensberg: Barrier of Spears" premieres on PBS on Sunday February 8th at 8pm (check local listings).

Baluji Shrivastav Commissioned For Groundbreaking Project Based On The Bhagavad Gita
Master sitar player Baluji Shrivastav has been commissioned by St. Ethelburga's Centre for Reconciliation and Peace to create a major new work based on the Bhagavad Gita.
Musicians from different cultures will team up with a spoken word artist to retell a chapter of the epic sacred Hindu scripture.
Entitled "Song Celestial" this pioneering project will feature a unique blend of surbahar (bass sitar), kora (West African harp-lute), violin, tanpura (Indian drone instrument) and spoken word.
You can catch the premier performance at St. Ethelburga's Centre for Reconciliation, London, on Friday 27th February at 7.30pm. A UK tour will be announced at a later date.
Tickets are available from www.stethelburgas.org priced at £15.
Tummel UK Concert Dates in February
Klezmer septet Tummel have announced three UK performances in February 2009. You can see them at:
London - 12/02/2009 - Club Zigana, 32 Old Bailey - 9pm
London - 13/02/2009 - Vagabond Boogaloo Club, Barden's Boudoir,
36 Stoke Newington High Street - 10pm
Oxford - 14/02/2009 - Wesley Memorial Church, New Inn Hall - 7.30pm
Tummel's music fuses traditional klezmer with Swedish and Balkan folk, Jazz and other influences. You can listen to soundclips here.
An evening of Coimbra Fado with Verdes Anos
Fado group Verdes Anos will make their UK debut at London's Astoria 2 on Saturday 22nd November 2008. The performance coincides with the release of the group's album of Coimbra Fado on the ARC Music label.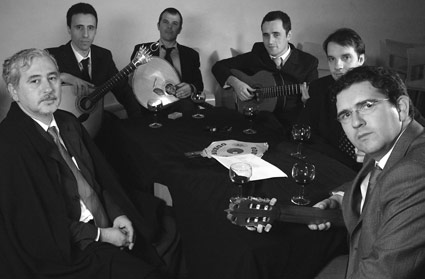 Verdes Anos
Verdes Anos is a Fado group from Coimbra, Portugal, formed in 1996. Its members all met in the corridors of the AAC (Academic Association of Coimbra) where they all were, or had been, students.
Academic life and Fado go hand-in-hand in Coimbra. Historically, Fado came to Coimbra from Lisbon, was picked up by the students of the University, and has been part of their academic traditions ever since. The 'Fado de Coimbra' differs from its more widely-known Lisbon-based cousin in its more structured pattern and the fact that it is sung exclusively by men. Verdes Anos are currently one of the main exponents of the genre.
Joining Verdes Anos on the split-bill will be Portuguese classical / rock fusion group Corvos.
Please visit www.verdesanos.com/home.htm for more information.
Music from "The Art of the Chinese Harp" used in Hollywood blockbuster, "Burn After Reading"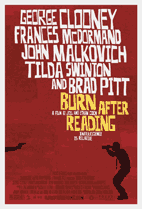 Music by ARC Music artist Xiao Ying is featured in Hollywood's latest blockbuster, "Burn After Reading".
Described as "a tightly wound, slickly plotted spy comedy..." by the Guardian, the film stars such Hollywood heavyweights as Brad Pitt, George Clooney and John Malkovich and is directed by Joel and Ethan Coen, the team behind the films "The Big Lebowski", "O Brother, Where Art Thou" and the multi-Oscar-winning "No Country for Old Men". It is no surprise, then, that the film went straight in at number 1 on the US Box Office charts.
The track used is "Moon over Western River" and is taken from Xiao Ying's 2004 album "The Art of the Chinese Harp - Guzheng" (ARC Music EUCD1877).
The use of this music further establishes ARC Music as a resource for music in film and TV, having also had music featured in "Indiana Jones and the Kingdom of the Crystal Skull", the most recent James Bond film "Casino Royale" and many others. Click here for further details.
"Burn After Reading" is at theatres across North America now and will be released in the UK on 17th October 2008.
Hossam Ramzy featured on No. 1 World music album, "Big Blue Ball"
Egypt's master percussionist Hossam Ramzy is featured on "Big Blue Ball", the latest release from Peter Gabriel's Real World Records.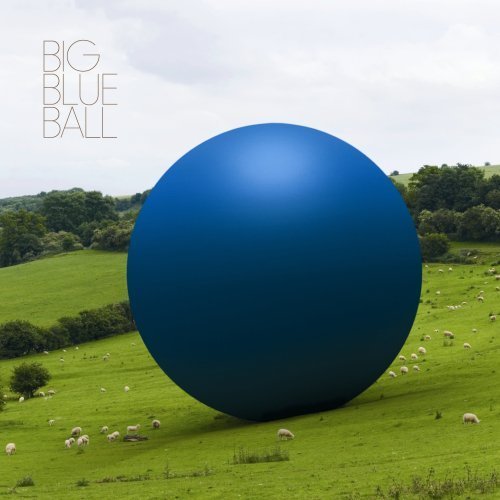 Big Blue Ball album by Peter Gabriel and friends
Hossam composed and performed the track "Habibe", which also features Natacha Atlas (vocals) and an Egyptian string section led by Hossam.
The album, which has been at No. 1 and is still riding high in the Billboard World Music charts, is the result of three "recording weeks" at the Real World studios in Box, Wiltshire during the early nineties.
Fellow ARC Music musicians Cheng Yu and Joji Hirota are also featured on the release. Other featured artists include Sinead O'Connor, Papa Wemba, Billy Cobham and, of course, Peter Gabriel himself.
Hossam remembers the experience of recording with Peter Gabriel and Natacha Atlas as being "like Christmas... and my birthday in one."
Members of Silk & Bamboo Ensemble perform score for Hollywood blockbuster
Members of the Silk & Bamboo Ensemble are featured on the musical score for the new Hollywood blockbuster "The Mummy: Tomb of the Dragon Emperor" starring Brendon Fraser, Jet Li and John Hannah.
Cheng Yu, Xiao Ran and Liu Xiaohu have been working with acclaimed composer Randy Edelman on the score, which is heavily featured in the film and according to Edelman "is longer than the actual film, with over 140 minutes music".
The ensemble has also just completed recording a new album for ARC Music, which will be released on 29th September 2008.
Released 29th September 2008
The Silk & Bamboo Ensemble is a part of the UK Chinese Music Ensemble, whose musicians have already recorded the following albums for ARC Music:
ARC Music artists Cheng Yu, Polina Shepherd and Razia Aziz at the Brighton World Sacred Music Festival
Three ARC Music artists will be performing in Brighton in October as part of the 2008 Brighton Festival of World Sacred Music.
Wednesday 15th October, 8pm: Polina Shepherd will perform Jewish folk songs in Yiddish, Hebrew, Russian and Ukrainian with the Chutzpah Choir at Friends Meeting House, Ship Street, Brighton. Tickets: £6 - £10.
Saturday 18th October, 1pm: Cheng Yu performs a programme of devotional music on the two most celebrated Chinese classical instruments - the pipa (four-stringed lute) and guqin (seven-stringed zither). Brighton Unitarian Church, New Road, Brighton. Tickets: £7
Razia Aziz is one of the organisers of the festival, and will be making a cameo appearance on Tuesday 14th October at the free dusk concert (approx 5pm) held at the Chattri Memorial on the South Downs.
Please visit www.worldsacredmusic.org for more information.
Hossam & Serena Ramzy Belly Dance workshop: Classical Choreography from the Golden Era of Modern Egyptian Dance
Hossam Ramzy is to host another classical Egyptian dance workshop with his wife Serena at Dance Attic Studios in Fulham, South West London, on Saturday 4th October 2008.
In this workshop, Serena has created a new choreography to the song "Sowar El Habibah" from Hossam's multi award winning album "Faddah". Grand introduction, intricate Baladi Dancing within the composition, powerful Saidi and much more...
The 70's and 80's have been named the Golden Era of Modern Egyptian Dance. This music is a revival of the times when the big names of dance such as Mona El Said, Hala El Safy, Shushu Amin & Azza Sherif enjoyed being the queens of the dance in Egypt's club scene.
Get your hip scarves on ... this is a strong one by Serena.
For more information please visit www.hossamramzy.com
Cheng Yu and the Silk String Quartet to perform at London's Royal Opera House
Chinese musician Cheng Yu and members of the Silk String Quartet will perform in the orchestra for the theatre production of Monkey: Journey to the West at London's Royal Opera House this month.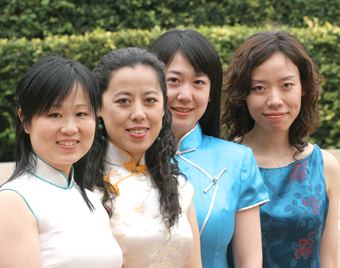 Silk String Quartet
Overseen by Chinese director Chen Shi-zheng, the production boasts a score composed by former Blur and Gorillaz singer Damon Albarn, and set and costume designs by his Gorillaz co-creator Jamie Hewlett. It is based upon the 16th Century Chinese novel Journey to the West and tells the tale of 'Monkey', who hatched from a stone egg, and his subsequent journey towards enlightenment.
The show will run at the Royal Opera House from 23rd - 26th July 2008, having already enjoyed stints at the Palace Theatre Manchester, the Théâtre du Châtelet in Paris, and its US premier at the Spoleto Festival USA in Charleston, South Carolina.
For more information and for tickets to the show please visit www.monkeyjourneytothewest.com
Cheng Yu's music can be found on the ARC Music releases "Chinese Masterpieces of the Pipa and Qin" (EUCD2074) and "The Silk String Quartet - Contemporary & Traditional Chinese Music" (EUCD2095), as well as the compilations "Chinese Classical Folk Music" (EUCD1564), "Exotic Strings" (EUCD1823) and "The Very Best of Chinese Music" (EUCD1947).
Another ARC Music artist, Suzzana Owiyo, Added to London's 46664 Concert Line-up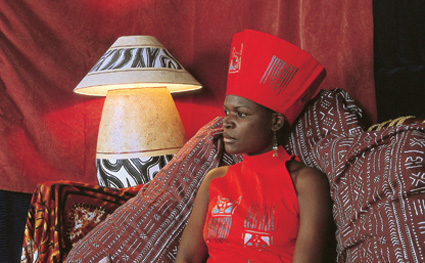 Kenyan vocalist and guitarist Suzzana Owiyo has been added to the line-up for the upcoming 46664 concert, to be held in London's Hyde Park on 27th June 2008.
Suzzana is one of her country's most popular singers and has been called the "Tracy Chapman of Kenya" owing to her acoustic style and powerful, earthy vocals. She achieved national stardom in Kenya in 2001 with her monster-hit "Kisumu 100" and the release of her debut album "Mama Africa" a year later.
The 46664 events are a series of charity concerts organised by the Nelson Mandela Foundation in response to the Global HIV AIDS epidemic. The name 46664 is taken from Mandela's prison number during his incarceration on Robben Island between 1964 and 1990. This year's event also coincides with Mandela's 90th birthday celebrations.
Suzzana is the second ARC Music artist announced to be performing at the concert, following the news that Barry Van Zyl will be performing with the Johnny Clegg Band. Other African artists who will be performing include Sipho Mabuse, The Soweto Gospel Choir, Papa Wemba and Emmanuel Jal. They will be joined by international megastars including Annie Lennox, Queen + Paul Rogers, Amy Winehouse, Dame Shirley Bassey, Eminem, Leona Lewis and many others. The concert is being hosted by actor Will Smith.
Suzzana's debut album is the ARC Music release "Mama Africa" [EUCD1875] and she is also featured on "Spotlight on Kenyan Music" [EUCD2030].
Master Harpist Oscar Benito Plays at Paraguayan Harp Festival
Harpist Oscar Benito will be attending the 3rd Paraguayan Harp Weekend held in Appleton, Oxfordshire over the weekend of 27th - 29th June 2008.
Oscar is one of Paraguay's foremost harp players, having represented his country in the "OTI-Festival" in Valencia, Spain in 1993. He has released Best of the Paraguayan Harp [EUCD1896] with ARC Music, and is featured on Masters of the Harp [EUCD1764] and Best of Latin America [EUCD2052] among others.
The weekend will play host to a series of jamming sessions, workshops and lessons (beginners welcome!) as well as two concerts at nearby Cumnor Village Hall and Holywell Music Room. It will end with a traditional Paraguayan barbecue on the Sunday 29th June. Tickets will cost approximately £50 for the weekend and can be ordered by sending an email to robert.munro@me.uk.
So be sure to head down to Appleton for a weekend of exquisite music and Paraguayan culture.
ARC Music tracks feature in new Indiana Jones movie - Kingdom of the Crystal Skull

The long awaited and eagerly anticipated new instalment of Steven Spielberg's blockbuster "Indiana Jones" movies is finally coming to our cinemas this spring - and it features glorious Russian folk music from ARC Music album Best of Russian Folk Songs, EUCD1146.
"Indiana Jones and the Kingdom of the Crystal Skull" is set to be a smash hit, with original actor Harrison Ford reprising the eponymous lead role nearly 20 years after the last film was made in 1989. The all star cast also includes Oscar winning screen siren Cate Blanchett, Oscar winning actor Jim Broadbent, British icons John Hurt and Ray Winstone, and actress Karen Allen, who starred in the very first of the series, Raiders of the Lost Ark.
Our tracks that will be heard in the movie, 'Uri Balki' (Fishing) and 'Maja galobuschka' (My Little dove), are popular Russian folk songs by the Balalaika Ensemble "Wolga". The unique sounds of the balalaikas and the strong deep voices of the Russian singers truly express the culture of Russia through this beautiful music.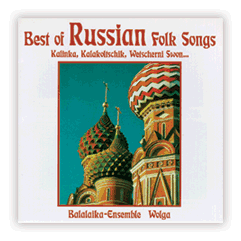 Because the ARC Music catalogue comprises such a wide variety of authentic music from around the world, it has already been employed by the movie and television industries as an extensive resource. Our albums have also featured in Steven Spielberg's epic "Munich", the internationally acclaimed latest James Bond "Casino Royale", and most recently the action-packed film "The Kingdom", to name just a few.
Don't miss seeing this rollercoaster ride of a film when it's released near you, and listen out for our music!
Barry Van Zyl performing at Nelson Mandela's 90th Birthday concert in London
To celebrate the inspirational revolutionary-turned-peacemaker Nelson Mandela turning 90 years old, a huge concert is being held at Hyde Park in London, the city Mandela has long regarded as his second home.
The "46664 Concert" - referring to the former president's prison number - will take place on June 27, with performances from many international musicians including the South African Johnny Clegg band, for whom Barry Van Zyl is the percussionist. Barry has released two pulse-raising African percussion albums with ARC Music - Goema Music from Cape Town, South Africa [EUCD2133], and African Heartbeat - Drums and Percussion from Southern Africa [EUCD2144].
Other African acts include Sipho Mabuse, Loyiso, Kurt Darren, the Soweto Gospel Choir, Aids orphan choir The Children of Agape, Papa Wemba and Sudanese rapper Emmanuel Jal. Along with these superb African talents, there will be various superstars from across the globe, including the likes of Queen, Annie Lennox, Simple Minds, Leona Lewis, Sugababes, Dame Shirley Bassey, Razorlight, Andrea and Sharon Corr, Eddy Grant and Jamelia.
The concert will also feature some unexpected appearances, with several major artists keeping silent about their involvement in order to take both Mr Mandela and the audience by surprise. Ticket proceeds will go to the 46664 campaign which raises awareness about the impact of AIDS, especially in Africa, and promotes effective HIV prevention measures throughout the world.
For more information and tickets, visit www.46664.com.
She'koyokh Ensemble awarded first prize at the International Jewish Music Festival.
Last week, from the 9th to the 12th May, the annual International Jewish Music Festival took place in Amsterdam, Holland. The main event of the festival is a 3-day competition where Jewish bands battle it out to claim first prize in the contest as musicians or ensembles with a goal of an international career focusing on Jewish music. Performances are judged by a jury of international Jewish music experts, including leading figures from the music and recording industry Peter van der Heyden (Universal Music) and Frank London (The Klezmatics).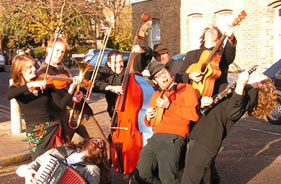 She'koyokh Klezmer Ensemble
After 3 days of competing, She'koyokh Klezmer Ensemble stood out to the judges with their exhilarating live performances of Eastern European Jewish music and they were awarded the prestigious first prize. The ensemble are obviously very excited and honoured to have been selected as the winners among all the other talented acts, and they will return to the competition in 2009 to give a concert and inspiration to next year's competitors. To hear the electrifying music of the She'koyokh Klezmer Ensemble, check out their ARC Music album "Sandanski's Chicken" [EUCD2122].
Master percussionist Hossam Ramzy concerts and workshops at this year's WOMAD
International master of Egyptian percussion Hossam Ramzy will be performing and holding workshops at the WOMAD festival this year, as well as holding a very special week long work shop at WOMAD Summer School.
WOMAD stands for World of Music, Arts and Dance and was set up in 1982 by Genesis lead singer Peter Gabriel. The festival brings together many forms of the arts from different countries and cultures all over the globe. Revellers will experience around 70 acts from around the world on both indoor and outdoor stages, experiencing a range of music and dance. Hossam Ramzy and his orchestra will be performing classical Egyptian dance music live, featuring the beautiful and brilliant dancing of Serena Ramzy. He and Serena will also be holding drumming and dance workshops during the festival.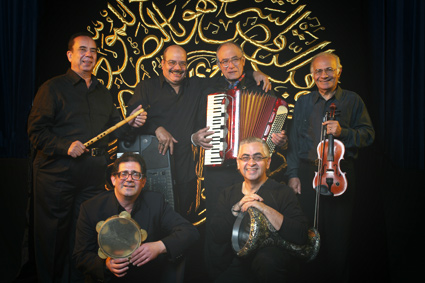 Hossam Ramzy and his Orchestra
The first WOMAD Summer School took place in 2007 and returns this year following its huge success. The Summer School is an opportunity for attendants to deepen their musical experience by learning directly from the most exceptional and accomplished talents in the industry. There will be classes in music, voice and dance, ensemble tuition, discussion sessions and workshops in musical and performance techniques. This year Hossam Ramzy and his wife Serena will be teaching a 5 day, hands-on workshop in Egyptian Percussion, in which they will share their enormous breadth of experience with students and participants will work together to create new music and dance possibilities.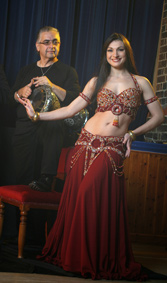 Hossam and Serena Ramzy
The festival and the Summer School are both set to be spectacular experiences and very popular, so be sure to get your tickets early.
Festival dates: Friday 25th July until Sunday 27th July 2008
Location: Charlton Park, Malmesbury, Wiltshire.
Summer School dates: Monday 28th July until Friday 1st August 2008.
Location: Bath Spa University, Bath.
For more information and tickets, please visit www.womad.org.
All Night Concert in New York featuring Bansuri maestro Pandit Ronu Majumdar
On Saturday 10th May a very special all night concert of Indian classical music will take place at the Cathedral of St John the Divine in New York, USA. The concert begins at 9pm on the Saturday and finishes at 8am on the Sunday. Among the line up of highly skilled Indian classical music artists, Bansuri (Indian flute) master Pandit Ronu Majumdar will be performing from 2am to 3:45am.
Pandit Ronu Majumdar is one of India's top flautists and he has performed at some of the most prestigious venues across the world, including as the Kremlin in Moscow and the Palais des Beaux Arts in Brussels. For his accomplishments he has won numerous awards (and was nominated for a Grammy in 1996), and has been musically associated with many international artists such as Pandit Ravi Shankar, ex-Beatle George Harrison and guitarist Ry Cooder. He has recorded a large number of albums, including "Master of the Indian Bansuri" [EUCD2056], with ARC Music.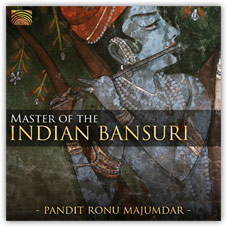 For a whole night of pure Indian classical music indulgence, be sure to attend this concert and hear Pandit Ronu Majumdar's glorious Bansuri playing.
For more details, please visit www.tabla.org/allnight.html
Baluji Shrivastav and others launch World Music Nights in London
On Saturday May 3rd, Baluji Shrivastav, Linda Shanson and Chris Conway, who form the ensemble "Jazz Orient", will be launching the first in a series of "world music" nights in London.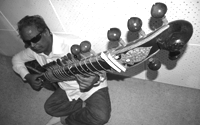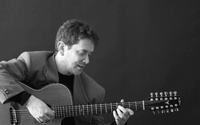 Baluji is one of the greatest instrumentalists India has produced, excelling in sitar, surbahar, dilruba, pakhavaj and tabla, and he expertly weaves the Indian flavours through Jazz Orient's music. Linda Shanson provides gorgeous vocals, and Chris Conway supplies jazz on guitar, keyboard, tin whistle and sometimes the thermin. The trio feature on the album "Re-Orient" [EUCD1982], and Baluji has released six other albums on ARC Music as well.
The show takes place at The Crypt, a gem of a live music venue situated in the very atmospheric crypt below Camberwell's St. Giles Church. The show starts at 8pm and tickets are £7, £5 concessions. The church is located on Camberwell Church Street and is a ten minute walk from Camberwell Green tube station, or you can get the following buses:
From Central - bus numbers 12 and 176
From Peckham - bus number 345
From Brixton - bus numbers 345, 35 and 45
From Oval - bus numbers 436, 36 and 185
Hossam and Serena Ramzy performing in Bath in April
The Persian-Egyptian-Turkish Dance & Music Festival is being held in Bath, at The Assembly Rooms and the University of Bath, from the 18th to the 20th April 2008. The event will feature workshops, seminars and performances of beautiful exotic music and dance. Hossam Ramzy, with his Egyptian Orchestra will be performing in concert, accompanied by stunning dance from his wife Serena Ramzy and her troupe.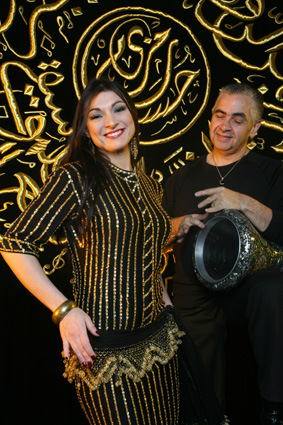 Hossam is famous for his brilliant Egyptian sounds - he has collaborated with and produced albums for a multitude of famous artists including Jimmy Page and Robert Plant of Led Zeppelin, The Gipsy Kings and Peter Gabriel. He has released over 45 albums (just search the ARC Music site for "Hossam Ramzy" to see his collection) and has toured and performed across the world with Serena. It will be an un-missable event mixing the flavours of Persian, Egyptian and Turkish music and dance to educate, entertain and enchant.
For more information, please visit: www.1001nights.org.uk, or contact the ICIA (Institute of Contemporary Interdisciplinary Arts) Box Office on 01225 386 777.
Razia Aziz performing at the World Sacred Music Festival in Brighton
On the 18th May, Razia Aziz will be performing Sufi songs and Rumi poems as part of the World Sacred Music Festival. The show, titled "The Buddha, the Sufi and Friends", commences at 7:30pm, with actor Simon Lovat exploring the place of Buddha in modern life, followed by the performances of beautiful songs and poetry by Razia Aziz and Ashley Ramsden. It will be an inspirational and enlightening night, taking place at the venue the Friends' Meeting House, Ship Street, Brighton, East Sussex, BN1 1AF. The entrance fee is £7.50, £5.00 with concessions. Visit www.worldsacredmusic.org for more information.
Razia very recently released the album "Songs of Love and Devotion from India & Pakistan - Between Heaven & Earth", EUCD2127, with ARC Music, on which she presents her stunning voice with a collection of ghazals, sufi qalams and folk songs from northern India and Pakistan.
Enrique Ugarte and Mike Oldfield world premiere concert in Spain
Incredibly versatile conductor and musician Enrique Ugarte is conducting the world premiere concert of Mike Oldfield's symphonic compositions "Music of the Spheres". Mike Oldfield is famous for his many excellent musical compositions, particularly the album "Tubular Bells", which was used in the movie "The Exorcist".
Enrique has been a musician since childhood, he gave his first public concert before an audience of 1,500 people when he was just 4 years old. He went on to train professionally on the accordion, oboe and as a conductor. He's received many international awards and prizes, and has conducted renowned orchestras including the English Chamber Orchestra and Basque National Orchestra. As an accordionist he has recorded numerous albums - 7 with ARC Music, such as Café Paris - Accordion Favourites [EUCD2106], Café Musette [EUCD1827] and 20 Best of Tango Argentino [EUCD1629].
The concert is being held at the Guggenheim Museum, Bilbao, in Spain on the 7 March. Soloists Mike Oldfield and Hayley Westenra will accompanied by the Euskadiko Orchestra and Bilbao Choral Society, with Enrique Ugarte conducting the Basque National Orchestra.
International music producer and composer on ARC Music label wins a second Grammy award
Immensely talented and respected in his field, Robin Hogarth's musicianship has for a second time received high recognition by the international Grammy Awards judges with "African Spirit", by The Soweto Gospel Choir. The album, which was produced by Robin, won the "Best Traditional World Music Album" award at the 50th Grammy awards held in Los Angeles on the 10th February 2008. He also produced the Choir's previous album "Blessed", which too won the Grammy at the 2007 awards.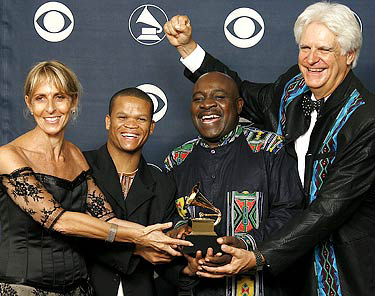 Robin has over 50 albums to his credit, including World Moods albums with the likes of Peter Gabriel and Enigma, ARC Music albums "Tribal Beatz of Africa", "South African Gospel" and "Ancient Civilisations of Southern Africa", to name just a few. His music has been used in film and TV productions in almost every country in the world.
He has worked within African and World music for many years, and is involved in developing new recording approaches to both technically capture African choral and playing techniques, and to develop in the studio the capacity to reproduce the level of excitement and live communication of African music.
Robin's projects currently underway are diverse and numerous. He says, "Every day brings new challenges, and new and wonderful music, rhythm and cultural panoramas: I love what I do as it continually opens up new futures, and the adventure is ever changing".
He has worked on more than 20 ARC Music albums all to a beautiful result. Listeners will find the CDs he has produced, often featuring genuine African tribal musicians or unrecorded choir groups, excellently capture the culture and energy of the people.
We at ARC Music are very proud and happy that Robin's abilities as a composer, producer and musician are recognised and appreciated by the prestigious Grammy Awards. Congratulations from all of us to him, his team and the choir!
Hot Pstromi's "Borsht with Bread, Brothers" European Tour
Yale Strom and Hot Pstromi are taking their brilliantly spontaneous and authentic Klezmer music to countries across Europe throughout March 2008. The group will be playing songs from their highly praised album, "Borsht with Bread, Brothers" EUCD2102.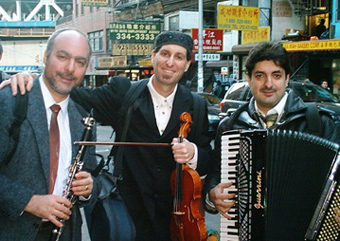 Yale Strom (centre) with Hot Pstromi members Norbert Stachel and Peter Stan
Hot Pstromi formed in 1982 and began making music inspired by Yale Strom's research from the previous year, when he trekked for 12 months throughout the former East Bloc countries searching for unknown, unpublished (and most often, unwritten) klezmer and Yiddish tunes.
The band have a distinct sound that mixes the authentic field recordings Yale had gathered with new compositions and a lot of improvisation. Strom believes that to merely preserve and recreate Klezmer and Yiddish tunes of the past does a disservice to the art form: "...when you listen to the cuts on this recording, you will hear improvisation from all the band members - the arrangements here are spontaneous, unique and pay service to the past while creating something fresh and new."
The live performances will be one of a kind and not to be missed. For the full list of tour dates and locations, please click here.
SHIR, the energetic Jewish music quartet perform in London, UK
Formed in 1997 by Maurice Chernick, Shir are a Jewish music group who have become a major force on the UK Jewish music scene. The band's purpose is to be as true as possible to the original sound of the Klezmorim music by drawing on the original Klezmer, Traditional, Yiddish and Sephardi repertoire, while at the same time catering for more up to date tastes in these styles with popular Israeli folk and dance tunes.
The group all have many years of musical experience and between them have written or played music for TV, films, musicals, and for artists including Dusty Springfield and the Jonathan Gee Trio.
You can hear the spontaneous, energetic and soulful sound of Shir on the ARC Music album "Israeli Songs", EUCD1840.
The concert dates and venues are:
Wednesday, February 27 - 8:30pm
Shir at the Vortex Jazz Club
£9 entrance
Gillett Square, N16 8JH
Call 0207 254 4097 to reserve a table
http://www.vortexjazz.co.uk
Sunday, March 16 - 8:00pm (doors open at 7:30)
Shir in Concert for Charity - British Friends of Israel War Disabled
Tickets £20 including refreshments
Henrietta Barnet School
Central Sq., Hampstead Garden Suburb, London, NW11 7BN
Tickets and further details from
Andrew Stock 020 8907 3902
email - a.h.stock@talk21.com
Wednesday, March 19 - 8:30pm
Ivor Goldberg (guitar/vocals for Shir) and Piotr Jordan (violin for Shir) perform at Café Also
1257 Finchley Road
Temple Fortune
London NW11 0AD
Tel 020 8455 6890
http://www.josephsbookstore.com/val.html
Savings Made Simple, New Prices for 2008
So you have done all the hard work, you've been patient and cleverly navigated your way through our website and found the exact CD you have been looking for. All that's next is just a short trip to the checkout page and then you're almost finished. Your CD will be in your hands in no time.
That's right, that is, until, you catch sight of the price ... hmm ....it suddenly occurs to you, that if you spend some time looking round the web you might be able to find the same CD at a better price. So off you go and spend another 30 minutes or so at your keyboard trawling through cyber space hunting down your chosen CD hoping to save some money.
Well, you will be pleased to hear that it doesn't have to be this way.
Wouldn't you like to know how you can save money on your CDs and save around 30 minutes of your valuable browsing time on top?
Let us explain
In order to make sure we are offering you the best possible prices for our music, we do from time to time research the general music market to find out how our prices compare. We will include in our research the major online retailers as well as the traditional brick and mortar shops.
We obviously want to remain competitive in our industry and maintain our position as one of the top world and folk music labels. As a customer of ours, we want you to know that when you buy from us you are getting the best possible value for money.
After reviewing the situation you will be please to hear that we have restructured our prices. So, from today, when you place an order on our website or over the phone, you will straight away be making savings, on average, of around 7% on a typical order.
This means that when you buy our CDs you will still get the same excellent value, the same unbeatable quality recordings - but at a very competitive price.
Remember, here at ARC Music we make savings simple. So you can spend more of your time doing what you enjoy - listening to good music.
Aled Jones from BBC Radio 3 interviews Ethnic Music Researcher David Fanshawe
He spent more than ten years recording authentic songs and music across the islands of the Pacific Ocean, and this Sunday on BBC Radio 3, David Fanshawe will be talking to Aled Jones all about the music and his experiences. You will also be able to hear several tracks played from the rich and authentic recordings on the album Pacific Chants [EUCD1743].
His ten year recording odyssey has resulted in a monumental archive of 2000 stereo tapes, 950 boxes of coloured slides and 40 volumes of hand-written journals, preserving and documenting the traditional music and oral traditions of Polynesia, Micronesia and Melanesia.
David Fanshawe's other ARC Music albums include Music from the South Pacific [EUCD1709], Music of the Nile [EUCD1793], and Music from Thailand and Laos [EUCD1425], and his recordings are featured on several of our compilations.
The interview starts at 6:30pm, on BBC Radio 3 on Sunday 17th February, 90.2 - 92.4 fm.
Solá Akingbolá is performing in London this weekend
This Saturday, the All African Stars show celebrates its tenth anniversary with a gala celebration of British African talent. The show will feature authentic performances from a host of African artists, including ARC Music percussionist Solá Akingbolá. Solá will be performing Yoruban music from his amazing debut album 'Routes to Roots', EUCD2114, copies of which will also be available to buy at the show.
Do not miss this spectacular evening of African culture in performing arts. Seats have nearly sold out, there are less than 50 left, so go to www.stratfordeast.com now to book yours, or call 020 8534 0310. The one night only show starts at 7:30pm, Saturday 2nd February, at the Theatre Royal, Stratford East.
Concert and workshop with ARC Music artist Ravi
On Sunday 3rd February, Kora virtuoso Ravi is playing a concert at the Rhodes Art Complex in Bishop's Stortford, Hertfordshire with Sardinian guitar maestro Gesuino Deiana. The two musicians are both international masters of their instruments and present an afternoon and evening of world music at its very best, starting with a workshop followed by the concert.
Ravi has released and featured on numerous ARC Music albums, including 'African Kora' (EUCD2058),'The Afro-Brazilian Project' (EUCD1837), 'The Afro-Indian Project' (EUCD1663), 'Crossing Borders' (EUCD1660), 'Masters of the Harp' (EUCD1764) and 'Exotic Strings' (EUCD1823).
The show will be a stunning fusion of sounds not to be missed. Concert starts at 7pm. Tickets are £10/£7 with concessions. Go to www.rhodesbishopsstortford.org.uk for more information and booking.
The Silk String Quartet performing across the UK
The incredibly talented Silk String Quartet (who released their debut album "Contemporary & Traditional Chinese Music", EUCD2095, in August 2007) will be touring across the UK throughout 2008. Their hauntingly beautiful music transports the listener with evocative sounds to traditional Chinese landscapes of gentle streams, misty mountains and cherry blossoms.
Particularly special will be the concerts in February for the Chinese New Year, in London, Leicester and Sussex. Click here to see a full list of their tour dates and venues.
Hossam Ramzy music in Stardust movie
Master Egyptian percussionist Hossam Ramzy played percussion on some of the music score to the major motion picture STARDUST, which was released in the Autumn of 2007. The blockbuster film boasts an A list cast, including Michelle Pfeiffer, Robert De Niro, Rupert Everett, Sir Ian McKellen, Ricky Gervais and Sienna Miller to name a few.
It tells the story of a young man who makes a promise to his beloved that he will retrieve for her a fallen star by leaving their town and venturing into a magical realm. The movie opened to rave reviews. The Los Angeles Times declared it as "One of the best ... movies of the year"., and USA Today said it has "magical effects and a romping sense of fun!"
Check out Hossam Ramzy's wonderful collection of music here.
---
Current News | News Archive 2008-2012 | News Archive 2007 | News Archive 2006
---